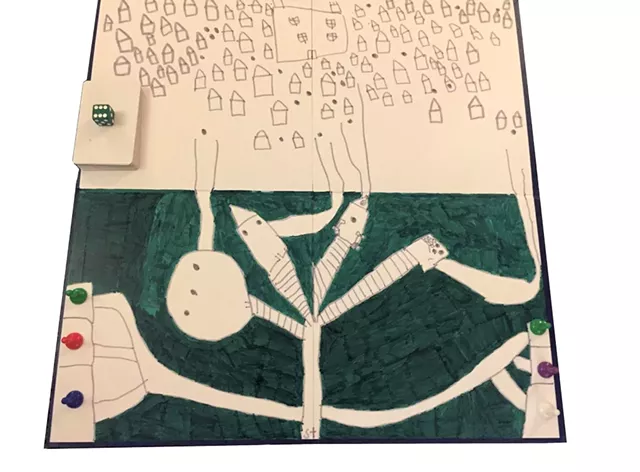 Courtesy of Sarah Stewart Taylor
My kids have always loved making up games. When they were toddlers, they would create elaborate ones with rules that were inexplicable at best and Kafkaesque at worst.
I loved seeing their minds working, trying to figure out how to write the rules so they'd have the upper hand. I've always thought that making up game rules must be a child's way of assuming some control and power in a world where adults usually call the shots.
As they got older, my kids fell in love with board games. First came the Candyland years, and the years they wanted to play endless games of Monopoly —
before
they could count money. Then we moved on to games the adults in the house actually wanted to play: Settlers of Catan, Forbidden Island, Scrabble, Stratego and chess. Now my kids are 12, 9 and 7, and we're on a Risk and Dungeons & Dragons kick.
Over the years, my children have sketched game boards on scrap paper and invented mazes and word searches for each other, which made me wonder: what kinds of games would their older, more mature brains would come up with if I encouraged them to invent board games? So I bought some supplies, and we spent a recent cold and rainy afternoon making our own games by the woodstove.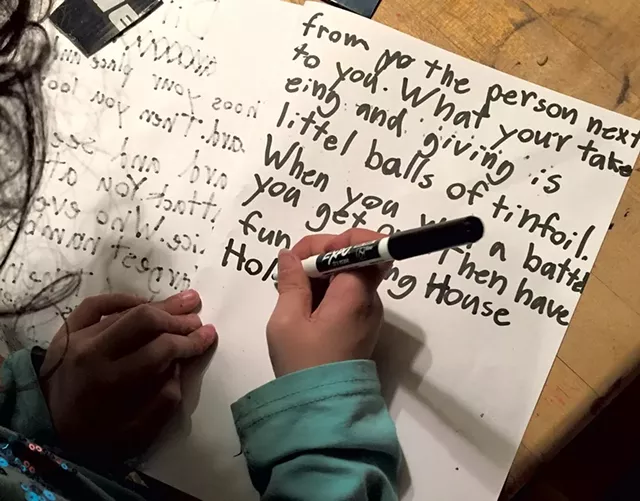 Courtesy of Sarah Stewart Taylor
Cora writes game directions
You can buy blank game boards, made of stiff cardboard, and blank playing cards from some office supply stores or online. I added some dice, plastic pawns and a pile of new markers, and they went to town. My 9-year-old son immediately came up with a name for his game: Diamonds or Demons? He created a "world" on his board, with home bases, houses and a castle, which is the ultimate goal. Players roll dice and draw cards to determine if they face monsters or win treasure.
My 7-year-old daughter, who loves art, started with the design for her game, Household Battles — a Clue-like house interior with different rooms for players to move between. In each room, players fight "battles" by drawing a card to determine their opponent, and then rolling dice, with the highest number winning.
I encouraged my kids to sketch their ideas on paper before they put marker to the pristinely blank boards. They only partially followed this advice. But their mistakes were incorporated into the final designs of their games.
When they finished, we had a family game night, fortified with lots of popcorn, to try out the games. This gave the kids a chance to figure out on-the-spot tweaks to make their games more enjoyable and interesting.
From start to finish, the process involved some of the most active learning I've ever seen my kids engage in — encompassing reading, writing, art, engineering and rulemaking. Even their 12-year-old brother — who was too wrapped up in his own activities to make a game — declared Diamonds or Demons? and Household Battles fun to play. That's what I call a win-win.
Try This At Home
I ordered blank game boards, blank playing cards, dice and pawns from Amazon, but you can also special order these materials from office-supply and local game shops. Or, make your own game board from poster or foam board, and create a larger, folding board by making a "hinge" from durable duct tape. I tried it, and it worked well. Any recycled box of the right size and shape can be decorated to create a box for your game. Next time, I think I'll buy plastic gems from a craft store and search our toy bins for small plastic animals and cars that could be incorporated into the design of a game.
For the holidays, I'm going to create some Make Your Own Board Game sets for other kids in my life.