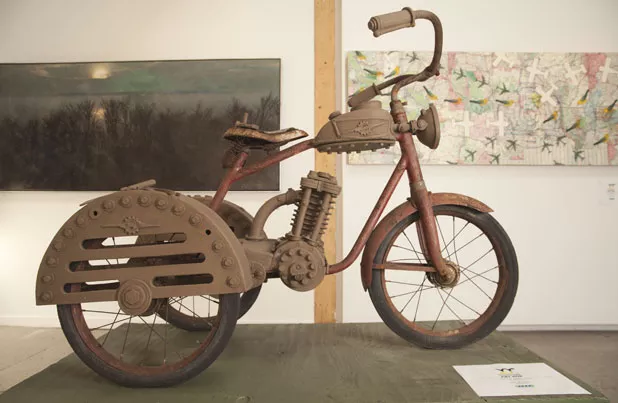 Few art shows are as egalitarian as the one that's been staged each of the past 20 Septembers in Burlington's South End. For a $55 Art Hop entry fee, anyone can show pretty much anything to a potential 30,000 viewers. The one exception amid this democratic artapalooza is the Juried Show, where judgments are made about the comparative quality of works submitted.
The South End Arts and Business Association, which organizes the Hop, enlists an outside juror who chooses first-, second- and third-place winners among works exhibited at an indoor venue, as well as sculptures installed outdoors at various South End sites. The top three receive cash prizes of $500, $325 and $100, respectively, along with, presumably, heightened attention from viewers, media and perhaps collectors.
Does this privileging of the few over the many violate the democratic spirit of the Art Hop? Is a juried show inevitably an exercise in elitism? Can such a selection process be wholly objective?
No, no and no, replies Mark Waskow, president of SEABA and Vermont's most voracious collector of contemporary art.
"I can't think of any discipline or art form that doesn't have some kind of jurying process," Waskow says. "The juried show has been a tradition since at least the Renaissance. It's a way of recognizing achievement — which isn't the same as saying, 'This is good art and that's bad art.'"
Artists themselves decide whether to enter a work for juried consideration. In keeping with the Art Hop's inclusiveness, anyone can at least nominate him- or herself for an award. This year, 240 pieces were submitted, and juror Todd Bartel deemed about 50 of them worthy of presentation at the SEABA Center on Pine Street. From that selection, Bartel chose a top three.
Waskow acknowledges that this winnowing process reflects personal taste. "Each juror brings their own biases, subjectivity and experiences," he says.
Bartel agrees. "Of course it's a subjective process," he says. "I don't consider myself infallible, but I do hope my choices are compelling to more people than myself."
Like previous jurors, Bartel comes with the credentials to make informed judgments. He's been teaching art courses since 1986 at universities including Harvard, Brown and Carnegie Mellon. In addition, "I've curated more shows than I can count on both hands," he says. He's a practicing Massachusetts-based collage artist, as well, who has shown his work at venues in New England, New York and California. His work's most recent Vermont appearance was in a group show called "Hey Joe: An Homage to Joseph Cornell," — at Rochester's BigTown Gallery this past summer.
In determining what would be at the top of the Hop, Bartel says, "I kept coming back to the things that haunted me most. There was something alchemical about them." It might have been the artist's execution that captured his attention, or "the idea behind the work." In some cases it was the juxtaposition of images or materials, Bartel explains.
The names of artists are not revealed to jurors who assess works submitted for the show. Judgments are thus based solely on the perceived success of a work, not on the reputation — or obscurity — of its maker.
Bartel awarded first prize to clay artist John Brickels for "Old Betsy," a militarized tricycle made of stoneware, metal, rubber and wood. "What amazed me about that piece was its components," Bartel says. "I mean, ceramics have nothing to do with bicycles."
His second choice was "Old Birch on Elmore Mountain," by Gabriel Tempesta. Viewers may initially mistake this oddly angled image of a mottled tree for a photograph — it's that hyperrealistic. But Tempesta's medium is actually casein, a milk-based paint that the native Vermonter applied in shades of gray, white and black.
Third prize went to Paige Berg Rizvi for "Galena." She also used a less-common material — encaustic (heated and pigmented beeswax) — in assembling a collage-like work in which birds, airplanes and bombs are superimposed over a map of the Midwest; it situates the town of Galena, Illinois, in the bull's eye of a target. "Think what went into making that," Bartel marvels.
The juror got permission from Art Hop organizers to designate three pieces in the SEABA gallery as "honorable mentions." Those additional choices give expression to Bartel's observation that "curating often means making split decisions with fine points."
The first-place outdoor-sculpture winner was James Teuscher's "Puente Dos," in which a long, thin branch angles upward from a wooden wishbone shape. Installed in front of Lake Champlain Chocolates on Pine Street, the piece establishes Teuscher as the first person ever to win top honors at two Art Hops. Ethan Bond-Watts was awarded second prize for "Seed," which stands outside RL Photo on Sears Lane and features actual grass growing within a spherical burlap form. Third place went to "Danse," a tall, white, curving formation topped with a white sphere created by Michael J. Nedell. This piece, on Pine near the Maltex Building, suggests a seal balancing a ball on its nose.
True to the all-in approach of the Art Hop, Bartel's taste encompasses a range of genres and criteria. He writes in the introductory text that selections were "blind to media" — meaning that the Juried Show aimed to include art made by any means. "I believe there is beauty to be found in the crud as well as the exquisitely crafted," Bartel adds in that opening statement.
Crowdsourcing offers another way of judging artistic achievement. At this year's Art Hop, the People's Choice award went to Nissa Kauppila's "Untitled #18." It was the "overwhelming" favorite among the nearly 400 viewers who took part in the balloting, says SEABA's executive director, Adam Brooks — even though the voters could see that Kauppila's beautifully spare suggestion of a bird shattered in midair was not among the juror's six preferences.
Art Hoppers can debate the merits of jurors' past choices when they view a retrospective at RL Photo. The 27 works on display amount to an "Art Hop's Greatest Hits" collection, assembled by Waskow to mark the event's 20th anniversary. About half of the artists who have won prizes are represented in this exhibit — in most cases, by the actual works that enthralled jurors. Somewhat confusingly, the other pieces hanging in RL Photo are not prize winners, but subsequent pieces made by winning artists over those two decades.
The standouts here include another piece by Brickels — "Queen Elizabot," a wacky, machine-like assemblage that does indeed resemble the British monarch; Frankie Gardner's "Red Deer," a sparse gouache painting of a ghostly animal; and John Douglas' hilarious but disturbing "Capital Security," in which multiples of a black-and-white photo of the artist — nude but carrying a strategically situated machine gun — are scattered around the grounds of the Statehouse in Montpelier.
The Art Hop's eclecticism and the array of subject choices by past jurors are manifested in this retrospective by the meticulous craftsmanship of Marie Davis' "Virgin Moth"; the sleek photorealism of "Night Cap" by Jesse Azarian; and the suave wood sculpture "Wonder" by Robert Hitzig. (Hitzig's stained-wood piece "The Revolution Will Not Be Televised" is one of the most professionally worked pieces in this year's Juried Show.)
The South End Art Hop has grown huge — 400-plus artists participated this year in more than 100 locations — and has always been riotously diverse in its offerings. No single description can encompass an event that's as much a party as it is an exhibit. Asked his overall opinion of the Hop, Bartel hazards this much: "It's unlike a lot of events of this kind, because it doesn't seem to care about precious circles. Many art shows make you feel like you've entered a club. The Art Hop definitely doesn't feel like that."
South End Art Hop 2012 Juried Show, SEABA Center; and Outdoor Sculpture/Public Art Show, Pine Street; and Original Juried Show 20th Anniversary Retrospective, RL Photo, Burlington. All through September 28. seaba.com