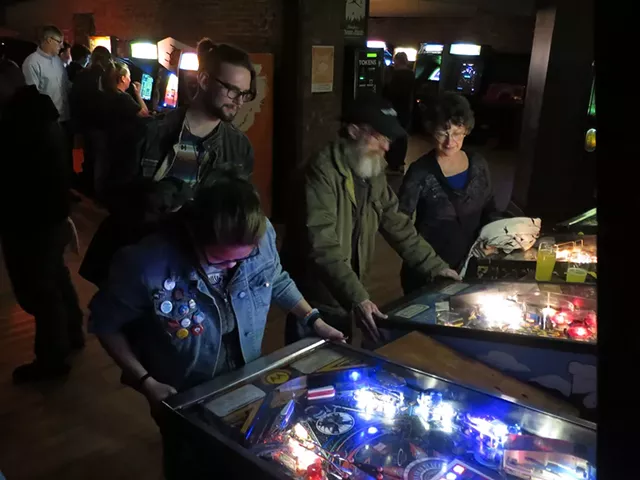 When you enter the Archives, downtown Burlington's new classic-game arcade, the first console you see is Tapper. The 1983 game, in which a garter-sleeved bartender must keep up with his patrons' increasingly frenzied demands for mugs of beer, is an apt and savvy choice for a gateway game here. It brings together the Archives' two raisons d'être: vintage video games and sudsy brews. In this milieu, the game practically demands to be played.
And play it I did when I visited the Archives on a recent weekday evening. I remember Tapper from my days as a preteen arcade denizen, though the game I played was probably the closely related Root Beer Tapper. The original, Budweiser-sponsored game was cleaned up in 1984 in response to panicky bluenoses' fears that arcades were creating 12-year-old alcoholics. I savored the irony by sipping a Lost Nation Brewing Gose between games.
The handsome, five-inch-wide wooden drink rails placed between the consoles are just one sign that the Archives is not your childhood arcade — the kind epitomized in Burlington by Upton's, once located at Church and Main streets.
Back then, it was totally awesome if the video arcade had a tub of "cheez" sauce so the kids could dress up their curly fries. Nowadays, the average patron of the Archives is likely to be more interested in its 24 craft beers on tap. The kids who frequented arcades in the '80s are now, like me, fortysomethings who enjoy grown-up beverages with their evening's entertainment.
As an arcade with alcohol, the Archives pointedly — and by law — does not cater to underage gamers. The games may get people in the door, but the bar menu, carefully crafted by general manager and restaurant-industry vet Matthew Marrier, encourages them to linger.
Drafts from Brattleboro's Hermit Thrush Brewery and Woodstock's Beanery Brewing join cocktails such as the Tennis Elbow (Strega, Cynar, Shacksbury Cider, lemon and lime) and the Business Time (cognac, absinthe, amaro, grenadine and grapefruit bitters). And, in what must be a nod to the Japanese origins of many games, the Archives offers a selection of fine sakes. Matthew Walters, one of the bar's four co-owners, noted with some surprise that the sakes have been very popular with customers.
Marrier and Walters remarked independently that the crowds at the Archives had exceeded expectations — though both acknowledged that the venue's novelty might have something to do with that. When I visited, the Archives had been open for less than two weeks. Still, Marrier couldn't help but relish the memory of a line of customers stretching out the door on a couple of recent nights. "And weekdays, we're bumpin' late night," he said.
Those customers, both men reported, represent more than a single demographic, an observation borne out by the small but steadily growing crowd on the evening I visited. Plenty of fortyish guys like me were reliving their youths by playing such games as Dig Dug (1982) and Crystal Castles (1983), but just as many twentysomethings were feeding tokens into games older than they were.
Walters said the console games, collected on road trips through New England and New York, cost between $250 and $1,000 each. The bar also has four pinball machines, which were "upwards of $5,000" apiece.
The business model of retro games with forward-looking drinks was pioneered at the Brooklyn bar whose name has become an eponym (and a trademark). Barcade opened in the über-hip neighborhood of Williamsburg in 2004, and the idea quickly caught on. Many American cities are now home to such establishments, and Barcade itself has expanded to six locations. South Burlington's Tilt Classic Arcade and Ale House, which specializes in pinball but also has more than a dozen video-game consoles, opened in 2014, making the Archives the second Vermont establishment to serve pixels alongside its pilsners.
Marrier — whose business card proclaims him an "ethanol evangelist" — has no plans to create cocktails that pun on or are thematically linked to any of the bar's 32 video games. "I didn't want to go Disney World," he said. Indeed, the Archive has not selected its games to indulge patrons' senses of cutesiness or irony. Like the drinks, they are there to be savored and enjoyed. They're not just "retro" games but classics — for a reason.
To take a loop through the Archives' two main rooms is to amble through the development of the now-ubiquitous video-game medium. I pumped many tokens into Tempest, a 1981 game that brought me back to the game room at the Cape Cod hotel where my family vacationed in the 1980s. Like the arcade classics Asteroids (1979) and Battlezone (1980), Tempest uses wire-frame graphics: bright lines against a dark background that suggest three dimensions. (Archives co-owner Dan Chahine said via email that he evoked a wire-frame aesthetic in designing the bar's distinctive logo.) I'm delighted to report that I'm still good at Tempest, despite not having played it in at least 25 years.
I also held my own in the classic Nintendo boxing game Punch-Out!! (1984), easily dispatching Glass Joe and Piston Hurricane before succumbing to the sneaky tactics of my old nemesis, Bald Bull. Punch-Out!!, too, uses wire-frame graphics, but by 1984 that technique had been folded into a more immersive, interactive animation style.
Crystal Castles baffled me as a kid, and it baffles me now. Your avatar in this curious game is the milquetoast Bentley Bear, who rolls his way through a blocky wonderland of gems, skeletons and weird, cyclopean, centipede-like monsters. It's one of the relatively few arcade games that require players to use a trackball controller (1984's Marble Madness, also at the Archives, is another). It's easy to see why the device was not more widely used.
I spent some time playing Crystal Castles, anyway, because I find its oddness compelling. After killing poor Bentley a dozen times, I reflected on the value of being able to save your place in a video-game narrative — a feature we now take for granted. I'm just the right age to have witnessed the remarkably rapid development of an entirely new medium, a historical quirk that I consider a privilege.
Another Archives game, Terminator 2: Judgment Day, came out in 1991, shortly after I stopped frequenting arcades. The game has a faux machine-gun controller, technology that dates back to the early 1970s, but it also represents a slightly later development in video-game history: the rise of the movie tie-in. Today, we expect that every blockbuster film will be "ancillaried" with video games, Happy Meal toys and flame-retardant children's pajamas. Glaring down from the console's top panel, Ah-nuld reminds us of this inevitable development.
Released in 1995, NBA Jam, which I'd played perhaps twice before, is one of the Archives' more recent games. Once I learned that I could play as my beloved 1993-94 New York Knicks, I agreed to Walters' challenge for a match. He played as the Chicago Bulls and, true to basketball history, walloped me. "You actually didn't do that badly," he said in a kind attempt to make me feel better.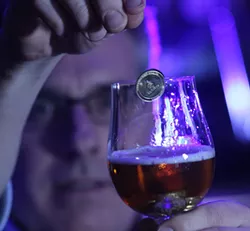 NBA Jam is one of several games at the Archives that accommodate multiple players; the gargantuan, multiscreen X-Men game from 1992 is another. That communal-play option offers a clue to the success of bar-arcades in an age when many of us own console systems and smartphones packed with games — and it's one factor that could help the Archives become a downtown fixture.
Patrick Spiegel, better known locally as DJ Tricky Pat, was checking out the Archives when I was there. (He lost to Bald Bull, too.) He called the bar a "much-needed attraction for downtown Burlington," opining that it filled a decades-old gap left by the closure of Upton's and Cherry Street Billiards. Summoning his '80s lingo, he declared the Archives to be "awesome — totally."
Just as Netflix subscribers still go to the cinema, video-game enthusiasts visit arcades because they offer a social experience. Visit the Archives with five friends, and you can all play X-Men together, then share a drink to relive your 8-bit youth.
Marrier, who hung out at arcades as a kid, said it wasn't until the Archives opened that he thought about that dimension of video gaming. "There are a lot of gatherings and groups that come here," he said. "There's actually a social aspect to this."
Video games are immersive, but that doesn't mean they're only for introverts. And alcohol, that great social lubricant, happens to pair quite nicely with gaming. Pixilated pixelation has arrived in downtown Burlington.