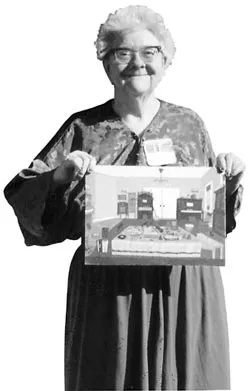 Vermonters have long known that Gayleen Aiken was extraordinary. When she passed away in 2005 at the age of 71, the self-taught, developmentally disabled artist from Barre left behind a huge body of work in a style uniquely her own — colorful crayon drawings featuring the farmhouse where she grew up, the granite quarries, and musical instruments, especially the nickelodeon. Her narrative images were depicted through an imaginary family, the Raimbilli cousins. Usually, Aiken would include explanatory text, in a neat, childlike script, at the bottom of her compositions.
Before she died, Aiken was honored with a book, entitled Moonlight and Music: The Enchanted World of Gayleen Aiken, as well as a documentary about her, titled simply Gayleen, by Vermont filmmaker Jay Craven. She also received a Vermont Arts Council fellowship. This month Aiken has earned, albeit posthumously, what some might consider the biggest honor of all: acceptance into the permanent collection of the American Folk Art Museum in New York City.
The museum is accepting a handmade book by Aiken with the whimsical name of "Record and Files Book of Grand Memos." The mixed-media piece is 10.5-by-13 inches and was made in 1958, explains Carol Putnam, director of the Hardwick-based GRACE program.
GRACE (Grass Roots and Community Effort) has provided art classes to the elderly and developmentally disabled around northern Vermont for more than 30 years — "We're up to 600 workshops a year!" notes Putnam. GRACE's founder, the late Don Sunseri, "discovered" Aiken and enthusiastically promoted her work. At the organization's home in Hardwick's Old Firehouse, Putnam oversees the nonprofit and a gallery filled with the work of GRACE-affiliated artists. Only one other, Burlington-based Larry Bissonette, has achieved national recognition, Putnam says. Bissonette is autistic.
But Gayleen is clearly the "star" here — she left her work to GRACE, with her family's consent. So Putnam takes seriously the mission to "get the word out about Gayleen and have people see her work."
A part of that effort was contacting the American Folk Art Museum's director and curator, Brooke Anderson. "This has been going on for two years," Putnam says. "Last summer, Brooke came up here and looked at the collection. She selected two works." The other piece is an 18-by-24-inch painting from 1961 called "Our Raimbilli-Hill Farm Cousins Funny Pranks." GRACE donated both to AFAM. "It's a wonderful gift," says Anderson by phone in New York, "and we're thrilled to have it."
The Raimbilli cousins would be proud.