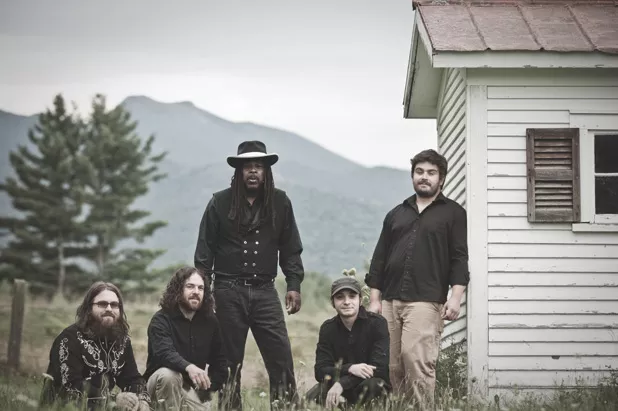 We begin this week with a big ol' apology to the Aerolites. Here goes:
I'm sorry, Aerolites!
Ahem. You see, we were supposed to have a review of the band's new album, 34 Mansfield, in this very issue. But due to some behind-the-scenes follies, the unsavory details of which I won't bore you here, we don't. What can I say? Shit happens. Or doesn't, I guess.
Anyway, we'll have that review in an upcoming issue. But that doesn't do anyone much good in the present, since the band's album release show is this Saturday, October 12, at Nectar's. So allow me to take a minute and offer this deeply insightful critical remark: The Aerolites' new record is pretty freakin' good.
If you'll recall, the band's 2012 debut was a much-ballyhooed effort recorded by a bunch of famous-ish people in a Hollywood studio — Oteil Burbridge, Kenny Aronoff, etc. While the star power associated with the album was interesting, the record itself felt a little muddled, as if there were simply too many celebrity chefs in the kitchen when what was really needed was some down-home cookin'. That's exactly what 34 Mansfield turned out to be.
The album was recorded in front man Jeremy Harple's old house in Cambridge, during a week in between when he moved out and when the house was sold. So he and his band, which includes keyboardist Victor Veve, guitarist Micah Sanguedolce, bassist Ian Wade and drummer Dannis Hackney, took advantage of the empty house — in a recent email, Harple writes that they recorded keyboards in an empty shower stall — to make the record with Vibesville Studios' Jeff Cooper.
Without spoiling too much, the record retains a similar mix of Americana and Southern rock from the Aerolites' debut record, with a touch of feel-good jamminess, just for kicks. But there's a noticeably looser feel to the album that seems to line up more closely with what the band had in mind the first time around. It's also a boon to Veve and Harple's songwriting. The latter in particular has always been a sneakily witty writer. Buoyed by a lighter, more relaxed tack, that facet of his style is much more apparent here than on the band's debut, which alone makes the album — and likely the band's release show — worth your time.
Good Lord
In other news, I'm delighted to report that hardcore punks Lord Silky have risen from the dead. The band will play their first show in about two years on Tuesday, October 15, at the Monkey House with Vultures of Cult.
All of which likely begs the question from most readers: Who the fuck are Lord Silky?
Glad you asked!
Put simply, Lord Silky were my favorite local band for a brief few months in the late summer and fall of 2011. Led by vocalist Josh Cause, they were loud, obnoxious and thoroughly hysterical in concert. Their debut record, a gnarly little EP titled Dios Sedoso, didn't quite capture the slobbering energy of their live act. But as I wrote in a review of the EP at the time, it didn't need to achieve that monumental task to impress. Simply reminding us that hardcore music doesn't always need to be insufferably serious was enough — especially with cheekily aggro songs like "Alcohol Injection" and the ultimate FU anthem, "Townie Town."
The band returns three-quarters of its original lineup, including Cause, bassist Jake Clemons and guitarist Eric Czado. Rounding out the band is a new drummer, who should be familiar to fans of the local rock scene: Kelly Ravin of Waylon Speed. Can Ravin, who normally handles lead vocal and guitar duties for WS, keep up with the breakneck punk pace in Lord Silky? I have no idea, though if he's been paying attention to his bandmate — and occasional 7D freelance reviewer — Justin Crowther, who is one of the area's finest heavy-music drummers, I suspect he'll be all right.
BTW, Ravin has a new solo record out called Leathered, Weathered, Worn and Wiser. We'll have a review in the coming weeks. (No, really! I mean it!) But in the meantime: Whoa.
BiteTorrent
There's a fun show on tap in Montpelier this Saturday, October 12, when Connecticut-based "stoner soul" garage-rock outfit Elison Jackson drop by for an in-store gig at Buch Spieler. The band has a new record coming out on October 18, called Do Not Fear to Kill a Dead Man. Judging from "2009," the single streaming on the group's Bandcamp page, I'm guessing it will resonatewith fans — like me, for example — who are anxiously awaiting Neutral Milk Hotel's upcoming reunion shows and need something to chew on in the meantime.
In other central Vermont news, local punks Spit Jack are hosting their annual Hughtoberfest party this Friday, October 11, at Hostel Tevere in Warren. What is Hughtoberfest, you ask? Great question! It's a festival thrown by SJ guitarist Tom Theohary every October in honor of his neighbor, Hugh. Now that we have that squared away, this year's lineup features the Hardcore Sallies, State of the Union and, of course, Spit Jack, who will very likely attempt to get kicked out of their own festival, cuz they're awesome like that.
Also on the bill are yet another local surf band, the Tsunamibots, who are a rather goofy side project of Theohary. So what's the deal, Tom?
"Our deal is that we are robots that like to surf and crush humans," writes Theohary in a recent email. "All our songs are about robots and surfing," he continues, adding that during shows each member of the trio goes by a robotic pseudonym: Tomodore64, the Master Circuit and the Main Frame. He goes on to offer up a few song titles that I think pretty much tell the story: "Robots Improving Robots," "Murder Robots on Holiday" and "Surfing Craze in the Robotic Age." Any questions?
Last but not least, congrats to local folkie Rik Palieri, who celebrates the release of his latest CD, The Almanac Trail, with a show at Radio Bean this Friday, October 11. The project is a collaboration with folk singer George Mann in which the duo retraced the steps of a group called the Almanac Singers. For the unfamiliar, that group was a collection of labor activists who also happened to be pretty decent singers and songwriters, including some guys named Pete Seeger and Woody Guthrie. Perhaps you've heard of them?
Listening In
A peek at what was on my iPod, turntable, eight-track player, etc., this week.
Chvrches, The Bones of What You Believe
Danny Brown, Old
Fronds, Fronds
Polica, Shulamith
Carnivores, Second Impulse
The original print version of this article was headlined "Review This?"