Pictures in the realm of print? Some stuffy literati may look askance at the new legitimacy of comics, but at the ninth annual Burlington Book Festival, which begins this Friday, September 20, it's cause for celebration.
The BBF has teamed up with White River Junction's Center for Cartoon Studies to bring us "The Novel Graphic," headlined by graphic novelist Chris Ware. Read on for our interviews with Ware and Barbara Slate, a veteran writer for Marvel and DC Comics.
Fans of traditional literature won't feel slighted: This BBF is dedicated to Middlebury poet and novelist Julia Alvarez. On Saturday, poetry lovers shouldn't miss Pulitzer winner Yusef Komunyakaa.
Here are a few other notable BBF events:
A New Yorker-style Cartoon Caption Contest, with cartoons by Harry Bliss, Friday at 7 p.m. at Phoenix Books Burlington.
Millennial Writers on Stage II, featuring young writers from all over the state, Saturday at 2 p.m. at Main Street Landing Performing Arts Center.
Readings from novelists such as Stephen Kiernan (The Curiosity) and Hillary Jordan (When She Woke, a modern twist on The Handmaid's Tale), Saturday at Main Street Landing.
A Literary Pub Crawl on the ArtsRiot bus, starting Saturday at 5:30 p.m.
A day of workshops on DIY publishing, Sunday at the Fletcher Free Library. Pop over a few blocks for Phoenix Books' Women's Work Reading Series.
Find the whole schedule at burlingtonbookfestival.com.
Graphic novelist Chris Ware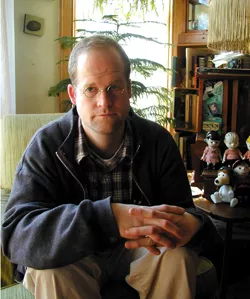 At no point in their history have comics — or, if you like, "graphic novels," "comix" or "pictorial-sequential artworks" — achieved a higher level of cultural currency than in the present day. Never mind the jillion-dollar blockbusters about gaudily costumed avengers; comics of the modern era have achieved an unprecedented cultural ubiquity, appearing even in the once-staid New York Times Magazine. At the same time, artists have pushed the medium into new areas of graphical and narrative experimentation. Comics' first Golden Age occurred in the 1930s; we are currently in the middle of the second.
No single comics artist embodies both of these trends so well as Chris Ware, whose latest work, Building Stories, is perhaps the single most remarkable transfiguration of the medium in half a century. Yet Ware's work remains some of the most recognizable and accessible of all current graphic novelists'. The characters in his comics are painfully and recognizably human, and his artistic style — its seeming simplicity reveals, upon study, layer on layer of complexity — draws equally on comic strips, fine arts of all kinds, package design and typography.
Ware, whose work has won every major award in the field of comics, will appear at a BBF event cosponsored by the Center for Cartoon Studies.
SEVEN DAYS: How do your various "hats" (writer, cartoonist, designer) inform one another?
CHRIS WARE: I don't see them as separate at all. Cartooning, despite its humble moniker, involves a careful balance of all three, and pulling one or the other out as a distinct organ would kill the organism, so to speak.
I see comics as the art of composition, with more really in common with music than anything else … Comics aren't just pictures with words stuck on top of them, but an ideally unfettered dissection of one's life, desires, doubts and dreams, the ultimate experience being the feelings induced in the reader, however those feelings might be transferred.
SD: Your works reference the design of "ephemeral" consumer products like cracker tins, and they also traffic in fleeting emotions and "small" experiences. What attracts you to the ephemeral?
CW: I've said this many times before, but I believe comics' inherent cultural valuelessness allows for a relationship with the reader that's more honest and direct than any other visual art, with the possible exceptions of television and popular film. Put another way, if you don't like a painting, you generally blame yourself for being ignorant of the history of art. But if you hate a comic strip, you blame the cartoonist. Comics are inviting, democratic and disposable — exactly what all art should be, not an investment or a commodity.
SD: At times, the arrangement of the panels in your work takes on an almost fractal-like quality that suggests they don't need to be read in a precise order. Could you discuss your method of panel design and arrangement?
CW: My page compositions are entirely intuitive and unplanned, driven by the flow of the story and whatever happenstance associations, feelings and shifts of allegiance to the characters and situations transpire as the strip unfolds. In this (I hope) it's not all that different from life itself.
Besides, there's no way I could plan the pages ahead of time, and, even if I could, what would be the point? I try to allow them to grow on the page in a way that I think is analogous to the way human relationships and our memories grow, with similar levels of texture, dead ends, microscopic moments and broad, inexplicable changes.
SD: What, if any, is the influence on your work of 1960s "underground comix"?
CW: Without the so-called underground comic (which is a misnomer, as all of the best comics of that era — Robert Crumb, Art Spiegelman, Kim Deitch, etc. — sold 10 times the amount of most experimental and literary comics of today), my generation and the one succeeding it simply would not exist. We owe these artists our thanks, lives and minds, even if the aims and cultures of our eras are pretty different.
SD: What's next, after a work as ambitious as Building Stories?
CW: I'm currently at work on two other books, one lengthy, the other not so lengthy. I've also learned it's not a good idea to talk about these things; it sort of jinxes them, and every good idea that's ever been had in art and literature sounds really stupid when summed up, so I sort of bank on that as a hope that what I'm doing isn't completely out to lunch, as well.
SD: You are among the more unconventional authors to participate in the Burlington Book Festival. How do you feel you fit in with such an event? Do you enjoy doing events like this?
CW: Sure; it's always nice to meet real human beings who've read this sort of stuff and feel that it's worth it to leave their homes and see what cartoonists are like in person. I'm not even sure I'd do something like that, so I figure I'd better present the best face that I can.
If I have any doubt about how graphic novels have been treated lately in regards to book festivals, awards, etc., there's a recent trend to rope off a special place for them, almost a sort of sideshow area, which can but not always [does] prevent them once again from being considered adult, relevant and/or mature writing. On the other side of this probably pointless quibble, I'm simply grateful that anyone would care about comics at all, so I guess I shouldn't complain whether myself and my pretentious friends are classified and considered thus.
— E.d.S.
Chris Ware will appear on Saturday, September 21, 4 p.m. at the Film House, Main Street Landing Performing Arts Center in Burlington.
Graphic novelist Barbara Slate
Name a fictional female with her own pop-culture franchise, and Barbara Slate has probably written a comic about her. In her career with Marvel, DC and Archie Comics, she channeled Barbie, Betty and Veronica, and Disney's Belle and Pocahontas.
It might seem like unusual work for an artist who started out in 1974 with her own feminist greeting-card line. Slate got involved in comics in the early '80s, when Jenette Kahn, then president of DC Comics, decided to introduce a girls' line.
Her first original creation for DC, Angel Love, "was drugs, sex and rock and roll," Slate says in a phone interview. "In the first issue, Angel falls for this drug addict, and her girlfriend gets pregnant." DC pulled the series after nine issues. "People were saying I was going to ruin the comic-book industry and all that stuff," Slate recalls wryly.
She went on to write (collaborating with artists) hundreds of comic books with heroines who were, at least on the surface, less radical. When Slate started writing for Barbie, she says, "All my friends got so mad at me." But the female creators of the Mattel-sanctioned comic "made Barbie this feminist who could live anywhere and be anything."
Slate also has kind words for Betty and Veronica, often maligned as dueling archetypes of dumb blonde and sexy brunette, respectively. "I kind of stayed away from them being in love with the same guy," Slate says of her time writing for Archie's female friends. "I liked to write about their friendships."
In the mid-1990s, Slate says, Marvel's new head eliminated the girls' line. "I couldn't find work in comics for a while," she says.
So she moved from Manhattan to Hudson, N.Y. "I really wanted to write my own graphic novel," Slate recalls, but "nothing was gelling … In the city, I was looking out the window and watching people; I was so inspired. Here, I was isolated on 16 acres. I realized I was going to write about myself, 'cause that was all I had."
It took Slate 14 years to finish her 2012 graphic novel Getting Married and Other Mistakes. It's the semiautobiographical story of a wedding photographer who learns too late that her own nuptials were a big mistake. Fascinated by images of "sad brides," she strives to drown out the voice of her marriage-obsessed mom and find her own.
"In my time, it was all about finding a man," Slate recalls. "I was brought up with 'Someday My Prince Will Come' … It took a long time to get away from it."
It took a long time to develop the confidence she needed to produce a graphic novel, too. "I had this really monstrous critical voice," Slate says. "You can't do it. Who wants to read about you? You're a big cliché. … One day I woke up and realized all these clichés of my life were really universal. I started writing from that point of view."
That experience — and Slate's work teaching kids to make comics — inspired her 2010 book You Can Do a Graphic Novel. Stan Lee blurbed it, calling her "titanically talented."
While Slate has jumped on the graphic-novel bandwagon, she regrets the decline of traditional comics — including the romance comics of her youth. "The comic book is a really beautiful art form that has kind of seen its day, sadly," she says.
Slate will talk about her "life in comics" this Saturday at the BBF. But there's one more question we have to ask: Is she a Betty or a Veronica?
"I'm a Betty," she says without hesitation. "Which are you?"
— M.H.
Barbara Slate will give a multimedia presentation titled "My Life in Comics" on Saturday, September 21, noon to 12:30 p.m. Slate will moderate a panel discussion with James Kochalka, Genese Grill, Sharon Webster, Chris Wright and Ed Koren titled "The Novel Graphic: A Summit" on Saturday, September 21, 1 to 1:30 p.m. Both events at the Film House, Main Street Landing Performing Arts Center in Burlington.
Poet Yusef Komunyakaa
Upon first encountering the poems of Pulitzer Prize-winning poet Yusef Komunyakaa in Dien Cai Dau (1988), I reeled as I wandered from poem to poem, wondering, Who is this person?
But study the poem "Camouflaging the Chimera" for clues to the man who made it, and you'll discover there's no "I." It's "we" — the "we" of U.S. soldiers in Vietnam behaving like a single organism, their actions and stillness in sync. Only in the poem's final lines does Komunyakaa introduce the possibility of differentiation, "as a world revolved / under each man's eyelid."
In that line you can feel the poet cupping the grenade of his creation, fondling the pin with those simple words. And you understand that you can get as close as you want, read all Komunyakaa's dozen-plus collections, and find no end to the multitudes he contains and the truths he will offer you.
In his nearly 40-year poetry career, Komunyakaa, who was born in Bogalusa, La., has been showered with prizes — from the Pulitzer for his collection Neon Vernacular to the Morton Dauwen Zabel Award from the American Academy of Arts and Letters.
But perhaps what Komunyakaa himself prizes is the art of disguise. Pick up his 2011 collection The Chameleon Couch; in the poem "Ten or Eleven Disguises," the reader is stirred into tenderness, awe and shame as Komunyakaa shows us why a woman named Hyacinth wears dark glasses — her eyes are so beautiful they transfix men. Another woman whisks on blush ("underneath hides a masterpiece"), while a third applies bleaching cream because "she was wounded by a word / somewhere in the Third World."
Who is behind these trenchant observations? One wonders if Komunyakaa presents a subtle self-portrait with his poem "Ode to the Chameleon," in the same collection, where he celebrates the animal with supreme blending abilities:
Called into the hanging garden,
you sit there, almost unseen
as dusky shadows climb
the blooming Judas tree.
Even when Komunyakaa shows his hand at the end of his collection Warhorses (2008), the lights are dimmed, so to speak. In a section called "Autobiography of My Alter Ego," he offers personal history as easily as a dealer doling out cards, yet the phrase "alter ego" conceals the seams between truth and myth.
"You see these hands? / They know enough to save us," Komunyakaa writes. And then, "I'm a cover artist's son, / born to read between the lines."
Watching us through camouflage, with his sniper sight and notorious heart, Komunyakaa continues to bring us the news from "between the lines" in seductive and stunning language.
— J.S.
Yusef Komunyakaa will read as part of the Seventh Annual Grace Paley Poetry Series on Saturday, September 21, 3 p.m. at the Black Box, Main Street Landing Performing Arts Center in Burlington.
The original print version of this article was headlined "Well Drawn"