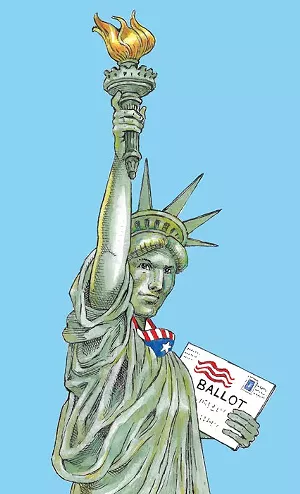 COVID-19 has caused many delays and cancellations in 2020, but the November 3 election is definitely still on. Of course, it looks a bit different this year — and not just because of the prevalence of masks and hand sanitizer.
To avoid attracting large crowds to polling places on Election Day, many states, including Vermont, have eased restrictions on early and absentee voting, aka voting by mail.
That means the election has already begun. On September 18, mask-wearing voters in Minnesota, Virginia, South Dakota and Wyoming started lining up — six feet apart — to vote early, in person. Nine states, and the District of Columbia, will be proactively mailing ballots to all active voters, a practice known as universal mail-in voting.
Vermont is one of them. The Secretary of State's office has already started sending ballots to all of the 440,341 voters on its checklist. You may have gotten yours already, hence the unusually early September 30 publication of this voters' guide.
The guide is aimed at helping you better understand your ballot and how to make it count. We've tried to anticipate and answer your questions, as well as offer some resources for further exploration, including a list of the candidates seeking your vote. Not registered yet? If you're 18 years old and a U.S. citizen, you can — and should — still get in on the action. Burlington cartoonist Christine Hill explains how.
If the August primary is any indication, we could see record-setting turnout in this election; 170,586 Vermonters voted in the primary, obliterating the previous high of 122,437, reached in the primary following the legalization of civil unions in 2000. Most of those 2020 primary votes — more than 110,000 of them — were cast before the polls opened.
Another prediction: We might not know the winner of the presidential election on November 3. Just when you thought 2020 couldn't get any worse, right? States have different rules when it comes to tallying mail-in ballots, and there are at least 170 election-related lawsuits that could potentially affect the outcome. For example, in Vermont, ballots must be received by the time polls close on Election Day — that's 7 p.m., BTW. But in Michigan, a judge just ruled that, because of recent postal service delays, ballots postmarked by November 2 — and received within 14 days after the election — will count. That could be significant.
In 2016, Donald Trump won Michigan by just 10,704 votes. In 2020, according to the Detroit Free Press, the Wolverine State expects to receive 3 million ballots by mail. If this is another close election, we might not know the results for a while. So buckle up and get ready for a bumpy ride to Inauguration Day on January 20, 2021.
Yes, democracy can be complicated and turbulent — even when we're not contending with a pandemic and wildfires and hurricanes and an unexpected Supreme Court vacancy. But it still beats the alternatives. Hopefully that's one thing we in this polarized country can all still agree on.