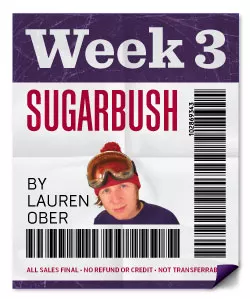 Every one of us has a friend who is scheduled up to her ears in fun things. One afternoon, it's a game of one-on-one basketball followed by a quick hike in the woods. The next morning, it's a couple of sets of tennis capped off by a rec hockey game.
I have a friend like this. I'll call her Shannon Johnson. Shannon's mission in life is to have fun — the pure, unadulterated kind that comes from physical pursuits.
Shannon's most favorite fun activity is skiing. And in the winter, if you want to get any face time with her, you better be willing to hit the slopes.
So what better guide than Shannon to show me the other side of Sugarbush, the side that is more about skiing and less about après, or multimillion-dollar construction plans? Shannon has been a season-pass holder there for four years, but she's been skiing the 'Bush much longer than that.
Shannon loves Sugarbush for its "endless amount of options." On this balmy, early-season day, fewer than half the 111 trails were open, but that was plenty.
We began the day with an easy run down the cruiser Lower Jester. The trail was covered in springlike corn snow — wet, chunky and slick as a freshly waxed floor. We paused for a minute at the intersection with Organgrinder to let our burning calves rest. Ok, I stopped to let my burning calves rest. Shannon, a tele skier in better shape than any 39-year-old ought to be, waited patiently and pretended to stretch out a kink in her back.
On the next run, Shannon took me on Downspout to the Heaven's Gate Triple lift. At this point, my legs felt as if someone had stuck them in a blast furnace. The heavy snow was like jam to ride through. Luckily, Shannon is a nurse at Fletcher Allen Health Care and could take care of me in the event my legs gave out mid-mountain.
The lift ride to the top of 3975-foot Lincoln Peak was an exercise in serenity. As we ascended, the clouds became thicker, shrouding the chair in front. Visibility was nil. The only noise came from the whirring of the lift mechanisms. That I couldn't see where we would disembark was unnerving.
The summit of Lincoln Peak is practically deserted compared with other areas of the resort. This is due to the difficulty of the descent. Jester, an intermediate groomer and Sugarbush's first trail, provides the easiest way down, if muscle spasms and lactic acid buildup are no big deal to you. The main routes to the bottom — Paradise, Ripcord or Organgrinder — are all steep runs at the black end of the trail identification spectrum.
This, I learn, is why Shannon loves this section of Sugarbush. Despite being the most social of my friends, she wants nothing more than a ski area all to herself and, of course, her pals. "The total advantage of skiing here is you can get away from everyone," Shannon said. Atop Lincoln Peak, or Castlerock Peak next door with its double black diamonds flowing like streamers from the summit, one feels the relative solitude.
After a few more runs, the snow had begun to melt off, and bald patches appeared on the trails. This was a clear indication to Shannon that it was time to indulge her other life's passion: doughnuts. The day ended with a trip to Waitsfield's Big Picture Theater & Café for its Very Small Donuts, which make it a must-visit on your way back from Sugarbush. Before I could finish my second doughnut, Shannon had downed six. The woman is clearly powered by doughnuts.
Three down, 17 to go.