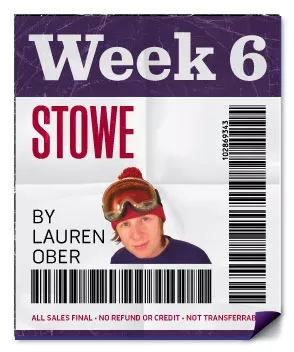 For all its glitz, glam and couture condos, Stowe is at its core a skier's and rider's mountain. It doesn't pitch itself as a family resort or a beginner's mountain because it is neither. Sure, families go to Stowe, and beginners take lessons at Spruce Peak. But when you size up the rugged terrain of the resort, strategically positioned on Mt. Mansfield, Vermont's highest peak, you can see it was shaped with a serious snow-sports enthusiast in mind.
That terrain is the reason Donna Carpenter can't get enough of Stowe. As cofounder and owner of Burton Snowboards with her husband, Jake, Carpenter has shredded sick pow in just about every posh resort around the world. She's heli-snowboarded in British Columbia, carved turns in the Austrian Alps and rubbed elbows with celebrities in Aspen. Still, Stowe has her heart. I couldn't think of a better tour guide.
Carpenter cuts a striking figure on the slopes. She is tall, slim and regal despite her crocheted beanie and lumberjack-plaid jacket. People seem to gravitate toward her, drawn in by her warmth and charm.
On the Forerunner Quad, Carpenter, whose playfulness belies her 46 years, encourages me to poach Mad River Glen on my snowboard. I've known the woman barely five minutes, and she's already egging me on to do something naughty.
At the top of the quad, Carpenter directs us to Lord, a vast cruiser that swings out in a big arc before cutting back toward the quad. As we head down the slope, I glance at Carpenter's board. It's a Burton Feel Good with a giant bumper sticker on the tail —"Keep Your Laws Off My Body," it reads. It was a stocking stuffer from Jake. "My husband's a feminist, and you can print that," she says.
Carpenter pauses halfway down the trail to ask if I want to hit the freestyle terrain park off Tyro. "I'll show you my 720," she jokes.
On all our runs, Carpenter stops to point out some feature of the mountain, admire the view or talk about the quality of the snow. She is garrulous and thinks nothing of sitting down on the slope for a gab session.
Before hopping on the quad again, Carpenter stops briefly to exchange some high fives with a liftie from Chile. At the top, she suggests riding in the woods off Toll Road. Since one of Stowe's hallmark features is its surfeit of glades, I couldn't say no.
These woods are gentle, with the trees far enough apart that I don't scorch my abs trying to navigate them. Carpenter zips through the tracked-out thicket and pops out at the intersection of Toll Road and Sunrise. Then we cut across the mountain to the gondola to ride peppy Perry Merrill before heading over to Spruce Peak. Like a mom, she reminds me to keep up my speed on Crossover so I don't have to hoof it.
At Spruce Peak, Carpenter visits with some other Burton women who are at Stowe participating in the company's buddy program — a new initiative that pairs its accomplished female snowboarders with less experienced female employees. As director of women's initiatives at Burton, Carpenter has a vested interest in seeing that these women get something out of the program.
Next, we head to Big Spruce, a quieter part of the mountain that has some of Carpenter's favorite terrain. There's a chill in the air on this side of the resort, and the tree limbs hang heavy with snow. We take a run down Sterling and have the expansive trail to ourselves.
But we're not finished yet. As we reach the Mansfield Base Lodge, Carpenter turns to me with a grin. "You want to sled down?" she asks. "Just use your feet for brakes and don't hit that little girl."
Before I can answer, she sits on her board and goes sledding down the hill to the lodge. Six down, 14 to go.