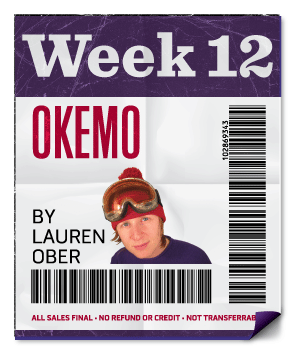 It's not every state where you can call up an Olympic gold medalist and ask to go snowboarding or skiing with him or her. In fact, it's not most states. But here in Vermont, we enjoy unprecedented access to the celebrated among us, be they lawmakers or filmmakers, authors or athletes.
So when I emailed snowboard legend Ross Powers asking if he'd be willing to show me around his home mountain of Okemo, I shouldn't have been surprised when his answer was an enthusiastic "yes."
Powers, a 31-year-old father of two, took home Olympic bronze in the halfpipe from the Nagano Winter Games in 1998, but he is best known for capturing the gold in the same event four years later in Salt Lake City. When he won the gold, he was 25, practically geriatric in snowboarding years. Recently Powers made a run at the Vancouver Winter Games in snowboard cross, a sport he only began in earnest a year ago. He ended up as an alternate for the U.S. team this year.
As professional snowboarders go, Ross the Boss is about as unassuming as they come. His pants don't look like they were made for a giant, and his jacket isn't flashy or loud. On the day we rode, he looked like the Johnny Cash of snowboarding, dressed nearly helmet to boots in black. Powers is so modest about his accomplishments that I didn't realize Okemo's superpipe and snowboard-cross course were named after him until I cruised by a sign bearing his name.
As we zigzagged our way up to the 3344-foot summit of Okemo Mountain — we had to take three different lifts because of wind issues — Powers and I chatted about his long career in the sport. He first got into snowboarding 23 years ago and showed an aptitude for it from an early age.
By 15, Powers was competing in pro events. By 19, he owned his own condo, traveled the world competing and lived a relatively glamorous life, compared with his early days in Londonderry. Today his two decades on the board are evident in his fluid, effortless riding style.
At the top of the Glades Peak Quad, we headed down Rimrock, a breezy cruiser still benefiting from a recent dump. Following Okemo's official "snowboard ambassador" down a trail wasn't easy. He crisscrossed it, flying over anything that resembled a jump. If I stuck too close, I'd get a mouthful of snow. If I strayed too far behind, I'd lose sight of him as he dipped into little pockets of powder at trail's edge.
After a couple more runs on that side of the resort, we made our way to Jackson Gore, Okemo's newest terrain. Running the length of the Gore is a trail called Limelight. Powers said he likes to use it to train for snowboard cross.
I asked him if he wanted to race down it, but he declined. I think he was nervous. Like, nervous that I might injure him.
At the end of our day, though, we did throw it down on Hot Dog Hill, the children's terrain park. Had our jib sesh been judged, Powers might have lost.
After I bade him good afternoon, I drove north on Route 100 to another of Vermont's fine ski areas, Bear Creek, which bills itself as an "exclusive" country club for skiing and riding. I figured I'd hit two resorts in one go. I figured wrong.
The former Round Top Ski Area was quasi-private for the past few years, meaning that nonmembers could still ski or ride there by reservation. As of this year, it is entirely private, meaning that no nonmembers, not even Very Important Writers, can take a few turns on the club's pristine hill. Despite pleading with the general manager, I was not allowed to snowboard on any of the club's 15 trails. On the day I went, the lifts weren't even running. At present, Bear Creek is only open to members on weekends.
Even though I didn't get to ride at Bear Creek, I'm counting it for my project. And I'm keeping my fingers crossed that none of the remaining resorts decide to go private before I'm finished. Fourteen down, six to go.