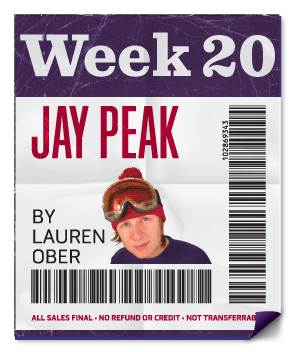 After skiing and riding every open ski area in Vermont over the past four months, I've learned a few things: 1. Just about every ski area has a run called Exhibition; 2. just about every ski area has a tree strung with bras or Mardi Gras beads; and 3. the English language offers frustratingly few ways of describing snow. If only I spoke Yup?ik Eskimo, my project reports would have been so much more lyrical.
There are things I haven't learned in my 20 weeks on the slopes. I have yet to figure out how to get ready any faster, or how to keep my toes warm without the aid of disposable heat packs. And I still don't know how to fall without looking like a total boob.
But this project wasn't about learning stuff. That sounds too much like work. This project — to snowboard or ski all 20 Vermont ski areas in 20 weeks — was about the challenge of squeezing hours of driving and shredding into my regular work schedule, without getting tired of writing about it.
It was also about exploring an industry that brings $700 million in annual direct spending into the state. As I said in my first piece of this project, the ski industry is the backbone of Vermont's tourism business, so acknowledging what makes each resort stand out seemed like a worthy enterprise.
I began my project in early December at Killington, as rain dribbled on my goggles and most of the trails were bare. I ended my project last week at Jay Peak under bluebird skies in unseasonably cold weather. I left Jay until last because it is typically open longer than any other Vermont resort. Owing to its obscenely high snowfall totals and extreme northern latitude, Jay is like the Mount Hood of the East — it could stay open all summer if people still wanted to ski.
But after my treacherous outing at Jay, I'm certain my snowboard won't see any action until next winter's first flakes. Jay is not a resort for sissies. It is steep, cold and icy, and just about everyone is speaking French. But hit Jay on a powder day, when its famous glades are soft and ripe for ripping, and it's like you died and went to heaven.
The day I went to Jay, there was no pow to be found — not that I would expect any this late in the season. The conditions could best be described as concrete covered in powdered sugar. Despite the sun, the thermometer hovered around 30 degrees, and the hard pack was as firm as it would be in the dead of winter.
For my first run, I headed up the Metro Quad to the Northway, a nice warm-up for the steeper trails. Then I took Jay's famous tram to the top of the 3858-foot peak. The 60-person aerial tramway is the only such system in Vermont. After waiting in line for about 10 minutes, I shuffled onto the tram, which reminded me of a giant lunchbox suspended on steel cables.
The view from the tram on a clear day is inspiring. As we motored up the mountain, skis and snowboards clattering inside the metal box, you could see white threads of snow on neighboring Burke Mountain, as well as the three peaks of Smugglers' Notch. Some fellow passengers said you could even see New Hampshire's Mount Washington. I had to take their word for it.
At the summit, the sun glinted off the ice. Since everything seemed pretty well crusted over, I took the easiest route down — the Vermonter. I wended my way down to the Jet Triple for a run or two on Little Jay. But when I got to the top of the lift, I lost my nerve to ride any of the steep black diamonds. I'd braved them on previous trips to Jay, but the ice on this day, not to mention the numerous ski-patrol litters I observed carting people off the mountain, convinced me to play it safe and wimpy and stick to the Montréaler. As a result, I'm still standing. That's definitely not a bad way to end 20 weeks of snowboarding.
Twenty down, none to go.