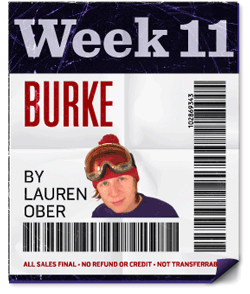 Just about every ski area in Vermont wants to be considered a "locals' mountain." Most are not. Burke Mountain actually is.
I found this out on a recent weekday when I tagged along with Adam Klein and his crew of steezy shredders. Apparently, the ropes that span trail entrances, prohibiting skiers and riders from heading down, are mere suggestions at Burke. In general, claimed my guide, the ropes are put up not for safety reasons but to preserve a nice stash for the regulars and prevent novices from blowing themselves up on a run that's over their heads. Hence, going under the ropes at Burke is OK if you know the rules.
Klein is a 20-year-old junior at Lyndon State College who squeezes in runs between his classes in television studies and recreation management. He picked Lyndon State based on its proximity to the mountain. Oh, and because the school has one of the best television majors in the country, he said.
I should mention now that I don't really have much in the way of steez, meaning that I am somewhat deficient when it comes to my on-mountain style. So the fact that I stuck out like a wildebeest in a pack full of jackals was no surprise. Many members of Klein's crew — all Lyndon Staters — were rocking XXXL basketball jerseys with big-and-tall snowboard pants. I might as well have been their mom, given how uncool I looked.
For our first run, I followed Klein and company to Burke's larger terrain park, Dashney Mile, affectionately called D-Block by those in the know. As Klein and his friends made their way down the trail, hitting rails and bonking walls, I cruised down the side of the slope. I didn't want to show them up with my sick moves.
After the guys had had enough of D-Block, it was time to go shred some glades. Klein, a slender snowboarder with a patchy reddish beard and shaggy blond mane, is like a walking Wikipedia when it comes to information about Burke. He gushed about the ski area's glades, and rightly so. A large portion of the mountain's terrain is dedicated to tree skiing and riding, much of this a secret closely guarded by regulars.
We rode the Willoughby quad up to the 3267-foot summit, where we stopped for a second to admire the view. From the top, you can see straight through Willoughby Gap, with Mount Hor rising on one side of the glassy lake below and Mount Pisgah on the other. The view didn't last long, as my guide headed off toward what looked like Upper Dipper.
But before the crew arrived at that trail, they veered toward an unmarked one with an orange rope slung across it. I told Klein I didn't feel comfortable heading down it, since it was roped off, but he told me not to worry. Dubious, I deferred to the ski patroller who was riding with us. He agreed with Klein.
So down we went on the sliver of a trail the guys called the Powerline for the wooden telephone poles that make up its spine. It was tight and sketchy, with exposed stumps and rocks that made me question why I'd decided to follow college-aged men down a mountain.
At the bottom of the run, we popped out briefly on Wilderness before dipping back into the trees for another harrowing trail. This time it was open, though I'll admit I wished it wasn't.
Dixieland, a true black-diamond trail, is a dense glade that rewards nimbleness and fast reflexes. Klein and company tore off into the woods, dodging obstacles and nailing little drops. Whenever one of them fell, all the others laughed and made fun of him mercilessly. Thankfully, they did not treat me as one of their own as I picked my way down the trail granny-style. Twelve down, 8 to go.