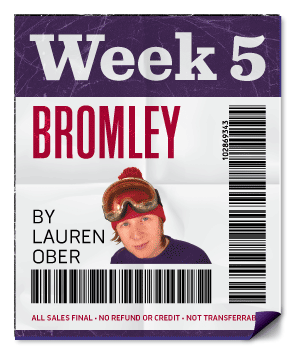 Burleigh Sunflower looks more like a middle linebacker than a snowboarder. He weighs nearly 300 pounds and stands somewhere just north of 6 feet tall. Snowboards barely stand a chance under his size 13 feet. The countless splintered boards he has accumulated over the course of his 12-year snowboarding career testify to that.
And yet Burleigh Sunflower (yes, that's his real name; more on that later) floats on his board with the elegance of a ballet dancer — albeit a barrel-chested ballet dancer with windburned cheeks and thighs the size of redwoods. During my tour of Bromley, I found myself transfixed, watching Sunflower rather than the trail ahead of me.
The 28-year-old Pennsylvania native rides about 120 days a year and serves as the supervisor of Bromley's snowboard school. As such, he seemed like the perfect tour guide to "Vermont's Sun Mountain." When I asked him to help out, he said he would "love to shred the big Brom" with me.
I met Sunflower on a blazingly sunny day. It was the first time I'd seen the sun in weeks. Apparently, this type of weather — bluebird skies, enveloping sun — is normal at Bromley. The resort's sobriquet isn't just a marketing tool.
Sunflower took me up the Sun Mountain Express quad to the summit of Bromley Mountain. Unlike many resorts, whose lifts stop just short of a peak's true summit, Bromley has a main quad that takes passengers right to the top.
On a clear day, skiers and riders have an impressive 360-degree view. If you squint, you can see the white- capped spike of Mt. Washington in the distance. The open summit is exposed and windswept. I had a hard time standing upright. Sunflower did not.
For our first run, he took me down Sunset Pass to Upper Thruway. The trails were wide and straight, like French boulevards. Many of them had little rollers in the middle, which Sunflower used as launch pads to propel himself into the air, landing with the opposite foot forward. Sunflower is a master of the switch.
On the next run, I followed Sunflower down Upper Twister to Upper Boulevard to the Everglades, a little open stand of conifers perfect for intermediate tree riding. It's one of a number of glades at Bromley. Sunflower easily picked his way through the trees and popped out on Lower Boulevard. I made my way through the trees with slightly less ease.
On each of the 10 or so rides we went on, Sunflower found some little pocket of powder in which to play. He looked like a 100-pound teenager skimming just above the snow. It's a style he's worked to cultivate. Because he's bigger than the average spindly snowboarder, Sunflower knows it takes very little movement to get his board going. This subtlety results in turns, tricks and little airs that look effortless.
Quick note about how Sunflower got his name: When he was born, Burleigh Sunflower weighed 11 and a half pounds. He was a burly baby.
At the time, his hippie, progressive parents didn't want to take each other's names. They settled on their unique surname after they planted a garden in their first house and the only things that came up were sunflowers.
Sunflower is like Johnny Cash's "Boy Named Sue." He owns his name, but it's a good thing he's as meaty as he is, because no one would dare mess with him. Someone less massive might not do so well with the handle.
We finished up the day with a run down the short, steep and curiously named Corkscrew to Yodeler, one of Sunflower's favorite trails at Bromley. As we cruised around a slip of trees, he stopped. "I love this part. On a sunny day, you come around this turn and just get hit in the face with sun," Sunflower said, beaming. I loved it, too. Five down, 15 to go.