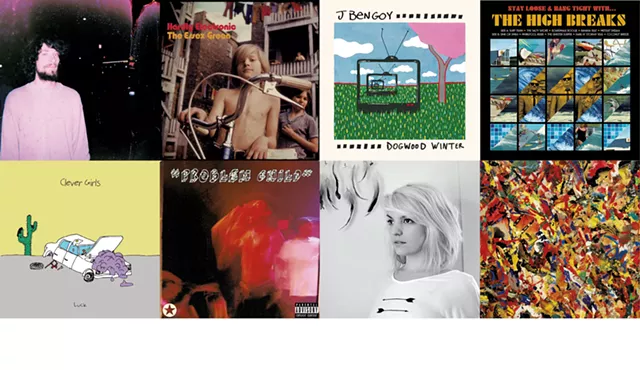 After a year of highlighting the works of local singer-songwriters, musicians, club promoters and producers, we thought it would be enlightening to learn what some of those same people chose as their favorite albums of 2018. In addition to soliciting scenesters' picks for both local and nonlocal releases, we also asked for their favorite tracks from each, which might serve as a good entry point for new listeners. Here's what they told us. Hopefully you'll discover some new favorites, too.
Diane Jean, Clever Girls
Local album: J Bengoy, Dogwood Winter

Favorite song from the album: "Hands"

Nonlocal album: Lucy Dacus, Historian

Favorite song from the album: "Pillar of Truth" / "Historians"
Jason Cooley, Blue Button
LA: The Dead Shakers, All Circles Vanish

FS: "Neighbors"

NA: Jóhann Jóhannsson, Mandy (Original Motion Picture Soundtrack)

FS: "Mandy Love Theme"
Kat Wright, soul maven
LA: Eric George, Two Hands//Songs of Resistance

FS: "Gentrification Rag"

NA: Brandi Carlile, By the Way, I Forgive You

FS: "The Mother"
JB Ledoux, the Le Duo, Jo Bled
LA: Zoë Keating, Snowmelt

FS: "Possible"

NA: Guerilla Toss, Twisted Crystal

FS: "Jesus Rabbit"
Tomodore64, the Tsunamibots
LA: The High Breaks, Stay Loose & Hang Tight With... the High Breaks

FS: "The Sinister Surfer"

NA: The Demon Seeds, Exercise Your Demons

FS: "Blood Orgy of the She Devils"
AliT, acoustic crooner
LA: Clever Girls, Luck

FS: "Catch and Release"

NA: Greta Van Fleet, Anthem of the Peaceful Army

FS: "When the Curtain Falls"
Kayhl Cooper, director
LA: Chazzy Lake, Goodbye V.D. Baby

FS: "Solar Flare"

NA: Tierra Whack, Whack World

FS: "Pretty Ugly"
Alex Crothers, Higher Ground Presents
LA: The Essex Green, Hardly Electronic

FS: "January Says"

NA: Courtney Barnett, Tell Me How You Really Feel

FS: "Nameless, Faceless"
Justin Barton, J Bengoy
LA: Grease Face, 2

FS: "RA ME"

NA: JPEGMAFIA, Veteran

FS: "Baby I'm Bleeding"
Dave Keller, bluesman
LA: John Smyth, Hunger Mountain Clay

FS: "Something Nice"

NA: Billy Price, Reckoning

FS: "Dreamer"
Urian Hackney, Rough Francis
LA: Paper Castles, Acceptionalism

FS: "Monster of the Week"

NA: Turnstile, Time & Space

FS: "Real Thing"
Rick Norcross, Rick & the Ramblers Western Swing Band
LA: Mark Struhsacker, Town & Country

FS: "Everybody Wins"

NA: The Gibson Brothers, Mockingbird

FS: "Travelin' Day"
Hanknative, 99 Neighbors
LA: Sam., Collision

FS: "DRIP"

NA: Aminé, ONEPOINTFIVE

FS: "SHINE"
Francesca Blanchard, chanteuse
LA: J Bengoy, Dogwood Winter

FS: "Suspended"

NA: Caroline Rose, LONER

FS: "Jeannie Becomes a Mom"
Kristina Stykos, producer
LA: Ariel Zevon, The Detangler

FS: "Cold Hearted Empath"

NA: Ben Reed, Two Dollar Woman

FS: "Ode to Jim"
Luke Awtry, concert photographer, Secret Family
LA: Clever Girls, Luck

FS: "Hannah Wants to See You"

NA: Ohmme, Parts

FS: "Grandmother"
Katy Hellman, Julia Caesar
LA: Honey & Soul, To the River

FS: "Mourning Dove"

NA: Neko Case, Hell-On

FS: "Winnie"
Sam., 99 Neighbors
LA: Hanknative, Problem Child

FS: "Backseat"

NA: Saba, Care for Me

FS: "Prom / King"
Jeff Baron, the Essex Green
LA: The Smittens, City Rock Dove

FS: "Love Is a Word"

NA: Courtney Barnett, Tell Me How You Really Feel

FS: "Need a Little Time"
[Disclosure: Jeff Baron is a Seven Days employee]
Rico James, Equal Eyes Records
LA: Es-K, Koan

FS: "You Said You"

NA: Marlowe (L'Orange & Solemn Brigham), Marlowe

FS: "Gone Believer"
Sam DuPont, the DuPont Brothers
LA: The Dead Shakers, All Circles Vanish

FS: "Accidental Graveyard"

NA: Adrianne Lenker, abysskiss

FS: "Symbol"
Nicole Nelson, Dwight & Nicole
LA: Rough Francis, MSP3: Counter Attack

FS: "Big Box Law Enforcement"

NA: Leon Bridges, Good Thing

FS: "Bad Bad News"
Sean Preece, the Welterweights, Preece
LA: Doom Service, The Uncanny Doom Service

FS: "Monsters Are Due on Maple Street"

NA: The Longshot, Love Is for Losers

FS: "Kill Your Friends"
Eric Olsen, Swale
LA: Bison, Drive Fast, Love Hard

FS: "Arkansas"

NA: Tierra Whack, Whack World

FS: "Black Nails" / "4 Wings"
Matt Hall, the Mountain Carol, Marco Polio
LA: Russ Bailey Trio, Vibrato

FS: "Miles Behind"

NA: Czarface and MF Doom, Czarface Meets Metal Face

FS: "Meddle With Metal"
Carson Ehlert, hope all is well, Signal Kitchen
LA: Adam Wolf, Songs I/II

FS: "Wait Up"

NA: Jay Rock, Redemption

FS: "The Bloodiest"
Django Soulo, Yestrogen
LA: Abby Sherman, Finding Hope

FS: "Feeling Small"

NA: Long Gone John, Miles Away

FS: "Easier to Quit"
Reid Parsons, balladeer
LA: smalltalker, Talk Small

FS: "Wildcard"

NA: Janelle Monáe, Dirty Computer

FS: "I Like That"
Adam Wolf, doom-country tearjerker
LA: The Onlys, Decay

FS: "Chores"

NA: Adrianne Lenker, abysskiss

FS: "Terminal Paradise"
Rebecca Mack, Amerykanka
LA: Inner Fire District, There Will Be Singing About the Dark Times

FS: "Lighthouse"

NA: Various artists, Black Panther: The Album [Music From and Inspired by the Motion Picture]

FS: "Big Shot" (by Kendrick Lamar and Travis Scott)
Kevin Bloom, the Dead Shakers
LA: ouzkxqlzn, Cover Songs

FS: "Sleeping Dogs" (Bleach Day cover)

NA: Kikagaku Moyo, Masana Temples

FS: "Entrance"