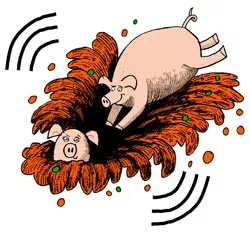 A few of you landed on a "goddess," more still on a "porn star." Several mentioned marathons, and some took their cue from Meg Ryan in When Harry Met Sally. A number of you looked to the animal kingdom for inspiration when pressed to fill in the blank. A dolphin! A gorilla! When one fortysomething couple makes waves, he sounds like a "reserved walrus," she like a "seal." We especially appreciated the alliteration-loving reader who came up with "a pot-bellied pig plunging into a pile of mud."
And so, in honor of that poetic flourish, we'll let you have the final word on this one. Consider this your found poem:
A wild boar
A joyful beast
A lion
A tiger
A bear
A strangled priest
A nun without her habit
A superhero changing into an uncomfortable costume
I'm winning a fight to the death against unlikely odds
I giggle
Like a champ
Like I stubbed my toe really hard
I'm mad
I'm happy as all hell
Happy like the great Mississippi
A Bach cadence
An opera singer
A fucking symphony
A wailing ghost
A wounded dog
I have rainbows coming out of my ears
A Foley sound artist for a '40s cartoon
A stuttering car engine
A steam locomotive
A generator winding down
contents under pressure
A crowd of teenaged girls at a Justin Bieber concert
A lumberjack chopping down a tree
An overweight Russian longingly calling his own name
Linda Blair in The Exorcist!
Björk
Darth Vader
John McEnroe winning Wimbledon
A hot-air balloon
A diving submarine
An F-35
A yes machine
A tea kettle
The wind in a creaky old barn
A sigh of relief
Quiet
Illustration by Sean Metcalf.
« Previous Part | Sex Survey Home | Next Part »