What's your favorite sex toy?
Is "my wife's hand" really a toy? A huge swath of the 694 respondents to this question seemed to think so. Many wrote that their fave toys were "my hand," "my man" or "a woman." One young married gal wrote, "I only like the flesh." A single teacher in her forties, who reported being unsatisfied with her current sex life, opined, "That's like asking a race-car driver what his favorite Matchbox car is."
Still, plenty of you like to crank up the heat with vibrators, anal beads, cock rings, butt plugs, dildos, flesh lights, floggers and handcuffs.
Some respondents get even more creative. A gay bartender in his fifties toys with his inflatable Justin Bieber doll. (Where can we get our hands on one of those?) A libertarian teen loves her bullet vibrator but added, "I also like the handle of a razor in my vagina. The contours are heavenly."
Two women — a young hetero interior designer and a sixtysomething bisexual teacher — love fooling around with "a wooden spoon." For the record, both said they're satisfied with their current sex lives.
Other respondents play with scarves, "a mini squeegee," a floating sex swing, a breast vise, LEGOs, Nutella, olive oil, a riding crop and rope. A security guard in his twenties has a thing for "wrist and ankle straps."
We appreciated the specificity of some toy recommendations, such as the Heartbreaker dildo on glassfantasy.com; the Doc Johnson Gal Pal and Pocket Rocket; the Aneros Helix Syn prostate massager; the bullet vibrator; the Cosmo Bunny vibrator; the Fleshlight Ice Crystal; the Golden Jack Rabbit; the Lelo Ina G-spot toy; and Mr. Bendy, "a relatively realistic-feeling, albeit too large, dildo in a SpareParts Joque Harness," wrote a genderqueer twentysomething.
Go ahead, google them — we're talking to you, Mr. Thirtysomething Republican, who wrote wistfully, "I haven't had any sex-toy fantasies fulfilled."
There's still time!
What's your go-to mood music for sex?
In Vermont, the hills are alive with the sound of mood music. And our tastes in aural pleasures run the gamut from Justin Bieber to Nine Inch Nails, from classical to heavy metal to hip-hop. Some readers are curiously specific: "'Sleigh Bells,' instrumental, by the Boston Pops." While others are far less particular: "Whatever covers the noise so my roommates don't hear us." Still others prefer no music at all. Wrote one such respondent, "your [sic] supposed to listen to music #fail." #whatever.
Taking a closer look…
As the popularity of EDM continues to swell, local lovers increasingly get a rise out of its throbbing strains, from techno to moombahton to deep house to … one person who wrote, "I dub to fuckstep." Well, of course you do.
Locally, Grace Potter is the soundtrack of choice for shared nocturnal emissions, with Waylon Speed positioned just behind … er, next. Local drummer Steve Hadeka also garnered a vote. Not any of Hadeka's bands, mind you. Just Steve. Also on the locavore tip, Vermont Public Radio won a few votes. We know Jane Lindholm and Reuben Jackson have great radio voices, but wow. Or maybe people are getting up to "Morning Edition"?
Some of you prefer a more dramatic approach to sexytime. In addition to general "porn music," nods went to such themes as the Lord of the Rings trilogy, Sweeney Todd and, our favorite, Top Gun — though that last particular maverick also mentioned "Beat It" by Michael Jackson, perhaps suggesting a partner had lost that loving feeling. (Was it the Top Gun thing?)
But overwhelmingly, Vermonters' favorite choice for slow jamz is, well, slow jams. Soul and R&B from Sam Cooke to Frank Ocean ruled the day. And the night. And the morning. And, aside from one confused soul who credited it to Barry White — seriously? — the No. 1 song to which sensitive Vermonters let their love come down is, of course, "Let's Get It On" by Marvin Gaye.
It's easier for me to get off…
With a partner: 53%
On my own: 47%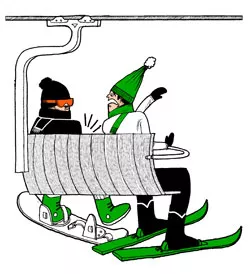 The most inappropriate place I've masturbated is…
Sitting in rush-hour traffic. Behind your desk at work. In church. Soaring at 30,000 feet. Sometimes the mood strikes at inconvenient times, or when a partner isn't around.
What to do? For many readers, the answer is simple: Take matters into your own hands.
Perhaps the most common "inappropriate" venue for self-loving is the workplace. Among those who said they diddled on the job were a childcare provider, a banker, a doctor, an attorney, a biologist, an architect, a wine merchant, an EMT, a farmer, a hair stylist, a nurse, a machine operator, a security officer and a cheese maker.
Grandma and Grandpa's house was another common hot spot. "On the couch under a blanket sitting next to granny," wrote a middle-aged "hetero/flexible" male. "Grandparents' living room floor," answered a thirtysomething bisexual. One woman vividly remembered "spending the night in grandmother's Jesus-themed sewing room."
Many 'fessed up to doing it in the holy house — perhaps aptly, in a confessional, wrote one gay male in his sixties. In the church bathroom, said several others. One bisexual male admitted to beating it in the choir loft. Hosanna, indeed. A teenage girl found nirvana at a Buddhist temple. And a hetero twentysomething female gave in to lust at church camp.
Coming on the go was another common theme, with many saying they played around in planes, trains and automobiles. "I-90 in the driver's seat outside Boston," one woman recounted. One gay male in his seventies managed to keep one hand on the rod while going through a tollbooth. A gay flight attendant confessed he once had to duck into an airplane bathroom for relief, while a transgender thirtysomething remembered doing it "while seated in a mostly empty car on the Amtrak Vermonter train." There's something about that vibration.
Some of you couldn't wait until you were alone. "In a tent surrounded by teenagers. I used to lead backpacking trips," answered a female in her twenties. "While sleeping over at my (super-Christian) friend's house — with her in the room!" wrote another female. One clever gal managed to pleasure herself during a dissection demonstration in a seventh-grade science class. Still another woman shredded her gnar at the top of a ski lift. "I make yawning faces at the skiers when I'm about to come," she explained.
Other self-love locales could only be described as brazen. "A pool in Disney World during the day." "My boss' wastebasket." At the "50-yard line." And "in a shelter on the Appalachian Trail filled with Marines."
I ____ have sex on the first date.
Should we be shocked that slightly more than 60 percent waffled at "sometimes," or that 41 respondents swore by "always"? Just 35 percent of you stuck to some kind of moral code and vowed "never."
If I come before my partner, I ____ make sure we keep going until he/she has come, too.
Of the 674 people who answered this one, nearly 72 percent said "always," and 27 percent admitted to a lackluster "sometimes." Boo to the roughly 10 peeps who copped to a flat-out "never."
Illustration by Sean Metcalf.
« Previous Part | Sex Survey Home | Next Part »