September is a bittersweet month of endings and beginnings. If we're bummed to say goodbye to gardens, beaches and the indolent days of summer, there's still a frisson of anticipation for what lies ahead. For some of us, that means going back to school. For sporty types, it means looking forward to gliding down the slopes. For theatergoers, it's time to buy tickets, for the performing-arts season is upon us.
Every August, the arts staff at Seven Days scours the schedules that pour in from the area's arts-presenting organizations, eager to find out who's coming where. We choose a baker's dozen to spotlight, each representing a particular genre, all gathered from venues around the state — plus, of course, our neighbor in New Hampshire, the Hopkins Center for the Arts at Dartmouth College. (Prices noted are for adult tickets and do not reflect student, senior citizen or subscriber discounts.)
While it's not possible to tell you about every show in this issue, we've provided an "if you like this, try these" addendum to each spotlight. If you're determined to experience every Broadway musical, string quartet, standup comic, or whatever, these lists will help you plan your entertainment schedule — and budget. Please note, though, that local theater will be addressed in future issues.
This year, we're adding a piece of fun new technology to the Performing Arts Preview: augmented reality. Grab a paper for instructions on how to download and use the Layar app — for free. You can make the artists in the print photos perform before your very eyes. It's awesome, we promise.
In September we also like to check in with some of the region's artistic directors to talk about what's trending, what's challenging in the business of booking entertainment, and what they're most excited about this season.
Last year at the area's two largest presenting-arts organizations, the Flynn and Hopkins centers, there was a lot of drama … offstage. The Flynn had a brand-new artistic director, Steve MacQueen, new seats — courtesy of an anonymous million-dollar donation — and other groovy improvements to the facility. Meanwhile, the Hop celebrated its 50th anniversary with a blowout of special programming. This year, both institutions are just doing what they normally do, and well: bringing us an extraordinarily diverse range of performers. As MacQueen puts it, "We'll keep all the drama onstage."
And he should know: This is MacQueen's first season programming the Flynn, as he arrived when previous artistic director Arnie Malina's final one was kicking in. He's had fun doing it, and doesn't see any reason to shift direction. "The pressure was on; I can't lie about that," MacQueen says. "The first couple of seasons are always transitional when you're adjusting to the community as well as the theater. But drastic changes? Not really. I think the Flynn's mission has been set from 30 years ago … It's quite a great place to program." In other words, if it ain't broke…
One thing that is still a little broken, though, is the state of international booking. For a few years after 9/11, it was a disaster, MacQueen says. Though the situation is "not as volatile" now, he adds, "Every veteran of the performing-arts scene will tell you: In the 20th century it was almost fun to travel; now, almost everything about it is difficult." Add to that the deflated world economy, and it's a wonder that we're seeing any global artists on our stages. Nonetheless, this year nearly every presenting-arts organization in the state will welcome its share of international performers who have soldiered through the paperwork, expense and air-travel hassles. Insert advance applause here.
So, what is MacQueen most excited about this year? We forced him (and the other directors) to name just three acts. Every single one said it was like choosing their favorite child, but, hey, there are only so many words on a page.
Besides Elvis Costello — a late booking not included in the season brochure — MacQueen goes with Kyle Abraham/Abraham.in.Motion ("mind-blowing"), Kronos Quartet ("Black Angels!") and Reggie Watts ("I've only seen him once, at 11 a.m. at a conference, in front of a bunch of hung-over arts presenters. But he killed it."). Coincidentally, we chose all three of those to spotlight, so you can read about them elsewhere in these pages.
MacQueen notes that last year's attendance at the Flynn surpassed expectations, "and we don't know why. A good issue to have," he adds. Natalie Neuert, director of the University of Vermont's Lane Series, says much the same thing. Last season, both organizations participated in the first-ever "Six-Pack" consortium, which offered reduced ticket prices to theatergoers under age 40. By all accounts, that experiment brought in new faces for all the presenters, and the deal will be offered again this year. In addition, the Lane Series has a Music Lovers Deal, with steep discounts to purchasers of tickets for every Recital Hall show, also returning this season.
"I thought groups of friends would co-opt it, like four friends," says Neuert. "But that's not what we're seeing; we're seeing people we know doing it. But we're delighted!"
Neuert has also observed an industry trend: The proportion of season subscribers to single-ticket buyers is dropping. She suggests the decreased preference for subscriptions reflects not the recession but a change in how many individuals, particularly of the younger generation, make entertainment decisions. "I think it's the way we're marketing to people; we're telling people a day or two before an event," Neuert says. "The marketing is more spontaneous and direct." She believes, too, that younger patrons are driven by FOMO — the fear of missing out. "There's a constant stream on their phones telling them, Oh, my God, this band is great, get here now," she says.
Of course, FOMO has a downside — by the time you decide, the show might be sold out.
Those who do like to plan ahead are already laying down the credit card for shows with buzz. For Neuert, this year's (forced) top three most exciting presenters start with the Gryphon Trio with Patricia O'Callaghan (February 14). "They have an unbelievable video — I showed it to a potential sponsor [of the show], and their jaw dropped," Neuert says. "There's something about the alchemy of this classical trio and pure, emotional jazz singer." As the Lane's Valentine's Day offering, Gryphon and O'Callaghan's show is titled "Broken Hearts and Madmen."
Neuert is also psyched about Gabriel Kahane (May 2), a pianist/singer/composer with a foot in both the classical and indie-pop worlds, and the son of famous conductor Jeffrey Kahane. "There is no way classical fans won't love it, and no way indie-rock fans of, say, the Decemberists won't love it, too," she says. Kahane is performing with Rob Moose, fiddle player for Bon Iver and occasional collaborator with Phish's Trey Anastasio. Which would explain why the band's Waterwheel Foundation is sponsoring the show. Rob has "been up here a bunch of times to the Barn to play with Trey," Neuert notes. Never hurts to have a Phish connection in Vermont.
And her third pick? Kobo Town (March 21). On Charlotte's Cumbancha label, the Toronto-based band has a Vermont connection, too. But their sound is booty-shaking Trinidadian calypso with an overlay of political and social commentary. "I'm the hugest fan of this band," says Neuert, who concedes the show "is like nothing we've ever done at Lane. I'm trying to move it out of the Recital Hall into a place where we can dance," she adds. "You will want to dance."
At Paramount Theatre in Rutland, programming director Eric Mallette is continually pushing the envelope, little by little. He says it has always been his goal to feature "a certain amount of 'wow'" each season. That is, "a big name, or a big name for a theater that size, or 'Wow, I didn't know that person was touring,'" he clarifies. This year, Mallette can easily lay claim to a number of "wow" shows.
For starters, the Paramount is the only venue in the region where Vermonters will be able to see David Sedaris, Garrison Keillor and Ira Glass. But, "interestingly enough," Mallette notes, entertainers such as these "are on the periphery of what our community wants." He likens his programming strategy to that of Pandora, the online radio station that plays what you tell it you like, and then finds "similar" artists to throw in the mix. In the Paramount's case, Mallette explains, "Comedy has always been a real heavy hitter for us, especially when the economy isn't exactly roaring." So the thinking goes, if you like comedian Bob Marley, you should give David Sedaris a try? Exactly, he says.
"We've had success with Garrison before, and knew we'd have support from VPR, which is how our 'public radio series' developed," Mallette continues, and adds that he's seen "a tremendous hunger for clean humor." These three acts, along with Paula Poundstone, "bring that smart, educated, topical humor to the table."
It's not just smartypants humorists who are raising the bar at the Paramount. Again playing on that "popular genre, new-to-Rutland artist" theme, Mallette points to acts such as Lyle Lovett (with John Hiatt), Greg Allman and Clint Black.
And then there's Stomp. The wildly popular percussionists "premiered a show at the Flynn five or six years ago," Mallette says, "and I've been drooling over the opportunity to bring an affordable show that mom, dad and the kids can come to … with Stomp, we can do that." The show, scheduled for next February, is almost sold out already.
As every presenter between New York City and Montréal knows, opportunity bookings sometimes allow small theaters to nab big acts en route to larger markets — often for lower prices. But patience may be required. When talking to booking agencies, Mallette says, "I dig my heels in the sand on price point. We don't present much in the summer, which means I don't need to announce [the fall season] until a little later. So," he explains, "I have the advantage of submitting my order based on what I want to charge my audience. I've found tremendous success with just sitting back and waiting."
Of course, that's why we often see a big-name act booked for early to mid-week rather than a weekend — but hey, we'll take it.
At the Paramount, Mallette can happily state, "We're in a growth spurt. There comes a time when you have to stake your own claim." The sheer number of shows on his roster supports that assertion, but it's the exclusivity he's proud of. "If you want to see David Sedaris or the Chieftains," he says, "you have to go to Rutland."
In Stowe, Lance Olson says he's in a "permanent conversation" with locals to understand what his market wants — and will pay for. But after a year at the helm of the Spruce Peak Performing Arts Center, he's got a much better idea of what works in a community that includes permanent residents, second-home owners and loads of transient vacationers, not to mention a periphery of smaller, less-gentrified towns.
"Peak Family is a major factor for us," Olson says, referring to one of the programming categories he's developed. "We're strongly influenced by what we hear when talking with people, and what we found was that family programming has a very large interest." And "family" doesn't just signal kiddie shows. "It crosses different generations," Olson says, explaining that family members of different ages can enjoy the same show together — such as this Friday's "Precocious Prodigies" concert with Burlington Ensemble — each in their own way.
Local schoolchildren will get their own shows, though. That's because, Olson says, "We're working with the Flynn this year on school-time matinees." Why should Spruce Peak reinvent the wheel with its own matinee series, he asks rhetorically, when one of the best programs in the country is right there? Olson notes that working with Spruce Peak enables the Burlington facility to expand its reach with a second location, while the Stowe venue "allows students from the Northeast Kingdom and the Route 100 corridor to have a shorter drive time" to the theater. Three of the matinees will be unique to Stowe, "because they fit best with our region," he adds.
The Peak Pop series is a little trickier to program, Olson concedes. Pop music "is related to the music [people] loved in high school and college," and thus doesn't mean the same thing to different age groups. "But we're trying," he says gamely. This year that stream includes a viperHouse reunion, multi-instrumentalist David Bromberg and Katie Goodman's Broad Comedy, among others. The Biebs generation will have to wait … for the movie.
Olson is not alone in relishing the opportunity to bring world-class performances to his venue for the low, low price of … a DVD. He has embraced the high-definition-broadcast phenomenon with the Peak Films series, which primarily brings lavishly produced operas from foreign locales, but also includes a doc on the Rolling Stones, a Warren Miller ski film, the Stowe Mountain Film Festival, and — at long last — the locally made, multi-part Freedom & Unity: The Vermont Movie.
For the most part, Peak Films enables Olson to bring "unique events captured on videotape that couldn't be done in Vermont but are extraordinary events," he says. "And we're adding a stream of programming this fall: Peak Classics — every other Friday night there is either a live classical performance or one on film — for example, Carmen from the Paris Opera. We think there is a real excitement about that."
Spruce Peak's biggest onstage production this year is the 50-member Rudolf Nureyev State Ballet Theatre of Russia, performing The Sleeping Beauty. But will it be more popular than Well-Strung, a singing string quartet that the New York Daily News describes as "the hottest thing with a bow since Jennifer Lawrence in The Hunger Games"? We shall see.
Asked how the Hopkins Center plans to follow its big 50th-anniversary act, programming director Margaret Lawrence notes with a laugh that the Hop is technically still in that calendar year. But a significant take-away from the heap of additional programming she did last season was the power of community. "One thing we realized with all of the free community events was, we tried to use that as fuel to plan more events — there is a desire for more arts in the community," Lawrence says. "We're working on fundraising to support that."
And her top three faves for the current season? Lawrence begs a three-fer in her first choice: dance companies Mark Morris, Bill T. Jones/Arnie Zane and flamenco artist Israel Galván, all coming with their own live music. "That's pretty unusual," she notes. "But we have a pit, and we're gonna use it!"
Another act is special, Lawrence says, because it is (almost) exclusive to the Hop: social-action-oriented theater group Los Angeles Poverty Department in collaboration with the Dutch collective Wunderbaum (LAPD's director is Dutch-born). Their subject? Health care. That is, how health care services depend on the recipient's financial status.
"We're really looking forward to this," says Lawrence. "Dartmouth is a medical community, a huge employer, with so many people who really care about health care delivery." Lawrence notes that shockingly, to Americans who view European health care as the gold standard, the financially strapped Netherlands government is considering adopting an American-style system of health insurance. The members of Wunderbaum may get an earful of cautionary tales while they're here. Their performance with LAPD, titled simply "Hospital," will appear only at the Hop and the Walker Art Center in Minneapolis.
Last but certainly not least, Lawrence pegs the Tiger Lillies as "absolutely iconoclastic" and "a group your readers will love." The British trio, clad in vintage apparel and outlandish makeup, is like Brecht/Weill meets Edward Gorey, a dark cabaret for (more) dark ages. The Lillies have been known to garner "damnation" from some humorless reviewers, such as this admonition from London's Guardian: "I reckon a night being roasted in hell would be more fun than watching this tedious display of exhibitionism." But the band's rabid international cult following will have none of that. "If you are partial to deftly crafted bad taste and have a penchant for toilet humour," summed up a critic for the Evening Standard, "this sinful show will leave you greedy for more."
Vermont fans of Spielpalast Cabaret, or of Halloween, might want to go in on a bus to Hanover for this deliciously weird evening on October 25.
And now, on to the (other) shows.
PAMELA POLSTON
---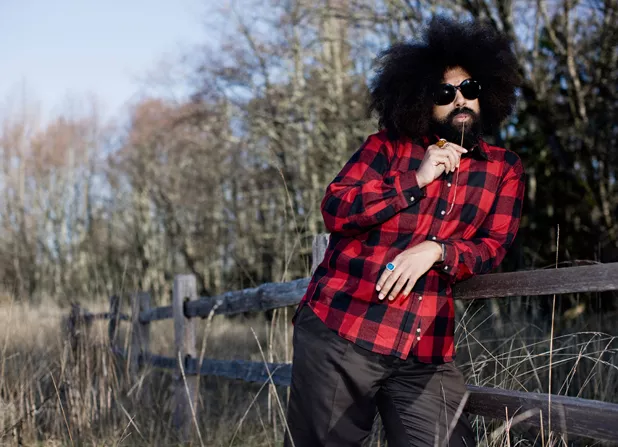 Reggie Watts
Reggie Watts wears a lot of hats. Or at least he might if he could find some that fit over his epic shock of hair. Seriously, have you seen that thing? It's like a small animal exploded on top of his head. Man, that's some crazy hair…
Where were we?
Oh, right. Reggie Watts. Lots of hats.
Watts is a musician, a standup and improv comedian, an actor, a writer, a viral video sensation (just google "What About Blowjobs"), and, more recently, the cohost of the TV show "Comedy Bang Bang" on IFC. And that's just as of this writing. It's likely he's added a bunch of other stuff to his résumé in the time it took to type that last sentence. The man is nothing if not busy.
But, for all his varied and numerous interests, Watts is at his best, and most unpredictable, onstage.
In his live performances, Watts specializes in musical compositions based on improvised loops and a cappella beats fused with a unique and bizarre style of stream-of-consciousness standup comedy. His hilariously absurd act can't be called a routine because, well, there is nothing routine about it. Every song at every show is a new composition that has never been heard before and, in most cases, never will be again. You never know what he'll say, sing or rap at any given time, because he doesn't, either.
Or, as Rolling Stone rather perfectly put it, "Reggie Watts is a comedian like platypuses are mammals: weirdly and awesomely."
October 4, 8 p.m. at Flynn MainStage. $15-36. October 5, 8 p.m. at Spaulding Auditorium, Hopkins Center. $25.
DAN BOLLES
If you like this, try these:
Paula Poundstone, September 13, 8 p.m. at Paramount Theatre. $29.50-39.50.
Bob Marley, October 18, 8 p.m. at Barre Opera House, $24.50.
Ralphie May, October 25, 8 p.m. at Paramount Theatre. $32.50.
Upright Citzens Brigade, November 8, 7 & 9:30 p.m. at FlynnSpace. $30.
Drew Carey, November 9, 8 p.m. at Paramount Theatre. $39.75.
David Sedaris, November 22, 8 p.m. at Paramount Theatre. $59.75-69.75.
Katie Goodman's Broad Comedy, November 23, 8 p.m. at Spruce Peak. $36/45.
Garrison Keillor, January 16, 7:30 p.m. at Paramount Theatre. $49.50-100.
The Capitol Steps, January 31, 7:30 p.m. at Barre Opera House. $22-38.
Chicago City Limits, February 22, 8 p.m. at Spruce Peak. $38/46.
Josie Leavitt, March 15, 7:30 p.m. at Spruce Peak. $20/25.
Brian Regan, April 10, 8 p.m. at Paramount Theatre. $45.75.
---
Kyle Abraham/Abraham.in.Motion
The hip-hop culture of the 1970s has influenced Kyle Abraham's choreography just as much as his classical training in cello, piano and the visual arts has. Abraham and his company, Abraham.In.Motion, draw from various disciplines and cultures to create fresh, fierce dance with a definitive swagger.
Abraham, who received the 2012 Jacob's Pillow Dance Award and a 2010 Bessie Award, explores his personal and cultural history in "Pavement." In it, Abraham reimagines the 1991 film Boyz N the Hood as a dance piece set not in the movie's South Los Angeles but in two rival historically black neighborhoods in Pittsburgh, where the choreographer grew up.
In the 1950s, those neighborhoods thrived with family-owned businesses and a vibrant jazz scene — Ella Fitzgerald and Duke Ellington performed at local theaters. Now those parts of the city are plagued with dilapidated buildings, gang violence and crack cocaine.
"I am focused on investigating the state of Black America," Abraham writes on his website.
The set for "Pavement" is simple — a basketball hoop, a blackboard and a chain-link fence. The score is diverse, from Bach to experimental sound to recorded gunshots. And the choreography, exploring themes of violence, love, male bonding, arrests, and physical and emotional pain, is organic. "Abraham's dance was born in the streets and still retains that improvisational look," wrote the Pittsburgh Post-Gazette earlier this year.
November 23, 8 p.m. at Flynn MainStage. $22-36.
MEGAN JAMES
If you like this, try these:
Mark Morris Dance Group, September 17 to 19, 7 p.m. at Moore Theater, Hopkins Center. $35-60; and February 19, 7:30 p.m. at Flynn MainStage. $30-50.
Catherine Cabeen—Hyphen, October 11 and 12, 8 p.m. at Mahaney Center for the Arts Dance Theater, Middlebury College. $20.
Step Afrika!, November 1, 8 p.m. at Flynn MainStage. $22-36.
Bill T. Jones/Arnie Zane Dance Company, January 7 and 8, 7 p.m. at Moore Theater, Hopkins Center. $25-50.
Rudolf Nureyev State Ballet Theatre of Russia: Sleeping Beauty, February 1, 7 p.m. at Spruce Peak. $65/75.
Stomp, February 18, 7:30 p.m. at Paramount Theatre. $39.50-49.50.
Lucky Plush: "Cinderbox 2.0," March 22, 8 p.m. at Flynn MainStage. $22-36.
Israel Galván, March 26 and 27, 7 p.m. at Moore Theater, Hopkins Center. $25-40.
Pilobolus, May 2, 8 p.m. at Flynn MainStage. $30-50.
Adele Myers and Dancers, May 17, 8 p.m. at FlynnSpace. $25.
---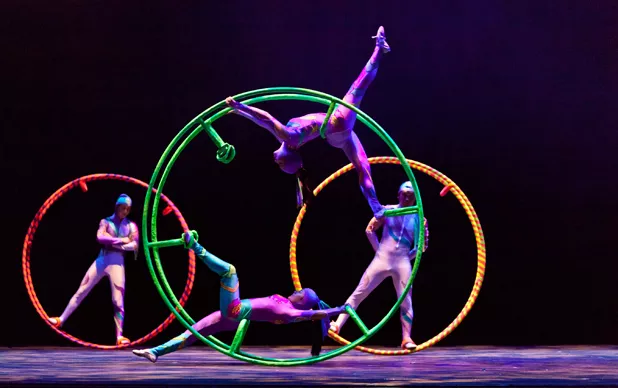 Golden Dragon Acrobats: "Cirque Ziva"
Imagine a man balancing atop a ladder that another man, standing on the ground beneath him, is wildly shaking. The balancing man's lower half rocks vigorously back and forth, but his top half remains utterly still — even as a third man climbs the moving ladder and flips up into a handstand on the balancing man's hands.
Such a feat of strength, balance and agility is par for the course for the Golden Dragon Acrobats. The touring Chinese troupe has perfected an acrobatic tradition that is believed to have begun 2500 years ago. Performers don colorful costumes and juggle, balance spinning plates, dance and make magic with their bodies accompanied by traditional and contemporary music.
Golden Dragon Acrobats began as a family affair. In 1949, Chinese acrobat Lien Chi Chang traveled with his brother to Taiwan to perform but was unable to return home because of the Chinese Civil War. So the pair stayed put and launched a company.
In 1984, Chang's son, Danny, who had performed professionally with the troupe since he was 7, became the director. Since then the Golden Dragon Acrobats have taken their act to more than 65 countries around the world.
A 2008 New York Times review described a pas de deux-inspired act in which a female performer "plant[ed] her toe shoes in the fleshy points" of her partner's collarbone, then balanced in arabesque on one of his shoulders "while he grandly traversed the stage. The spectacle wasn't created by magic, but through the strength and articulation of the body. And that's what made it magical."
March 5, 7 p.m. at Flynn MainStage. $22-38.
MEGAN JAMES
If you like this, try these:
Cirque Éloize, November 4 and 5, 7:30 p.m. at Flynn MainStage. $34-54.
Cirque Alfonse: "Timber!" December 3, 7 p.m. at Flynn MainStage. $22-36; also December 5, 7 p.m., and December 6, 8 p.m. at Moore Theater, Hopkins Center. $25-40.
Super Scientific Circus, November 5, 10 a.m. and 12:30 p.m. at Paramount Theatre. $6.50.
Ruckus: A Cirque Spectacular, November 15, 7 p.m. at Barre Opera House. $25; also December 28, 7 p.m. at Spruce Peak. $38/46.
---
Sandglass Theater: D-Generation: An Exaltation Of Larks
"When people get Alzheimer's, they slip off into this place where people think they have nothing left to give." Those are the words of Anne Basting, creator of a storytelling project called TimeSlips. Her ideas inspired Putney's 31-year-old Sandglass Theater to craft this multimedia show devoted to proving the opposite — that Alzheimer's patients still have tremendous creativity to give the world.
Currently on its national tour, D-Generation draws poetry from unlikely combinations. Detailed, realistic puppets represent residents of a nursing home. The puppeteers — Sandglass co-artistic directors Eric Bass and Ines Zeller Bass, and troupe member Kirk Murphy — play their caregivers. The residents' stories come alive in a smaller, two-dimensional puppet theater and in video segments from Michel Moyse, while a live quartet provides musical accompaniment.
The show's nonlinear narratives derive from real people with late-stage dementia whom Sandglass players met during 20 visits to two Brattleboro care facilities. At the suggestion of a Sandglass board member, the company used the TimeSlips method to elicit stories, giving the patients a photo as a prompt and recording their responses without trying to force them into logical patterns.
Onstage, Sandglass contrasts mundane depictions of life with dementia patients — a puppet berates her caregiver for serving cold gazpacho — with sequences of whimsical, otherworldly beauty. A puppet lady shops for gorgeous garments in Paris; a dove perches on a woman's naked torso.
Financed by a grant from the National Theater Project, the show's tour is making waves: D-Generation won the Best Direction award at August's Puppeteers of America festival. It's had a powerful effect on its performers, too. Puppeteer Murphy is now a certified TimeSlips facilitator, while Eric Bass told the Boston Globe that the show has forced him and Ines, both in their sixties, to think about "what might be in store for us." Audiences of all ages will doubtless do the same.
November 21 to 23, 8 p.m. at FlynnSpace. $25.
MARGOT HARRISON
If you like this, try these:
Saints & Poets Production Company: The Puppet Shoppe, September 12 to 14, 7:30 p.m.; September 14 and 15, 2 p.m. at Off Center for the Dramatic Arts. $15.
Los Angeles Poverty Department/Wunderbaum: Hospital, January 17 and 18, 8 p.m. at Moore Theater, Hopkins Center. $25.
Indian Ink Theatre Company, Guru of Chai, April 8 to 10, 7:30 p.m. at FlynnSpace, Burlington. $25.
Shadowlight Productions, Poro Oyna: The Myth of the Aynu, January 10 and 11, 8 p.m. at Moore Theater, Hopkins Center. $20/30.
---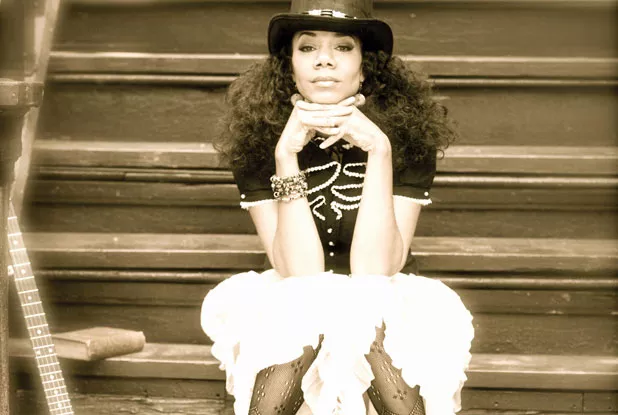 Martha Redbone
Lane Series director Natalie Neuert took one listen to Martha Redbone's set at the 2013 Global Fest in New York City and "booked her on the spot." What she saw and heard: "a mesmerizingly beautiful woman with a rich, soulful voice, backed by a five-piece acoustic blues band." And what Redbone sang was surprising: "Piedmont and Appalachian country blues set to the words of William Blake."
This distinctive musical approach, combined with Redbone's African American and Choctaw heritage, makes her one of the most singular artists performing today. Her sound is anchored in the deepest roots of American music — Indian, African and English. The now-defunct Performing Songwriter magazine colorfully called it "part Neville Brothers, part Aretha Franklin, part tribal powwow." More recently, msn.com's Robert Christgau called Redbone simply "a major find" and even compared her to Bob Dylan as a lyricist.
The singer's most recent release, The Garden of Love — the Songs of William Blake, was produced by Nitty Gritty Dirt Band founder John McEuen and recorded in Nashville. While not Redbone's first album, it is widely considered a "reflowering" of her complex cultural influences and has garnered gushing praise.
Alongside her musical career, Redbone is an activist for indigenous issues and a mentor and teacher for American Indian children, leading workshops on native music and giving motivational talks. She's a woman who takes her culture and her music seriously — one who, onstage, sounds like America.
October 11, 7:30 p.m. (pre-performance talk at 6:30) Lane Series at UVM Recital Hall. $25. May 1, 7 p.m. at Spaulding Auditorium, Hopkins Center. $15-25.
PAMELA POLSTON
If you like this, try these:
Cassandra Wilson, September 22, 7 p.m. at Fuller Hall, St. Johnsbury Academy (Kingdom County Productions). $36-74.
Alejandro Escovedo and Shelby Lynne, September 28, 8 p.m. at Flynn MainStage. $22-36.
Meshell Ndegeocello: "A Dedication to Nina Simone," February 1, 8 p.m. at Flynn MainStage. $25-42.
---
Kronos Quartet
Quick, name a classical music group that has performed with Allen Ginsberg, Noam Chomsky and Tom Waits. Stumped? Yes, it's the Kronos Quartet, a San Francisco-based group that has rightly been dubbed "musically omnivorous."
Over the 40 years of its existence (only one original member, founder-violinist David Harrington, remains), Kronos has made a niche for itself as a hip purveyor of avant-garde compositions. The group has commissioned some 750 new works for string quartet; collaborated with numerous rock stars (Rolling Stone called Kronos "classical music's own Fab Four" back in 1987); played the scores of Darren Aronofsky's Requiem for a Dream and Michael Mann's Heat, among other films; and recorded the work of international composers from Africa to Afghanistan.
The group can also, apparently, render practically any kind of music worth listening to. "Ecstatic pop can sound surprisingly avant-garde when played on violins," quipped a Guardian reviewer after hearing the group's first performance at the Proms in London last year. Program selections that night, he wrote, ranged from "lo-fi Syrian party music" to an "electroacoustic mix of warm synths and icy strings."
When Kronos plays the Flynn, the foursome will deliver a new staging of George Crumb's "Black Angels," among other works.
February 15, 8 p.m. at Flynn MainStage. $30-50.
AMY LILLY
If you like this, try these:
Johannes String Quartet With Fred Child, September 22, 7 p.m., and February 27, 7:30 p.m. at FlynnSpace. $35.
Tetzlaff Quartet, October 18, 8 p.m., at Spaulding Auditorium, Hopkins Center. $25-40.
Imani Winds, October 25, 7:30 p.m. Lane Series at UVM Recital Hall. $30; also, with pianist Jason Moran, April 3, 7 p.m. at Spaulding Auditorium, Hopkins Center. $20-30.
ETHEL, November 15, 7:30 p.m. Lane Series at UVM Recital Hall. $25.
Jupiter String Quartet, November 23, 8 p.m. at Mahaney Center for the Arts Concert Hall, Middlebury College. Free.
Hugo Wolf Quartett, March 9, 3 p.m. Lane Series at UVM Recital Hall. $25.
Elias String Quartet, March 13, 7:30 p.m. at Mahaney Center for the Arts Concert Hall, Middlebury College. Free.
The Jasper String Quartet, March 14, 7:30 p.m. at Chandler. $32/35.
Borromeo Quartet, March 15, 8 p.m. at Paramount Theatre. $20.
Arditti Quartet, March 26, 7 p.m. at Spaulding Auditorium, Hopkins Center. $25-40.
Heath String Quartet, April 9, 7:30 p.m. at Mahaney Center for the Arts Concert Hall, Middlebury College. $20.
---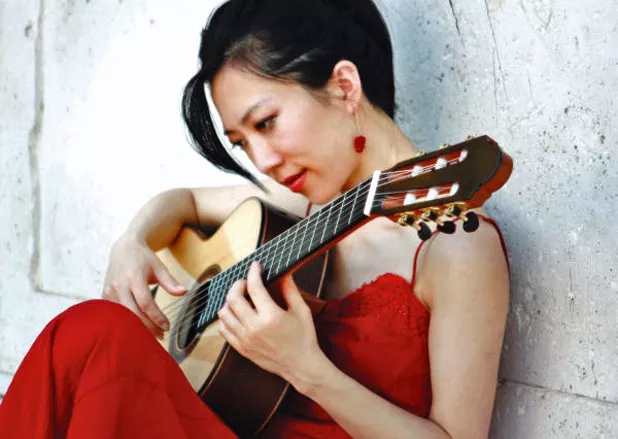 Xuefei Yang
"The guitar world has a new star," announced Gramophone magazine in 2008, referring to the Chinese classical guitarist Xuefei Yang.
Western music and instruments were banned in China just before Yang was born in 1977. So when she picked up — and quickly mastered — classical guitar as a young child, she earned a reputation as a musical pioneer.
Yang was the first Chinese student to enter a conservatory for her instrument. Her classmates and teachers "knew nothing about the guitar and really looked down on it," she told Gramophone. "Which made me feel very frustrated, but at the same time made me feel stronger that I wanted to show them it was a beautiful instrument."
Mission accomplished. Yang started blowing audiences away at age 10 and hasn't let up since. After earning a full scholarship to the Royal Academy of Music in London (another first for a Chinese student), she launched an international career. Yang has now performed in 40 countries and released four recordings with EMI Classics.
At Middlebury College, she'll perform transcriptions of works by Scarlatti, Schubert and Britten; the Ginastera guitar sonata; and a work composed especially for Yang by contemporary Chinese composer Chen Yi.
Can't wait to get the conversation about classical guitar and Chinese musicians started? Join fellow concertgoers at a pre-performance dinner in the lower lobby of the Mahaney Center.
December 6, 8 p.m. at Mahaney Center for the Arts Concert Hall, Middlebury College. $25.
MEGAN JAMES
If you like this, try these:
Eric Despard, September 21, 8 p.m. at Mahaney Center for the Arts Concert Hall, Middlebury College. Free.
Anoushka Shankar, November 21, 7:30 p.m. at Flynn MainStage. $25-40.
Los Angeles Guitar Quartet, April 12, 7:30 p.m. at Chandler. $35/40.
---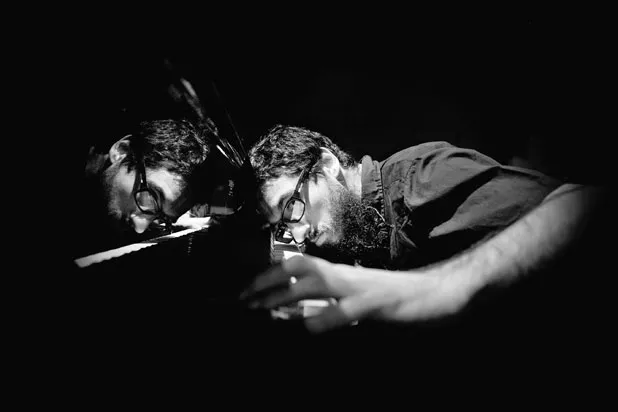 Dejohnette/Lovano/
Spalding/Genovese Quartet
We've heard of masters and mentors, but it's not every day you see a single band that spans three generations. Jack DeJohnette, 71, named an NEA Jazz Master in 2012, is simply one of the most influential drummers in the world (as well as a pianist and composer) and still in demand after five decades in the music biz. In this new quartet, he teams up with multiple-Grammy-winning saxophonist Joe Lovano, 60, whom the New York Times has dubbed "one of the greatest musicians in jazz history," and two younger players: bassist/vocalist/composer Esperanza Spalding, 28, who wowed local audiences a few years back at the Burlington Discover Jazz Festival; and her frequent globe-trotting collaborator, Argentinian pianist Leo Genovese, 34 (pictured).
It's telling that, despite their senior status and experience, the older players give the younger ones equal billing in the group's name. That's no mere act of generosity, because Spalding and Genovese do more than keep up: They give astonishing performances every time they step on stage. Without exaggeration, Spalding can be called the most talked-about jazz musician of her generation, and the buzz only got louder when she won the Best New Artist Grammy in 2011 — the first jazz musician in history to do so. With Genovese's remarkable, innovative work on the keys, the pair continues to stay on jazz's cutting edge.
For jazz fans, this greatness-times-four collaboration will be another one for the history books. Expect music that, as DeJohnette has put it, is "open, prepared for the unexpected, and willing to follow that where it takes us."
March 3, 7:30 p.m. at Flynn MainStage. $33-55. March 4, 7 p.m. at Hopkins Center. $25-40.
PAMELA POLSTON
If you like this, try these:
Ian Ethan's Open Land Trio, September 21, 7:30 p.m. at River Arts. $15.
viperHouse, September 28, 8 p.m. at Spruce Peak. $24/30.
Diane Krall, October 9, 7:30 p.m. at Flynn MainStage. $55-99.
Hot Club of Detroit, November 8, 7:30 p.m. Lane Series at UVM Recital Hall. $25.
Chick Corea, April 12, 8 p.m. at Paramount Theatre. $39.75-49.75.
Arturo O'Farrill and the Afro Latin Jazz Orchestra, April 19, 8 p.m. at Flynn MainStage. $25-40.
---
National Broadway Tour, The Addams Family
Ba-da-da-bum. Snap snap! Only one show can give you the thrill of finger-snapping along to the theme song for America's very first goth sitcom — and doing it three days before Halloween. That's the nationally touring production of the Broadway musical that made Charles Addams' classic cartoons do kick-lines, with music and lyrics by Andrew Lippa and book by Marshall Brickman and Rick Elice.
Suave Gomez and sexy Morticia — originally interpreted on Broadway by Nathan Lane and Bebe Neuwirth — take the stage in all their gory glory, surrounded by their eerie extended family. But their daughter Wednesday has a problem: She's fallen for a boy from a nice, normal household. His parents are coming for dinner, and the creepy clan has to be on its best behavior — no mayhem allowed.
The Addams Family didn't draw raves from critics when it premiered on the Great White Way in 2010, but audiences flocked to the musical, making it the rare "critic-proof smash," wrote the New York Times. The production's appeal? Well-loved characters, strong song and dance — the Addamses have their own special moves, like "rigor mortis" and "the death-rattle" — and nonstop goofy black humor.
In short, it's the perfect evening for young and old fans who want to watch Morticia work her dress "cut down to Venezuela," Wednesday torture her brother Pugsley and Uncle Fester serenade the moon. The Naples Daily News summed up the touring production: "Funny, silly, goofy, a little kooky and kinda fun." Make that funereal!
October 28, 7:30 p.m. at Flynn Mainstage. $25-70. February 3, 7 p.m. at Paramount Theatre. $49.50-59.50.
MARGOT HARRISON
If you like this, try these:
Lyric Theatre Company: Joseph and the Amazing Technicolor Dreamcoat. November 14 and 15, 7:30 p.m.; November 16, 2 and 7:30 p.m.; November 17, 2 and 6:30 p.m. at Flynn MainStage. $21-35.
Memphis, Broadway National Tour. January 24, 8 p.m. at Flynn MainStage. $50-70.
Green Day's American Idiot, Broadway National Tour. February 11 and 12, 7:30 p.m. at Flynn MainStage. $50-73.
Patti LuPone, March 7, 8 p.m. at Flynn MainStage. $45-65.
University of Vermont Department of Theatre: Urinetown. March 13 to 15 and 20 to 22, 7:30 p.m.; March 15 and 23, 2 p.m. at Royall Tyler Theatre. $21.
Man of La Mancha, Broadway National Tour, March 20, 7:30 p.m. at Flynn MainStage. $50-70.
---
Van Cliburn Medalists
The pianist Van Cliburn, famous for winning the inaugural 1958 International Tchaikovsky Competition in Moscow at the age of 23, died earlier this year. For the first time in decades, he wasn't around to present awards to the winners of the Van Cliburn International Piano Competition, an event started by arts patrons and admirers in Cliburn's hometown of Fort Worth, Texas, in 1962.
Chances are that's the only loss Vadym Kholodenko, Beatrice Rana (pictured) and Sean Chen — this year's winners of the gold, silver and crystal awards, respectively — will associate with the experience. The Cliburn, which comes around every four years, is the most lucrative piano competition out there; gold wins $50,000. And winners get the immeasurably greater benefit of three years of management and concert appearances — one of which is at the University of Vermont's Music Recital Hall, as part of its Lane Series.
This year's winners are young, as is typical, but one is particularly so: Rana, from Italy, is only 20. She is also one of few female winners; 14 competitions over half a century have yielded a roster of mostly men.
Rana's life until now appears to have revolved around competitions, of which she has won an impressive number: the Italian government's most prestigious scholarship at the age of 12, the Montréal International Music Competition at age 18, and the list goes on. A less important but telling honor she received was the Audience Award at Cliburn. The Ukrainian Kholodenko and the American Chen may be just about as talented, but Rana apparently has the charm.
Sean Chen, October 2, $30; Beatrice Rana, February 7, $30; Vadym Kholodenko, April 25, $38, all Lane Series at UVM Recital Hall, 7:30 p.m.
AMY LILLY
If you like these, try these:
VPR Classical's Joe Goetz performs with Burlington Ensemble, September 13, 7:30 p.m. at Spruce Peak. $30/35.
Imogen Cooper, October 10, 7 p.m. at Middlebury College. $25.
Vassily Primakov, October 12, 7:30 p.m. at Chandler. $30/35.
Benjamin Grosvenor, October 29, 7:30 p.m. at Middlebury College. $20.
Sally Pinkas, November 13 (with Apple Hill String Quartet); March 3 (solo); both 7 p.m. at Hopkins Center. $21-27.
Jung-Ja Kim, January 12, 3 p.m. at Middlebury College. $20.
Simone Dinnerstein, January 18, 7:30 p.m. at Chandler. $35/40.
Alexander Melnikov, February 23, 3 p.m. at Middlebury College. $25.
Paul Neubauer and Anne-Marie McDermott, February 28, 7:30 p.m. Lane Series at UVM Recital Hall. $25.
Paul Lewis, April 4, 8 p.m. at Middlebury College. $25.
Gabriela Montero, April 16, 7 p.m. at Hopkins Center. $25-40.
---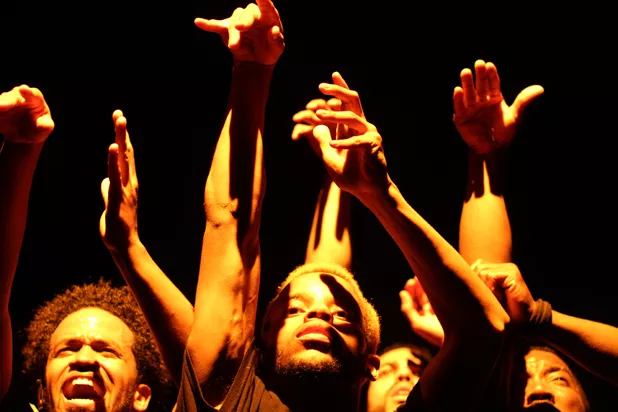 The Living Word Project: Word Becomes Flesh
Nine months can be a long time for an expectant father to wonder if he's ready, to struggle with a lifelong commitment. In Marc Bamuthi Joseph's hip-hop "choreopoem" Word Becomes Flesh, a young man pleads with his unborn child to understand his ambivalence: "Please realize that a brother be feeling stressed, too. / And blessed, too."
Joseph is widely acclaimed as a spoken-word poet and playwright; Smithsonian Magazine named him one of America's Top Young Innovators in the Arts and Sciences in 2007. The Oakland, Calif., poet wrote the first version of Word Becomes Flesh a decade ago as a "birth story" for his young son. It evolved from a monologue into an explosive piece in which five young men sling rapid-fire rhymes and release their physical energy through dance with the help of live DJ Dion Decibels.
Among the charged topics the performers transform into poetry — sometimes angry, sometimes gentle, sometimes funny — are the legacy of absent dads, the poisonous "thug" mentality and the difficulties of being young, black and male in America. "Son, this is to sever the cycle," one of Joseph's stand-ins promises his offspring. But how can he stay present in his son's life when he's not in love with the mother?
There are no easy answers in this physically demanding piece where anguish and joy alternate. "I believe in art that sweats," Joseph told the New York Times in 2012. His company will give locals a chance to sweat, too, during a residency at Middlebury College that includes master classes for students, two performances of the play — with discussion to follow — and an open-mic night open to the public.
September 20 and 21, 8 p.m. at Wright Memorial Theatre at Middlebury College. $6-20. Verbal Onslaught open-mic night, September 19, 9 to 11 p.m., 51 Main at the Bridge in Middlebury. Free.
MARGOT HARRISON
If you like this, try these:
Ethan Lipton + His Orchestra: No Place to Go. September 26 and 27, 8 p.m. at FlynnSpace. $25.
Edgar Oliver: Helen & Edgar. October 22 and 23, 7 p.m. at Warner Bentley Theater, Hopkins Center. $25.
A Tribe Called Red, November 1, 7:30 and 10 p.m. at Collis Common Ground, Hopkins Center. $20.
Kobo Town, March 21, 7:30 p.m. Lane Series at UVM Recital Hall. $22.
Lagartijas Tiradas al Sol: El Rumor del Incendio. April 2 and 3, 7:30 p.m. at FlynnSpace. $25.
---
April Verch Band
To call April Verch a "triple threat" makes her sound terrifying. In fact, this fiddler, step-dancer and singer from the Ottawa Valley of Ontario is the life of the party. Don't let the hipster glasses fool you: Verch is known as a brilliant interpreter of tradition. For her, that means the Franco-Celtic music and dance traditions brought centuries ago from the Old World to the new. She picked up the fiddle at age 6, and by the time she graduated from high school, Verch had won the Canadian Open Old Time Fiddle Championship and released two albums.
After a year at Berklee College of Music in Boston, Verch returned home to take first place in the Canadian Grand Masters Fiddling Competition in 1998 — making her the first female to win both of Canada's top fiddle contests. And we all know the fiddle is taken seriously up there, eh?
Verch rounds out her sound with clawhammer banjo and bass played by Cody Walters, and guitar by Hayes Griffin — as well as harmony vocals from the two fellas. The trio recently returned from touring in the UK, where their live shows won rave reviews, as did new recording Bright Like Gold. Back in the U.S., Nashville Scene describes the album's 20 tracks as "arguably still not enough to show off the range of the trio's musical interests, which wind from mossy old fiddle tunes through classic country and bluegrass, a bit of swing and some strong original material."
Of course, what you can't experience on the album is Verch's spirited step-dancing, which the Lane Series calls "percussively part of the music, visually thrilling and physically virtuosic." Or is that Verchuosic?
September 27, 7:30 p.m. Lane Series at UVM Recital Hall. $22. January 17, 7:30 p.m. at Chandler. $27/30.
PAMELA POLSTON
If you like this, try these:
[The season includes far too many traditional acoustic acts to list here; these are ones with a Canadian or Celtic focus.]
Alasdair Fraser and Natalie Haas, September 22, 7:30 p.m. at Chandler. $25/30.
Wendy MacIsaac & Mary Jane Lamond, November 22, 7:30 p.m. Lane Series at UVM Recital Hall. $25.
Natalie MacMaster, December 4, 7 p.m. at Barre Opera House (Kingdom County Productions). $39-58.
Le Vent du Nord, February 1, 7:30 p.m. at Barre Opera House. $16-30.
Cantrip with the Annalivia Duo, March 22, 7:30 p.m. at Chandler. $20/25.
The TradNation Project, May 9, 7:30 p.m. at Chandler. $20.
---
A.J. Croce
In the debate over nature versus nurture, proponents of the former may wish to claim songwriter A.J. Croce as Exhibit A. Croce is the son of folk legend Jim Croce. He hardly knew his famous dad, who died in a plane crash in 1973 when A.J. was just 2 years old — and mere months after A.J. himself was struck blind by a brain tumor.
Yet Croce taught himself to play piano as a child, signed his first record deal as a teenager and has become a greatly respected songwriter. From his early works as a blues- and jazz-influenced artist to his more recent forays into pop and rock, he has built a career that would do his late father proud. Or, as Willie Nelson put it, "He represents his generation with a profound sense of honesty in his lyrics and quality in his delivery. The future of entertainment is safe in his hands!"
Well said, Willie.
Croce's latest project is an ambitious serial album called Twelve Tales, composed of 12 songs released monthly as singles throughout 2013. Each song is recorded in a different American city with a different producer, including "Cowboy" Jack Clement in Nashville and Allen Toussaint in New Orleans.
Croce describes the record as the "most unique and challenging album I've made to date." Even he doesn't really know how it will turn out.
"This project is like a musical jigsaw puzzle without a box," Croce writes on his website. "I won't see the full picture until the last song is completed."
October 7, 7:30 p.m. at the Brick Box at Paramount Theatre. $15.
DAN BOLLES
If you like this, try these:
Nitty Gritty Dirt Band, October 4, 8 p.m. at Barre Opera House. $22-37.
David Bromberg Quintet, October 5, 8 p.m. at Spruce Peak. $48/55.
Lyle Lovett & John Hiatt, October 22, 8 p.m. at Paramount Theatre. $59.50-79.50.
Dr. John, October 25, 8 p.m. at Flynn MainStage. $25-65.
Robert Cray Band, October 25, 8 p.m. at Barre Opera House. $24-49.50.
Gregg Allman, November 1, 8 p.m. at Paramount Theatre. $49.75-79.75.
James "Blood" Ulmer, November 9, 8 p.m. at FlynnSpace. $25.
Mavis Staples, November 9, 8 p.m. at Barre Opera House. $22-42.
Dr. Lonnie Smith's "In the Beginning" Octet, January 24, 8 p.m. at Spaulding Auditorium, Hopkins Center. $25-40.
Eric Bibb & Ruthie Foster, February 7, 7:30 p.m. at Chandler. $32/35.
PRESENTER INFO & TICKETS
Barre Opera House, barreoperahouse.org, 476-8188
Burlington Chamber Orchestra, bcovt.org, bco@bcovt.org
Burlington Civic Symphony, bcsovt.org
Burlington Ensemble, burlingtonensemble.com, 598-9520
Cathedral Church of St. Paul, Burlington, stpaulscathedralvt.org, 864-0471
Champlain Philharmonic, Montpelier, champlainphilharmonic.org, 595-0087
Chandler Center for the Arts, Chandler Music Hall, Randolph, chandler-arts.org, 728-6464
Flynn Center/FlynnSpace, Burlington, flynncenter.org, 863-5966
Girls Nite Out Productions, Burlington, girlsniteoutvt.com, 448-0086
Higher Ground Presents, South Burlington, highergroundmusic.com
Hopkins Center, various venues, Dartmouth College, Hanover, N.H., hop.dartmouth.edu, 603-646-2422
Johnson State College, Dibden Center for the Arts, jsc.edu, 635-1476
Kingdom County Productions, Barnet & Burlington, kingdomcounty.com, 357-4616
Lake Champlain Chamber Music Festival, Winooski, lccmf.org, 846-2175
Lane Series, various venues, Burlington, uvm.edu/laneseries, 656-4455
Lebanon Opera House, N.H., lebanonoperahouse.org, 603-448-0400
Lost Nation Theater, Montpelier, lostnationtheater.org, 229-0492
Lyric Theatre Company, Burlington, ? lyrictheatrevt.org, 658-1484
Middlebury College, various venues, middlebury.edu, 443-6433
Middlebury Town Hall Theater, townhalltheater.org, 382-9222
Montpelier Chamber Orchestra, montpelierchamberorchestra.org, mcos@montpelierchamberorchestra.org
Northern Stage, Briggs Opera House, White River Junction, northernstage.org, 296-7000
Off Center for the Dramatic Arts, Burlington, offcentervt.com
Paramount Theatre, Rutland, paramountvt.org, 775-0903
Pentangle Arts, Woodstock, pentanglearts.org, 457-3981
UVM Theatre, Burlington, uvmtheatre.org, 656-2094
Vergennes Opera House, vergennesoperahouse.org, 877-6737
Vermont Contemporary Music Ensemble, various locations, vcme.org, 849-6900
Vermont Philharmonic, Barre, vermontphilharmonic.org
Vermont Stage Company, FlynnSpace, Burlington, vtstage.org, 862-1497
Vermont Symphony Orchestra, various locations, vso.org, 800-876-9293, x10
Vermont Youth Orchestra, various locations, vyo.org, 655-5030
Weston Playhouse, westonplayhouse.org, 824-5288
The original print version of this article was headlined "Show Time!"
Cover photo by Mark Morris