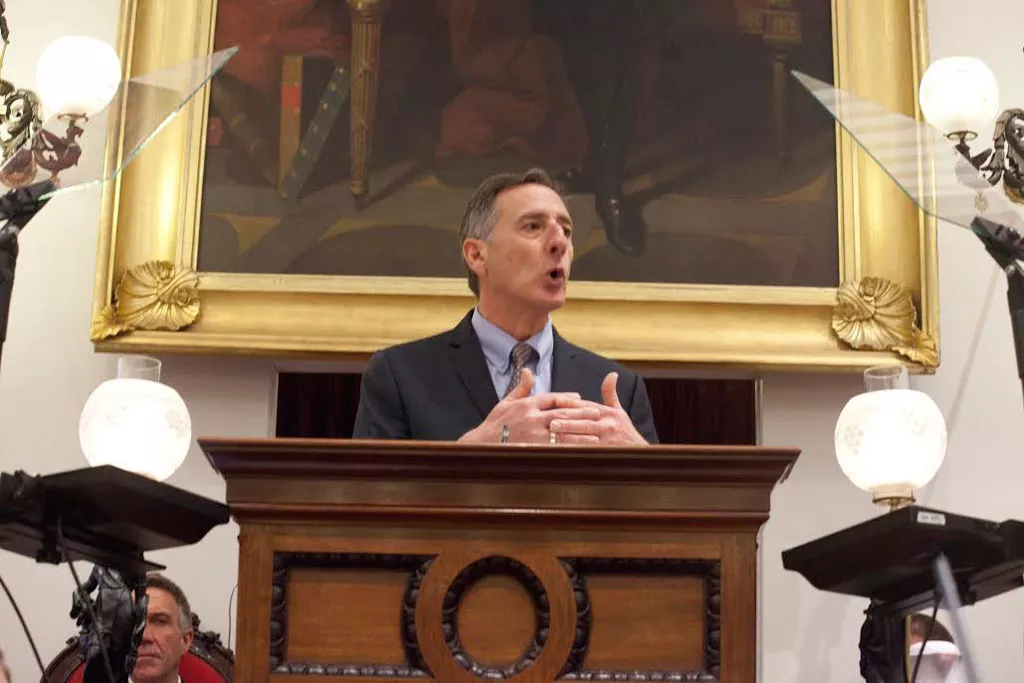 Matthew Thorsen
Gov. Peter Shumlin delivers his fifth budget address.
If your eyes glaze over at the very mention of the words "budget" and "address," we feel your pain. So we won't hold it against you if you failed to spend last Thursday afternoon live-streaming Gov. Peter Shumlin's hour-and-12-minute budget speech and parsing every last one of its 7,258 words.
But it's worth taking a gander at what the third-term Democrat had to say.
Here's why: Unlike last night's State of the Union address, in which President Barack Obama outlined a bunch of pie-in-the-sky proposals that the Republican-controlled Congress will quickly devour, Shumlin's budget will set the agenda for the remainder of Vermont's legislative session. Whereas Bam's speech was a high-profile political statement, Shummy's was a blueprint for the next year of governance.
The reason for this is structural: Even a weakened governor — and this one certainly qualifies — controls most of the state's policy-writing, policy-implementing and policy-selling apparatus. State legislators, by and large, have limited expertise, staffing and media training.
And we might as well face it: Even though lawmakers talk a big game about setting their own agenda, the Democrat-dominated legislature typically just nibbles around the edges of Shumlin's proposals.
For your convenience, we have compiled seven key takeaways from Shumlin's budget and inaugural addresses, which together form the basis of the gov's unimaginatively titled "Agenda for Progress."
1. Broad-based taxes are fair game.
Throughout his tenure, the governor has repeatedly opposed raising so-called "broad-based taxes" — namely those that target income, sales, rooms and meals. To be sure, Shumlin's hiked the gas tax and proposed plenty of niche taxes, but he's always considered those four sacrosanct.
No longer.
On Thursday, Shummy subtly shifted his pledge, saying he remains "convinced that our tax rates are already high enough."
In his budget, the governor didn't propose raising rates, but he did call for an end to a tax benefit that allows Vermonters to deduct their previous year's state and local taxes from their current year's. To the 30 percent of mostly higher-income Vermonters who take advantage of the deduction and will have to pay an average of $175 more, that'll certainly feel like an income tax hike.
And that change, which should bring in $15.5 million, is just the tip of the iceberg.
All told, according to Secretary of Administration Justin Johnson, Shumlin proposed raising $112.7 million in new taxes on an annualized basis. That's right: $112.7 million!
Of that, by far the biggest slice comes from a brand-spanking-new, 0.7 percent employer payroll tax, which would raise $90.4 million a year.
Shummy did a mighty good job masking that figure in his budget address by mentioning only the $41.4 million the Shumroll Tax — as one unnamed conservative called it — will raise in the last five and a half months of the fiscal year. That ticked off Mike Smith, the former Douglas administration official who now moonlights as a WCAX-TV pundit.
"I thought it was a mistake to sort of get cute with the numbers and only put in a half year when everything in the budget is annualized," Smith says, adding that the move "undermines Shumlin's credibility."
Whether it's $41 million or $90 million, Republican Lt. Gov. Phil Scott says it's "dangerous" to open the door to a whole new tax, given the likelihood that Montpelier will raise it down the road to pay for other things.
"To some, it looks like a small increase: seven-tenths of 1 percent," he says. "But then they round it up to one, and then to one-and-a-half, and then two. And then you're talking about real money."
In a press briefing hours before Shumlin's budget address, outgoing administration secretary Jeb Spaulding assured reporters the payroll tax wasn't "a Trojan horse." But judging from the liberal reaction — elation — it's clear the Shumroll Tax has changed the game.
Calling it "a really significant departure" from the past, Vermont Legal Aid lobbyist Christopher Curtis says it's "a recognition that we can't continue to fight these budget battles with one arm behind our back."
2. Health care reform ain't over.
Sure, single-payer is dead as a doornail. But by devoting nearly 1,800 words of his budget address to health care reform, Shumlin made clear he remains focused on the issue.
"I know, perhaps better than anyone else in this room, just how hard it is to change our health care system," he said. "Yet it is absolutely critical that we do so."
The centerpiece of the governor's revamped agenda is to invest $55 million — raised by the Shumroll Tax and federal matching funds — in reimbursing providers who treat Medicaid patients. By doing so, Shumlin argued, underpaid doctors and hospitals would quit passing on the expense to those who buy private insurance.
Addressing the so-called Medicaid cost-shift isn't sexy stuff. But it's an "eat your veggies" move that liberals and conservatives alike can embrace.
"This is a big-deal proposal, folks," Spaulding said in last week's press briefing, driving home the point for us pea-brained journos.
He's right — and even those who despise the tax that would fund it agree.
"We have been advocates for reducing the cost-shift for years," says Vermont Chamber of Commerce president Betsy Bishop, adding sarcastically that she's "surprised at his newfound interest" in the issue.
That's not to say the proposal is without skeptics. Some question whether the administration will be able to guarantee that providers and insurance companies pass on the savings to consumers. And health-care reform activist Peter Sterling wonders whether Shumlin could have invested more in subsidizing Vermont Health Connect plans for low- and middle-income Vermonters.
"There will still be thousands and thousands of Vermonters whose health insurance will be more expensive than under Catamount," he says, referring to the dearly departed state insurance plan.
3. Shumlin's education message remains muddled.
"Precipitous changes" and "drastic" cuts to Vermont's public education system would "fundamentally alter" and "harm our ability to deliver high-quality, equitable education," Shumlin said last Thursday. But, he added, "Vermonters want action and real change."
"If you really want to make a mess of our school system, ask Montpelier to come up with a one-size-fits-all solution of central control," he said. But if schools can't cut their own budgets, he added, Montpelier "should either adjust the funding formula to ensure that other taxpayers don't support continued bad choices, or, when absolutely necessary, find ways to exercise authority to close those schools."
Whaaaaa?!
If you can't figure out Shumlin's education message, you're not alone.
"A respectful hearing is in order," the Rutland Herald's editorial board responded, "but the web of contradictions within his program invites skepticism."
Most of his agenda appears to be a grab bag of thematically disparate proposals: providing more data to schools, banning strikes and board-imposed contracts, and committing to a moratorium on mandates from Montpelier. The Big Kahuna — his threat to shutter schools — came without any detail at all.
The Herald summed up his "partnership" proposal neatly: "State experts are coming with data. If they don't like what they find, they might close your school."
4. Public sector unions are pissed.
If you're trying to close a $94 million budget gap — make that $112 million, after this week's revenue downgrade — you're probably gonna can some state workers. Shumlin's budget trims 72 positions in state government — and adds another 61.
Most of the cuts come from the Community High School of Vermont, which serves students in state prisons, the Vermont Veterans' Home and public safety call centers.
The gov proposed another $9 million in personnel cost reductions, $5 million of which would be negotiated with the Vermont State Employees Association.
Needless to say, that doesn't sit well with VSEA executive director Steve Howard, who says state workers are "infuriated" that they're being "treated like they're second-class citizens."
That's nothing compared to what the Vermont-National Education Association thinks of Shumlin's education proposal.
"He made it clear that there are children who live in towns who no longer deserve to go to school in their communities," says Vermont-NEA spokesman Darren Allen. "He made it clear that many small schools had to close, and potentially hundreds of middle-class taxpayers will lose their jobs."
First he lost the single-payer groupies. Now he's lost the unions.
5. On water quality, Shumlin opened up a can of lampreys.
Statehouse insiders were puzzled two weeks ago when Shumlin devoted his entire inaugural address — part one of his "Agenda for Progress" — to renewable energy and water quality, the latter of which he's rarely discussed publicly.
Perhaps he was trying to get out ahead of last week's announcement that the U.S. Department of Agriculture was sending $16 million our way for Lake Champlain cleanup. Or perhaps he was embracing the reality that if Vermont doesn't act to clean up toxic algae blooms, the Environmental Protection Agency will — and it won't be pretty.
"The goals are not visionary," VTDigger's Anne Galloway wrote at the time. "They are on the state's must-do list."
Whatever the motivation, Shumlin has now committed himself to a politically sensitive — and extraordinarily expensive — promise. And if he thinks staunch environmentalists are going to let him slip away from it, he's wrong.
At a Statehouse press conference last Wednesday, Vermont Natural Resources Council executive director Brian Shupe tried his best to keep fellow enviros unified around a positive message praising Shummy for his newfound love of the lake. But Chris Kilian, the Conservation Law Foundation's aggressive state director, quickly went off-script, saying the gov's plan was "bold," but "not quite bold enough."
Lake Champlain International's even more aggressive executive director, James Ehlers, didn't even show. But in an email to supporters, he slammed the administration, saying it has "no plan" to clean up the lake's most polluted bays.
"Do we get upset when ducks quack or chickens cluck? Of course not — it's even cute," Ehlers wrote. "Why get upset then when politicians politic? That is what they do."
6. Shumlin went with the Goldilocks approach.
Shumlin appears to have alienated everybody equally with his budget address, which isn't that bad of an outcome.
Sen. Joe Benning (R-Caledonia) says he wishes the governor took "a harder look at what we're doing to see what we can jettison."
And Paul Cillo, who runs the left-leaning Public Assets Institute, says he wishes the budget asked more from high-earning Vermonters benefiting from the recovery and less from those struggling to make ends meet.
"Here's a budget that is slashing assistance to the neediest Vermonters," Cillo says, referring to cuts to the Reach Up welfare program, the Low-Income Home Energy Assistance Program and general assistance. "It just seems backwards to me."
But speaking privately after the speech, some on the left admitted they worried the budget might cut deeper — and some on the right said they thought the taxes might be tougher.
7. The really interesting stuff went unsaid.
Will the legislature legalize marijuana? Will it tax sugar-sweetened beverages? Will it even debate a carbon tax? Will it mandate paid sick leave? Will it require universal background checks for gun buyers?
Shumlin didn't breathe a word about any of these subjects. Nor should he. Better to let their complicated politics play out in the legislature before engaging too much.
Dude's got enough on his plate already.
The original print version of this article was headlined "That's Budget"