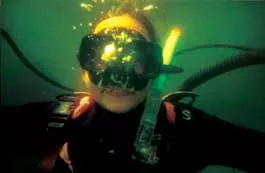 Ever dream of swimming alongside manta rays? Communing with the wonders of the deep? Underwater exploration has appealed to me ever since I was old enough to stay up for "National Geographic Explorer." As a kid I loved snorkeling, though most of what I saw around the Great Lakes was sand, weeds and tiny rock bass or perch. But I always imagined that scuba diving would be more exciting.
This summer I visited the Waterfront Diving Center in Burlington for the first time — I thought I'd start slow and buy a mask and snorkel. The salesman, Gary Niquette, encouraged me to take his scuba class. "I've got one spot left in next week's intensive class," he said. "Monday through Friday, 9 to 5. Best way to do it."
I hesitated. What if I wasn't athletic enough? What if I couldn't do the math? Cheating got me through ninth-grade algebra, but if you screw up your dive table calculations, you can't fake your way out of decompression sickness. And I can crunch numbers well enough to know that spending $295 on a 40-hour class means a big commitment to being underwater.
Despite my reservations, I signed up. They let 12-year-olds take the class, I reasoned. How hard could it be? This year, half a million Americans will complete an entry-level scuba course and receive their "basic diving" or "open water" certification. I decided to join them.
I spent the weekend beforehand reviewing the National Association of Underwater Instructors (NAUI) textbook, watching the instructional video and puzzling over the dive tables. I soon discovered that scuba diving is both easier, and scarier, than I had expected.
Niquette assured me that, though the week would be tiring, I'd be able to pass the course. A former Air Force sergeant, he fell in love with diving nine years ago, on a "try scuba" activity during a cruise to Curaçao. He owned a fairly lucrative business distributing Little Debbie snack cakes but sold it after training to become a diving instructor. Niquette, 47, has been at the diving center ever since, and he is on a mission to introduce as many people as possible to the sport he loves.
"I like to see people's eyes open underwater," he told the class during Monday morning introductions. "It's the first time they realize this is an alien world that's just a few feet down below the surface, and it's totally different."
There were eight of us in the class that first morning — four grown-ups and four kids — and we all wanted to get out and see that alien world as soon as possible. But first, we had to pass a few tests.
Niquette took us to North Beach, where we had to swim 220 yards without stopping. The distance sounded daunting to me, but I discovered it was well within my limits. Next we treaded water for 10 minutes. Again, easier than I thought. Finally, we did a short underwater swim. I had to open my eyes in murky Lake Champlain — the hardest part of the day. For me, anyway. The other adult woman couldn't pass the swimming trials and didn't show up Tuesday. Niquette says this weeklong intensive has the highest drop-out rate of all the beginner classes.
It turned out Niquette wasn't all that concerned about speed or distance; he really wanted to see how comfortable we were in the water. No problem there: I used to practice sitting like Buddha in the deep end of swimming pools.
After lunch, we headed to Oakledge Park to try out our wet suits. Made of foam Neoprene, a synthetic rubber filled with gas bubbles, wet suits insulate the body by trapping a thin layer of water between the skin and the suit. That's important in chilly Lake Champlain. We spread out under the pavilion and complained about how hard it was to wriggle into the snug, rubbery skins.
But our first day wasn't just fun at the beach. For more than an hour, Niquette tutored us on Boyle's Law and "the language of pressure." He was obviously preparing us for Friday's written test — we had to score 80 percent or better to pass — but, more importantly, he wanted us to become safe divers. "Scuba diving," Niquette cautioned, "is not supposed to hurt. If it hurts, something's wrong. Stop."
---
In addition to dive science, Niquette introduced us to the long list of diving equipment we needed. The wet suit is just the beginning.
Along with mask, snorkel and fins, we also wore a buoyancy compensator, or BC, that fits like a vest over the wetsuit. Inflated manually by blowing into a tube, or with compressed air from your tank, the BC can act as your life jacket on the surface. Under-water, it lets you control how far and how fast you rise or sink.
It may seem like a no-brainer that someone wearing scuba gear would sink to the bottom, but that's not true. In fact the human body is naturally buoyant, and so is Neoprene. Most divers, especially clumsy beginners like me, need to wear lead weights, either on a belt or in a pouch in their BC. And then there's the tank.
Divers use a tank of compressed air fitted with a device called a first stage regulator that channels the air into hoses. Essentially, the set-up isn't much different from the one Jacques Cousteau and Emile Gagnan introduced in 1943, making diving an accessible recreational sport.
The regulators we used in class had four hoses. One was connected to the BC, another to a second-stage regulator — the mouthpiece that delivers air when the diver breathes in. A third hose connected to the "octopus," a spare second-stage regulator to use if the first one fails, or another diver needs air. The fourth hose connected to a submersible pressure gauge that keeps track of how much air is left in the tank. Our pressure gauge consoles also contained a depth gauge and a compass.
We gathered all this gear Wednesday morning and drove to Old Waterfront Park, near Perkins Pier. After unloading our equipment and reviewing the emergency plans and underwater activities, we suited up and prepared to go down.
The word "dive" connotes something graceful. My descent into the turbid water was not. Funny, Niquette made it look so easy. He clambered down the rocks in his wet suit and weight belt, shouldered his tank, and plopped right in. When my turn came, I sat on a slab of concrete, fastened my BC and slid my butt toward the water. My tank banged on the rock. Niquette had warned that a dropped tank could spell disaster. "Remember how the tank explodes in the shark's mouth in Jaws?" he had reminded us. "You don't want your tank to explode."
Eventually, I eased myself in and slipped on my fins. Then I stuck my head underwater and breathed from my regulator for the first time. I saw some rocks. Cool.
On that first dive, we descended 10 feet. We practiced basic stuff: clearing our masks underwater, taking them off and putting them back on, and removing and recovering our regulators.
I didn't have much trouble, but Niquette later told me that mask removal and recovery can be a difficult exercise. "That's actually one of the scariest things we do," he said. "People inhale through their nose, they panic and they go to the surface. That's why I hang onto them. I tell people it's to make them comfortable, but really it's to keep them from bolting to the surface."
If you don't exhale continuously, your rapid ascent can cause a fatal air embolism.
The most exciting part of my first scuba dive came when Niquette tapped his mask with two fingers and pointed to my right, meaning, "look." There, emerging from the swirl of silt, was a shopping cart! "Did you see the shopping cart?" we asked each other afterwards, marveling about it as if it were a coral reef or a humpback whale.
---
It wasn't until our Thursday dive that I encountered a real setback. Once again we headed to Old Waterfront Park. This time, we added Neoprene hoods and mitts for extra insulation. But the hood interrupted the seal on my mask and, with my heavy mitts, I couldn't adjust it. It leaked.
My dive buddy, 14-year-old Nick Simon, snorkeled with me to the dive flag, about 30 feet out, where Niquette waited to take us down. On the way, I began to feel dragged down by the weight I'd added to compensate for the extra buoyancy of the Neoprene.
I could have inflated my BC or breathed from my scuba regulator, but I panicked. When Simon gave me the descent signal, I balked. I gave him the "not-OK" sign. I ripped the snorkel from my mouth and swallowed some water, which made me cough. Niquette swam over. I tried to sound calm as I said, "I think I'm hyperventilating."
Niquette helped me inflate my BC and told me to relax and float on my back. I looked up. The sky was blue and dotted with clouds. What am I doing here? I thought. After a couple minutes, I felt ready to try again. We descended to practice "octopus with ascent," in which one diver gives the out-of-air signal, the other diver shares his or her octopus regulator, and both slowly ascend together.
We went down 20 feet, near the Water Treatment Plant's intake pipe. My mask leaked. I started to feel trapped. Niquette tried to help me fix my mask, but water went up my nose and burned. We completed one ascent. We were supposed to do two, but I was ready to head in.
Once I peeled out of my suit, I walked over to the skate park, breathing deeply, appreciating the unlimited air.
That afternoon I went back in, but not before I talked with Niquette about the morning dive. I was a little shaken. "You might be feeling some claustrophobia from the hood," he suggested. So I ditched it, and the next dive went well.
Almost as well as the next lecture. Niquette had saved the complicated dive tables for last. These are charts that divers use to calculate how long they can remain at a particular depth before risking painful decompression sickness — commonly called "the bends." If a diver goes down more than once in 24 hours, he or she uses the dive tables to calculate the safe time or depth of the next dive, or the necessary interval between the two dives. I had been dreading it all week, but it turned out to be easier than I had expected.
In fact, I aced all the dive-table problems on the test the next day. And I passed the test, which included questions on equipment, skills, dive science and dive medicine. The remaining challenge was the final open-water dive.
Niquette took us back to Oakledge. My dive buddy, Neale Gow, is a pilot who was taking the class with his 13-year-old son Travis. Gow and I made an ambitious dive plan that included navigating underwater to the two old oil-pumping stations just off the park's northern tip. We were going to circle the structures and then tour the small shipwreck a short swim away.
Despite our week of scuba instruction, Gow and I were sadly unable to complete our dive plan. At 16 feet under, I felt like I wasn't getting enough air. We surfaced. I inflated my BC for a moment and relaxed. Everyone else in the class wandered the sandy bottom, their dive flags creeping across the water. I realized that if I didn't go back down, the whole week would be worthless. Resigned, I deflated my BC and descended again.
Though we found one of the zebra- mussel-encrusted towers we were looking for, we missed the other by a considerable distance, and I got wrapped up in the dive-flag tow line. We did manage to see a largish fish before it skittered away, but the view was mostly sand and weeds. Our only consolation was that the rest of the class suffered a similar fate.
One of the kids did manage to see the shipwreck, though. Niquette asked Travis what he thought of it. "It looked like a pile of wood," he said.
But the slim pickings of the Lake Champlain shoreline don't discourage me. Now that I'm an NAUI-certified scuba diver, I can dive up to 60 feet without an instructor. This allows acces to a variety of offshore wrecks maintained in Lake Champlain's Underwater Historic Preserve System. I could visit the General Butler, the Champlain II and a horse-propelled ferry just off North Beach.
After my scary moment by the intake pipe, I'm a little nervous about getting in way over my head. Niquette claims that practice will help me overcome my fear. "You gotta go diving!" he tells me. "That's the bottom line."
He's probably right. But I think I'll try shore dives a few more times before cruising the wrecks. I'd like to visit the underwater world, not live there.