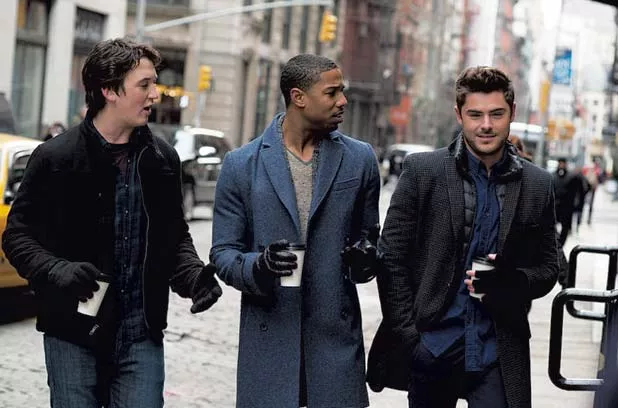 THAT'S WHAT HE SAID Teller and Jordan are among those who try to convince us Efron is funny in Gormican's rom com.
The classic way to rip on a lackluster comedy is to claim that you only laughed at the outtakes played during the end credits. Exaggeration, perhaps, but in the case of That Awkward Moment, I can attest that the scenes of cast members flubbing their lines really are the movie's funniest bits.
Perhaps that's because the outtakes prominently feature neither the film's screenplay, by first-time writer-director Tom Gormican, nor its most bankable star, Zac Efron. That Awkward Moment offers few revelations about its ostensible subject — Gen Y dudes and romance — but a couple about comedy. First, say what you will about Judd Apatow's wandering, improv-driven flicks or his trendy protégée, Lena Dunham: They share an instinct for hyperverbal snark and silliness that's tough to duplicate. Second, Efron is just not funny.
Furthermore, he's painfully miscast as Jason, a cad who charms girls with his wit only to remove them from his "roster" of steady hookups when they demand exclusivity. (The "awkward moment" referenced in the title is when a woman asks, "So … where is this going?") Efron says all his cocky-asshole lines diligently, but, try as he may, he doesn't have a Tucker Max bone in his body. And the "wit" with which the script supplies him is perfunctory at best.
Jason shares a New York apartment with workmate Daniel (Miles Teller), whom the script hasn't bothered to give his own personality; he's essentially a less dimply-and-ripped version of Jason. Apparently Gormican thought it was sufficient to differentiate the third bro, the duo's friend Mikey (Michael B. Jordan), who craves commitment and scarfs Ben & Jerry's after his wife dumps him. "We checked all each other's boxes!" he moans.
Mikey's friends let him crash at their place and offer to introduce him to all kinds of "new boxes," which is as clever as this movie's humor gets. As soon as the three men make a pact to stay single and revel in their freedom, we know where this is going. All aboard the "all it takes is the right girl" express!
Jason is drawn to a bookish type (Imogen Poots) who inexplicably finds him hilarious and adorable. Mikey reconnects with his ex. And Daniel finds himself falling for his best friend and wingwoman (Mackenzie Davis), whom he'd always dismissed as "undateable." It's not clear why, given that she could model, lives in an amazing apartment and has an easy rapport with him — but then, a lot of things in this movie don't add up.
At least Teller and Davis achieve something resembling natural chemistry; the movie's other relationships are a fizzle. The raunchy banter among the bros isn't much more fun. Jordan (Fruitvale Station) and Teller (The Spectacular Now) are both talented young actors, but they can't do much with tired gags about toilet hogging and self-abuse with self-tanning lotion.
At times, Gormican seems to be aiming for a smarter movie, a bitterly real romantic comedy about men's fears of commitment; one key scene recalls a pivotal moment in High Fidelity, the rare film that fits that description. But without Nick Hornby's brilliant rants or Apatow's inspired riffing, scene after scene falls flat.
Character-based comedy demands personalities so strongly delineated they constantly risk alienating the audience; there's no place in the genre for the generic. If you want to make Zac Efron funny, do to him what "Parks and Recreation" did to Rob Lowe: Twist his very blandness into a quirk. But asking us to buy him as the next Cary Grant is beyond awkward.