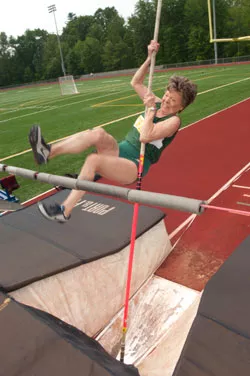 Matthew Thorsen
Flo Meiler
The night before Flo Meiler and I meet, 12 gallons of water are pooled in the pole-vaulting pit at Burlington High School. But, by the time I show up, she's bailed it out and is practicing nimble hop-steps in her green-and-white singlet and briefs. Then, carrying a long white pole, she sprints and arcs up and over a six-foot-high bungee rope.
This would look like a normal, everyday track-and-field practice, except for the fact that Meiler is a grandmother of five. At an age when walking up the stairs can be a hurdle, Meiler actually does the hurdles — one of 18 athletics events she not only competes in but also wins, again and again.
More than 750 medals, 80 trophies and 150 ribbons are stuffed into Meiler's home in Shelburne, most of them belonging to Flo — her husband, Gene, is also a competitive athlete. This summer, she won three more golds, a silver and a bronze at the National Senior Games; and then four golds, three silvers and a bronze at the World Masters Athletics Championships — all shortly after turning 77.
Never mind the "breakfast of champions" Wheaties box. Meiler is more like a poster "child" for the Vermont Senior Games Championships, a summerlong festival of "fun, fitness and fellowship," according to the newly revamped organization's motto, for athletes 50 and older. "I feel proud of what I'm doing at my age," says Meiler during a break between vaults. "I don't hide it at all."
Baby boomers may be aging better, for the most part, than their predecessors, and plenty of former professional and Olympic-level runners can keep competing until the Grim Reaper catches up. But Meiler didn't actually start track and field until she was 60. From Champlain, N.Y., she was a competitive water-skier for 30 years, and she met Gene, a former World War II B-52 bomber pilot, at a Rouses Point ski club. After living in Orlando and California, the pair landed in Vermont in 1966. Meiler began competing in tennis in 1991.
A few years later, though, when Meiler was aiming to qualify for the Senior Olympics in tennis, her friend Barbara Jordan of South Burlington encouraged her to try track — the sport had a dearth of older women. "So I went and tried the long jump, and I fell in love with it," recalls Meiler. "I didn't know what I was doing, so I just ran and came out fourth out of about 20 ladies, and that really psyched me up."
Pretty soon, Meiler was trying the high jump, and then taught herself to pole-vault — it remains her favorite event — starting when she was 65. "It's very challenging — the first time I tried it, a friend said, 'Flo, Flo, don't do it, don't do it, you're going to get hurt,' and I just ignored her," says Meiler. "I guess I'm brave."
Though Meiler's gumption has garnered plenty of golds, she also credits Charlotte-based vaulting coach Kurt Fischer, who'll be staging the Vermont State Senior Pole Vaulting Championships on August 12 at his home. Her routine includes weights and tennis twice a week; track workouts five times a week; a nutrition shake every morning, vitamins three times a day, Gatorade and a little caffeine. "For food, I'm pretty careful before a meet," says Meiler, "but every once in a while I'll have a nice big steak or something."
Then there's the actual pole-vaulting practice, which includes running and flipping herself over a bungee rope (more forgiving than the bar used in meets) repeatedly. "Of course, you have to warm up, just like anything else," explains Meiler, demonstrating her technique at the BHS track. "You have to get your legs into it, you have to kick your feet up and have strong hamstrings, and you need a lot of core — I'll do crunches, a few push-ups."
Meiler's multifaceted training regimen has paid off not only in medals and many world records, but also in multiple titles: the USA Track & Field Female Athlete of the Year; the Vermont Senior Games Athlete of the Year (1997, 2004, 2005, 2009); and a spot in the USATF Masters Hall of Fame (2010).
There's just one problem. Meiler's pal Barbara Jordan — the one who encouraged Meiler to try track 17 years ago — has turned 75 and is now in the same competitive age group as Meiler. At the World Masters last month, Jordan (who does not pole-vault) broke a world record set by Meiler in the 200 long hurdles.
"I said, 'I'll break it again,'" quips Meiler.
But the two insist they are very friendly rivals. "We're like the odd twins or something," says Jordan of the women's reception among other states' senior athletes at large championships.
With the national and world meets out of the way, Meiler, Jordan and other Green Mountain athletes are now focusing on the Vermont Senior Games, which include not only the pole-vaulting competition in Charlotte but also other track and field events on August 13 at South Burlington High School. A clinic for track rookies winds up this Thursday. "You don't have to be a good athlete," notes Jordan. "It's just fun to compete."
Formerly called the Green Mountain State Games, the Vermont Senior Games got its new name this year along with a new president — cyclist Don Kjelleren of Shelburne — and a new board that aims to increase participation. "I was on the board for more than 10 years, but I think I've done my time," says Meiler. "I need to devote my time to practice if I want to keep my scores up."
At this point, she doesn't have to worry about wasting time in a physician's waiting rooms. "My doctor said, 'If I had more patients like you, I wouldn't make any money,'" says Meiler.
Not that she doesn't occasionally need a little aid. Meiler has fractured a toe and pulled her hamstrings and quads, and she got 12 stitches on her leg after a mishap in a steeplechase event. About three years ago, she says, she slipped while pole-vaulting, got stitches in her head and went right back to the pit to keep competing. "They wouldn't let me finish!" she says. "I wanted to set a new record that day. I said, 'I'm running tomorrow!'"
Meiler sighs, but seems unflustered by the humidity that's begun to cloak the BHS track. "I'm pretty tough for an old lady," she says.