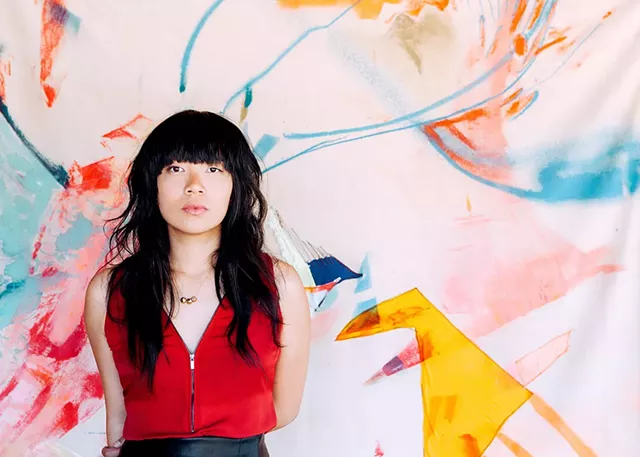 Thao Nguyen recently had some fun at the expense of Justin Bieber. She and tUnE-yArDs' Merrill Garbus were featured in a parody video on Funny or Die spoofing a recent New York Times video featuring Bieber, Skrillex and Diplo. In the NYT video, called "Bieber, Diplo and Skrillex Make a Hit," the pop-star trio discusses the making of their new single "Where Are U Now." And frankly, it's ripe for parody, so earnest that it almost seems like satire itself. The only real question is how Nguyen and Garbus beat Weird Al Yankovic to the punch line.
In their video, Nguyen and Garbus discuss the making of "Astonished Man." The song is from Thao & the Get Down Stay Down's new album A Man Alive, which Garbus produced. The duo gently, and hilariously, skewers the Biebs, et al. For example, where Bieber talks with wonder about his song's expensive beats, Nguyen explains how she and Garbus got theirs: picking up a drum stick and using it to hit a drum.

Nguyen and Garbus have more than comedic timing together. A Man Alive has been nearly universally hailed as Ngyuen's most daring and affecting album to date, a credit both to Nguyen's fearlessly intimate songwriting — the album centers mostly on her relationship with her absentee father — and Garbus' distinctive pop bombast. As National Public Radio's "All Songs Considered" aptly described it, "The playful melodies that Thao is known for are still there but matched with a gnarled sound that is classic Garbus."
Touring in support of that album, Thao & the Get Down Stay Down will stop by the Higher Ground Ballroom in South Burlington on Monday, April 11. Seven Days recently spoke with Nguyen by phone to ask about the record, her affection for 1980s sitcoms and her beef with Bieber.
SEVEN DAYS: So why are you picking on Justin Bieber?
THAO NGUYEN: [Laughs] I just watched his episode of carpool karaoke [on "The Late Late Show] With James Corden," and now I feel terrible, because he actually seems like a cool guy. But satire is the highest form of flattery, right?
SD: That's a good way to look at it. Merrill Garbus was in the video, and she produced your new album. How long have you known her?
TN: I've known her since 2008, which we just figured out the other day. I love her so much. She's such a good friend of mine.
SD: She has such a unique style, and it pairs very well with yours. How did that collaboration work?
TN: She was an incredible part of the whole. A lot of the beats were things that I put together when I was demoing and writing, and she didn't make any of the beats. But she really helped to shape and sculpt the sound of the album.
SD: You can tell. One of the major themes of the album is your relationship with your father, or lack thereof. That's some intensely personal stuff to write about. I imagine it must have been both difficult and cathartic for you.
TN: I couldn't really believe I was doing it as I was doing it. It's so personal and made me feel so vulnerable. But as the songs were coming to me, I realized they were very insistent. Nothing else was really happening besides an exploration of this relationship, so it was just time for it to happen. So, any hesitation I've had has been superseded by the liberation of it. It was incredibly intense and difficult. But, at the same time it was so freeing. It was the most honest thing I was capable of.
SD: Your mother has been your biggest fan and was actually a key part in helping you start your career in music. Can you tell me some of the ways she's supported you?
TN: At first she was cautiously supportive when I graduated college and told her I was becoming a musician. But she's full-on now. She's so supportive and sweet. She let us take her minivan on our first tour. And probably a week after we left Virginia, the van was totaled in Chicago. It wasn't our fault. Another driver hit it.
That day she told us to just go to the airport and she would fly us to San Francisco, which is where we were trying to get. She didn't have the means to do that, but she did it anyway.
SD: In addition to being a musician, you're also an activist. What have you been doing with Oxfam lately?
TN: Oxfam and I have been friends for years. I really appreciate that they're [a nongovernmental organization] of that size and are so transparent and respectful of the people they're trying to help. That's very rare. So I follow their lead in the capacities with which I can help the most. So right now I'm an ambassador for Sisters on the Planet, which is a group of women in America helping with raising awareness of the effects of climate change on food providers and food growers.
SD: There is still a stigma around women in rock, of being "pretty good for a girl." That kind of stuff bothers me to no end. And I know from interviews you've given that it really bothers you. What are some ways that stigma can be combated?
TN: I think that removing the qualifier is the biggest thing: not to identify someone as a "woman musician," as opposed to just a musician. That irks me to no end. [Laughs.] I would really appreciate that from music journalists, actually, the people who are responsible for introducing artists to people. I'd like them to remove the qualifiers from their descriptions.
SD: Amen. I think there's a deep-seated cultural aspect, too. I was speaking with a friend who helps run Girls Rock Vermont, which is a rock-and-roll day camp for local girls. And she told me that so many of the girls who come in, their music experience from school is rarely guitar or bass or drums. It's usually orchestral instruments, because girls tend to be pushed toward those rather than rock instruments.
TN: Totally. It's systemic.
SD: Last question: I read in another interview that you were "raised by TV sitcoms" such as "Roseanne" and "Full House." So have you seen "Fuller House" yet?
TN: Whoa. This is funny. I'm in Portland right now, and we're about to start the tour. And I always stay with a really good friend of mine here. And we actually did watch the first episode on Netflix, because we both grew up on it. And we couldn't stop watching, even though it was excruciating. I can't promise that I won't watch others. They know there's a draw in spite of yourself; that you'll go back out of childhood longing even if you can't bear it.