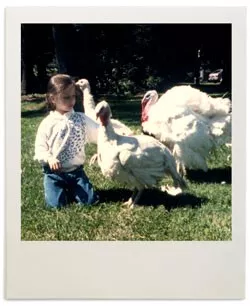 Alice Levitt with the turkeys her family kept as pets.
Beneath all the turkey and pumpkin pie, Thanksgiving is really about family traditions. Some rituals are simple — watching football or taking a long walk before dessert — but others, if you stop to think about them, are truly bizarre.
In my family, for example, we put dimes in the stuffing.
According to my mom, the tradition began with her great uncle George, a prominent banker in Salem, Mass., who used to hide silver dollars in his Thanksgiving stuffing. The ritual is similar to the English custom of tucking money into the Christmas pudding.
Each Turkey Day when my grandfather, Jake, was growing up, he'd spend the meal scouring the stuffing for that lucky silver dollar. Unfortunately, though, Uncle George's loot-hiding practice came to an end when he lost all his money in the Great Depression.
When my mom was growing up, her grandmother, Roma, revived the tradition, sterilizing the coins in boiling water first. "Somewhere along the line," my mom recalls, "the silver dollars were downsized to dimes." But Roma made sure to sprinkle a whole bunch of them in the stuffing, "so everyone got a prize," mom says.
The dimes continued all through my growing up. When I think of Thanksgiving, I think of warning our guests not to choke on their stuffing. And I remember the muffled clink of the coin, partially covered in cornbread, as my brother and I raced to make the biggest pile on the side of our plates.
Kids VT
copublisher Colby Roberts and his family start off the Thanksgiving meal with a funny little ceremony. "We have a traditional simultaneous celebratory bite of turnip every year," he says. "We call it 'The Turnip Bite.'" Actually, the veggie they all chomp down on in unison is mashed rutabaga, but when Roberts was growing up his parents got the name wrong — and it stuck. Now Roberts says his three daughters can't wait to do the Turnip Bite each year.
Read on for some more weird and wonderful Thanksgiving traditions from the
Kids VT
and
Seven Days
staff.
"My mom liked to dress as a pilgrim for Thanksgiving and made me a little pilgrim outfit for a few years, too. I believe those costumes more or less overlapped with the 'blue potato' years. Growing real purple potatoes inspired my mom to start dying regular mashed potatoes bright blue to make the plate of food brighter.
"Finally, there's the fact that I grew up with turkeys in my house. We never ate them; they were pets. For several years in my late teens and early twenties, I wouldn't eat turkey. It tasted like the death of a family member to me. That's right, there was a meat I didn't eat."
— Alice Levitt,
Seven Days
Food Writer
"My sister, for some reason, has decided that a noodle kugel is a perfect Thanksgiving dish and often makes one for the big dinner. She is correct. Kugel is delicious any time!"
— Ethan de Seife,
Seven Days
Staff Writer
"Every year at Thanksgiving dinner when I was growing up my father and my uncle would argue about the Kennedy assassination. To this day, every time I hear about the 'magic bullet' I think of mashed potatoes and gravy."
— Cathy Resmer,
Kids VT
Copublisher and Executive Editor
"My wife's family plays a game that starts when someone at the table puts their finger on their nose. Everyone else follows suit as soon as they notice. It's usually a pretty mad dash! The last one to put their finger on their nose has to go under the table and 'oink.' The game usually happens at the beginning of the meal and I guess is meant to humiliate the one person whose focus is more on their food than their company."
— Steve Hadeka, Seven Days Circulation Manager
"After Thanksgiving dinner we gather around the warm glow of ye olde flatscreen TV and watch
Scrooge
, the musical adaptation of Dickens'
A Christmas Carol
, starring Albert Finney. Even as someone with a low tolerance for musicals, it really is an entertaining version. And one I'm always surprised more people don't know about.
"The second tradition is a little stranger. When I was 7 or 8 years old, my grandmother sent us a curious ornament that, despite all odds — and annual threats to be smashed to pieces — remains with the family in perfect working condition. Grandma Bolles, it should be noted, was a sucker for gaudy Christmas kitsch. The ornament in question is a porcelain Santa head with a red rubber nose. When the nose is pressed, it lights up and plays a tinny little electronic medley of Christmas carols — which, some 25 years later, I can still whistle from memory in its entirety. The tradition is that Santa goes up on a wall in the kitchen first thing the morning after Thanksgiving, and when dad presses the nose it signals the start of Christmas in the Bolles household — and, usually, pancakes.
— Dan Bolles, Seven Days Music Editor
What are your family's traditions?