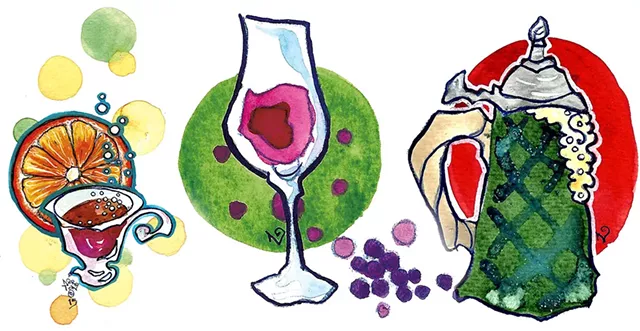 There's nothing like a big family get-together to drive everyone to drink. Maybe you have to listen to your Uncle Bill's story about that time he met Ronald Reagan in a hotel lobby in Los Angeles — which he will tell, since he tells it every year. Or maybe cousin Chloe's kids are running circles, screaming, around the table, and she doesn't seem to notice. Even if you have a perfect, no-drama family, you'll probably still enjoy a few drinks over laughs and shared memories.
Either way, alcohol aids in digestion, which is useful on a day that will likely kick into appetizer overdrive around noon, then cruise toward total gluttony as the main event approaches.
A good feast is akin to a journey with a distinct beginning, middle and end. As Thanksgiving unfolds with all its ritual tidings, you'll savor new beverages with each step. At the outset, you'll exchange greetings — perhaps sipped in the form of a glittering punch or an icy beer passed between cousins.
Then, when the table is weighted with dinner, you uncork bottles of wine or pull out special beers or ciders. You give thanks, chin-chin the crystal, and pass bowls of potatoes and squash and boats of herbed gravy.
Later, when you're so full you can't bear another bite, a stomach-calming nip of amaro or bourbon or Scotch, taken neat, somehow reignites the conversation. When the pies are cut, you can be fully present to enjoy them.
Because of the myriad flavors involved in a traditional Thanksgiving meal — the brine of the bird, herb-scented stuffing, maple-soaked squash, buttered potatoes and bitter-tart cranberries — the best beverages will be adaptable.
The pairings suggested here are tailored to please everyone at your Thanksgiving table — from your pinot grigio-glugging grandma to your hipster bartender brother-in-law — with affordable finesse.
Before Dinner: Punch-Drunk Love
Whiskey-Cider Punch, Kate Wise, bartender, Doc Ponds
Nothing kicks off a feast like a pre-dinner cocktail. But, with heaps of turkey and rivers of gravy lining the road ahead, you'll want to start out light — not too sweet or strong — to avoid filling up on sugar and booze, advises Doc Ponds bartender Kate Wise. "Something as simple as Lillet blanc on the rocks with an orange twist is a nice, low-alcohol way to start a day of potential debauchery."
To accommodate a crowd, Wise recommends making batch-cocktails — spiked cider punch is a reliable favorite — and keeping the pitcher or punch bowl away from the kitchen. You want your guests to congregate out of the way of hot ovens and stressed-out hosts. "Last year," says Wise, "I made a punch with apple cider, Irish whiskey, Urban Moonshine citrus bitters, Citizen Cider Unified Press, ginger and lemon juice." Here's her recipe.
Whiskey-Cider Punch
Serves: 12-20 people
Ingredients:
1 bottle Jameson Irish Whiskey
1/2 gallon Champlain Orchards apple cider
2-4 cans Citizen Cider Unified Press
Fresh ginger, peeled, cut into large chunks and muddled
Soda water or Rookie's Ginger Beer, to taste
Urban Moonshine citrus bitters and Angostura bitters, to taste
Orange slices and cinnamon sticks, for garnish
Preparation:
Combine liquids and ginger to your heart's desire and taste. When in doubt, add more whiskey. Garnish with orange slices and cinnamon sticks.
Getting Excidered Yet?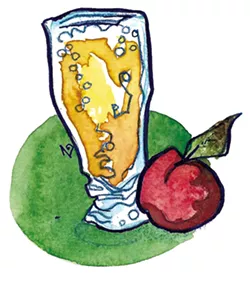 The Dirty Mayor, Citizen Cider; Double Bourbon Cider, Boyden Valley Winery & Spirits; Fluxion, Fable Farm Fermentory
It's 2015, and cider is superhot; Vermont is now home to more than 15 apple fermentaries, and that number is growing fast.
Since many artisan ciders age for a year or more, lots of 2014 bottles are just now hitting the market. The selection reflects the diversity of Vermont's apple crop, as well as the varied personalities that press and process it.
That means there's a cider to please nearly everyone at the table — from funky, wild-fermented ones for serious cider-heads to crystal-clear sparklers that drink like Champagne. You may as well try a few.
For entry-level apple drinkers, go with something clean, clear and a little tart. Bottles from Champlain Orchards, Stowe Cider or Citizen Cider (the ginger-infused Dirty Mayor, particularly, will warm and calm an overstuffed belly) are generally bright and just a teensy bit sweet. They're also widely available and affordable.
Boyden Valley Winery & Spirits' Double Bourbon barrel-aged cider is all featherlight bubbles and honeyed fragrance. It's dry but smooth, with crisp apple mid-palate and a finish that balances orchard tartness with a touch of vanilla and oak. Sip this in crystal flutes before dinner, or with pecan pie after.
For something to titillate your homebrewer cousin — or a chef or bartender in the family — seek out bottles from Farnum Hill. Located in Lebanon, N.H., that's where orchardist Steve Wood has been grafting and pressing cantankerous old-world cider apples since the 1990s.
Or try the funk-forward sour-apple Fluxion cider from Barnard's Fable Farm Fermentory, or Shacksbury's Lost and Found. Produced with native yeast and foraged fruit, both are savory, complex and tannic. These are ciders to sit with and watch as they warm and evolve.
Beer for Dinner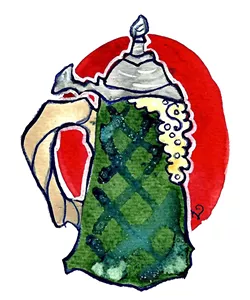 Pilsner, lager, gose, amber/red ale, helles, dunkel, maerzen, IPA
Light and dark, malt driven or hop heavy, there's no shortage of local craft beers to pair with your meal. While starting the day with a Heady Topper could blow out your taste buds, that beer's vibrant bouquet of hops and bold bitterness works well mid-meal.
For a salad dressed in simple citrus vinaigrette, pick something light and crisp, such as Zero Gravity Craft Brewery's Green State Lager.
Lost Nation Brewing owner-brewer Jamie Griffith recommends pilsner for the premeal football game, and his Rustic Ale for the main event. "There's a slight malty Belgian sweetness to that beer," Griffith says, followed by "a really nice resin-y, hoppy bite." Gose, he adds, goes well with anything; the sour beer's light body combined with salinity and spice complement any mild-flavored dish.
At von Trapp Brewing, assistant brewer Tom Rowlett prescribes Trapp's Golden Helles lager for tableside drinking. "Bready malts and bright noble hops make Helles an easy pairing with stuffing, mashed potatoes and tender white meats," he says. Rowlett suggests Trapp's dark German-style dunkel as a more assertive choice, or Switchback Brewing's Märzen Fest Bier for its overall flexibility.
Not all your pairings need to have the dark, rich and malty presence we often think of when the leaves are gone and the mornings are crisp. At Rock Art Brewery, co-owner Renee Nadeau says IPAs have become a Thanksgiving tradition in her home. She appreciates the ability of the bright, hop-forward style to cleanse the palate during or after the meal.
Red Wines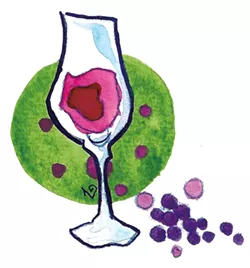 Beaujolais, pinot noir, Chianti, côtes du Rhône
The best Thanksgiving wines will kick your salivary glands into action and enhance, rather than overpower, that perfect forkful of turkey, stuffing, squash and cranberry. So the trick is to choose something tasty and fun but not too intense. Think old-world, mid-bodied wines with jammy fruit and plentiful acid.
Happily, that describes a lot of wines, according to Dedalus Wine general manager Abby Kellie. Buying for Thanksgiving is one of the hardest wine decisions of the year, she says, because "There are just so many things that work." On the other hand, it's hard to go wrong.
To accommodate everyone, Kellie splits her selections between less-expensive bottles for the table and spendier treats for savvier winos. "I always bring a couple bottles of nerdy stuff," she says. "We hide it from everyone, then sneak away to get it."
Specific picks include pinot noir — Failla Sonoma Coast nails the tricky balance between ripe fruit and acid — or Chianti and other Italian wines made with Sangiovese. "People forget about Italian wines," Kellie says, but "the Italians do food-friendly [wines] better than most."
Also, think magnums, which accommodate a crowd and signal festive fun. Kellie points to several bottles of well-balanced Beaujolais, such as the rustic and bright Côte de Brouilly or Guy Breton's old-vine Morgon — both available in 1.5- or 3-liter bottles.
In Stowe, Cork Wine Bar & Market wine director Katie Nichols agrees that Beaujolais and other gamay-based wines set the standard for Thanksgiving drinking. Try a bright, fresh Rhône Valley gamay from Denis Lattard or, if that's not available, any decent côtes du Rhône red. "You can't really beat it," Nichols says. "It's essentially a Goldilocks wine. It's always just right."
White Wines
Crisp Italian whites, muscadet, chenin blanc, pinot gris, dry rosé lambrusco, Alto Adige, grüner veltliner
As with the reds, the best white table wines will be medium- to light- bodied, a little tart and broadly food-friendly.
For Nichols, that means malvasia-trebbiano blend Il Terraio, produced southeast of Florence. "It's a red-wine lover's white," she says, "complex and structured with a little more weight." She also recommends single-vineyard muscadet — perhaps Luneau-Papin L d'Or Granite — for its mellow complexity and sturdy backbone. Drinkers who like to wander off the beaten path may enjoy a bone-dry, sparkling rosé lambrusco, such as Podere il Saliceto Falistra, with their turkey and squash. Nichols adores this one for its electric-pink color, super-tart acidity and energetic, fruit-forward presence.
At Dedalus, Kellie recommends wines from northern and alpine Europe — bright grüner veltliner or whites from Italy's mountainous Alto Adige. "I'll be drinking Manni Nössing Kerner's wine from a magnum," she says, noting its refreshing acid, stone fruits and citrus gleaned from cooler-climate vineyards.
After Dinner: a Bitter End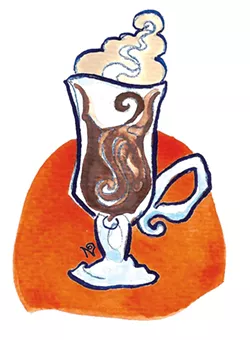 Smoke and Mirrors, Megan Maher, the Reservoir Restaurant & Tap Room
Once the table is cleared and set for dessert, while the pies are cooling and stomachs settling, take advantage of those few minutes to prepare some after-dinner drinks.
Espresso and amaro each make a fine finish to a meal. Cynar, an Italian liquor made from artichokes, is delicious — bittersweet and aromatic — when served neat or with a single cube. For a stronger kick, mix it with mezcal in equal parts for a bitter digestive drink with light smoke on the back end.
For a local option, a few fingers of Caledonia Spirits' Tom Cat barrel-aged gin, served neat, will warm the soul. And, with its oak and spice, it'll sit nicely on the palate alongside pumpkin pie.
For extra flair, prepare single-serving cocktails at the table side. Megan Maher, bar manager at Waterbury's Reservoir Restaurant & Tap Room, shares a cocktail she created for her fall list. It touches all the bases you need following a long day of exhaustive consumption. "You want a coffee, an aperitif and a whiskey all at the same time," she says.
Smoke and Mirrors
Makes one cocktail
Ingredients:
1 ounce mezcal
1 ounce Perc Coffee Liqueur
3/4 ounces fernet
1/4 ounce Green Mountain OrganicMaple Liqueur
Flamed orange peel
Preparation:
Stir all liquids with ice and strain into a glass. Pinch the orange peel to release a cloud of citrus over the drink. To flame the peel, pass it through the flame of a lighter. In addition to igniting a breath of flame, this adds a hint of smoke to the peel. Drop it into the glass and serve.
Beers for Dessert and Beyond...
Stouts galore, session brown ale
If you're not feeling the hard stuff, consider a rich, smooth stout. With dark-roasted malt and saturated body, these beers mature as your hand warms the glass.
For a simple dessert, pour Rock Art's barrel-aged Russian Imperial Stout over a scoop of vanilla ice cream — you'll never view either the same way again.
At Trapp, Rowlett recommends a full-bodied sipper such as 14th Star Brewing's Maple Breakfast Stout or Otter Creek Brewing's Couch Surfer, served with pumpkin pie and vanilla ice cream.
If a heavy, high-alcohol beer is just too much at meal's end, Zero Gravity's Buckminster, an English-style session brown ale, has just enough body and color to work as a nightcap. And it won't send you over the edge.