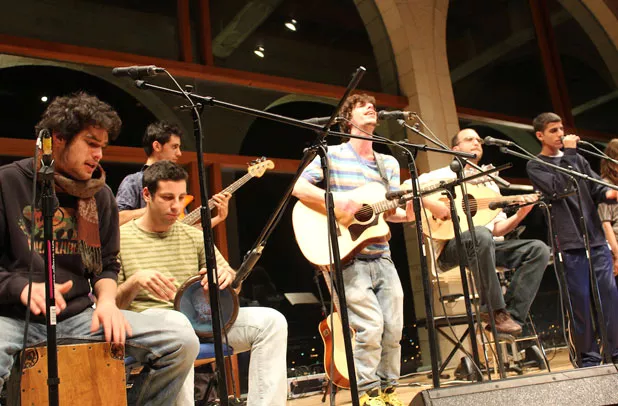 Last week's feature story about local music superfan Tim Lewis generated a surprising amount of reader feedback in the ol' inbox. The majority were positive, running the gamut from, "Oh, I always wondered who that dude was!" to, "It's about time somebody paid attention to that guy." Most didn't refer to Lewis by name, oddly enough.
But because the internet is the internet, I also received some, shall we say, less charitable reactions to the story, from, "Slow news week, huh?" to, "You suck, Dan Bolles!"
I can't figure you people out. I can write a scathing review of some lousy local band and not hear so much as a peep. But then I'll write a relatively fluffy human-interest piece and the jackals come out of the woodwork. Maybe it's the grips of Seasonal Affective Disorder finally taking hold?
Anyway, I bring it up to let you know that you nasty types can go fornicate yourselves.
Kidding! Mostly. (It's just the SAD talking, I swear.)
Actually, I bring it up to let you know that Lewis has signed on with the folks at local online radio station WBKM — tagline: "Burlington's kinda music." He'll be debuting his new show, "The Sounds of Burlington," this Thursday, February 21, at 9 p.m., on wbkm.org.
If you read the aforementioned piece, you know there are few, if any, fans of local music as knowledgeable or as passionate as Lewis. I expect his show will reflect those aspects of his impressive fandom and will be a worthy listen for anyone else who feels similarly about homegrown tunes.
Rock on, Tim.
Come Together
Unity is a word that gets tossed around far too casually in certain musical circles — looking at you, conscious (insert genre here) bands. While it may be a half-assed rallying cry for over-privileged college students with acoustic guitars and hand drums, for some musicians, it is quite honestly a life-or-death concept. For example, the kids who make up the Israeli-Palestinian group Heartbeat.
The band is currently composed of six Jewish and Arab musicians from Israel and Palestine, between the ages of 17 and 21. The Heartbeat program seeks to bring young people from those war-torn countries together to share positive experiences and express creative ideas through music. They'll make two Vermont appearances this week: Thursday, February 21, at the Davis Center at the University of Vermont, and Friday, February 22, at the Bennington College student center. Both shows are free and open to the public.
When he left the local folk duo Avi & Celia in 2010, Avi Salloway traveled to Israel to work with the Heartbeat organization and teach music. But he learned as much as he taught. Salloway brought back influences from the Middle East and applied them to his new band, Billy Wylder, which played Signal Kitchen last week. He is producing Heartbeat's current U.S. tour.
In an interview with 7D in 2010, Salloway explained the goal of the organization, saying, "The idea is to highlight musical passion as a common thread." He pointed out that Arabs and Israelis are "cousins," with a long history of shared experiences, and added that music can be a way to jump-start conversations between the two sides and act as "a vehicle for change."
BiteTorrent
Congratulations to Anaïs Mitchell, who announced via a baby-bump picture on Facebook that she is expecting her first child with husband Noah Hahn. Not only that, but Mitchell has a new record set for release on March 19, coincidentally titled Child Ballads. The record, several years in the making, is a duet with Brooklyn singer Jefferson Hamer, which finds the duo reinterpreting a fascinating selection of traditional British Isles folk ballads. It's a remarkable effort, rife with gripping storytelling that is by turns dark, heart-wrenching and whimsical. And there's just something about Mitchell's unique timbre that seems especially suited to the material and adds depth and character — especially contrasted with Hamer's smooth tenor. Rooted in vivid, Old English poetry, it reminds me of something the Decemberists might do if they weren't so insufferably the Decemberists.
The noble do-gooders and champions of local music at Big Heavy World need your help. Or at least your feedback. BHW is conducting an online survey soliciting feedback on ways they could better serve the community — that would be you, BTW. It's sort of like a comment card at a restaurant, except they'll probably take your comments seriously. BHW is in the midst of building a new website and wants to know what you'd like to see more or less of. You can also weigh in on how the organization's other ongoing projects — the Vermont Music Library, loaning out tour vans, photographing bands with a fisheye lens, etc. — are going. Check it out at surveymonkey.com/s/HP6Z23Q. My suggestion: A prominent link to the survey on the front page of your website, so local music scribes don't have to write out weird web addresses.
Another full moon, another masquerade. This month's installment of Mildred Moody's Full Moon Masquerade features local DJ and vocalist Craig Mitchell and a few talented friends recreating Prince's 1999 in its entirety. If you recall, last month's lunar blowout found a crew of locals covering Snoop Dogg's Doggystyle. It seems there's a trend a-brewin'. Like the January edition, the party is a benefit for DJ A-Dog. Check it out at Signal Kitchen this Saturday, February 23, which is actually not a full moon.
Hmm… This just in: Local all-girl rocksteady band Panty Town have changed their name. The group, which includes Miriam Bernardo, Kat Wright, Caroline O'Connor (Vedora), Linda Bassick (Tickle Belly),and Jane Boxall and Christine Mathias (both of Doll Fight!) shall henceforth be known as Steady Betty, which is nowhere near as cool as Panty Town — though I imagine it's easier to mention to family members, clergy, etc. They will be at Radio Bean this Friday, February 22, just prior to the debut of Ryan Ober's (Invisible Jet, Led Lo/Co) new band, the Blim Blams.
Congratulations to the Starline Rhythm Boys, who celebrated 15 years together last Friday, February 15, by … um, not playing a gig. Though considering they still gig upward of 100 dates a year, having a rare Friday off seems like a good way to go. It's also worth noting that this year marks front man Danny Coane's 50th in the music biz, which is astounding, considering he hardly looks 50 to begin with. SRB are back in action this Friday, February 23, at Moog's Place in Morrisville. Speaking of which…
Word on the street is that Tom Moog, owner of Moog's Place, is opening a new restaurant and music venue with Jason Merrihew in — wait for it — the old Langdon Street Café building in Montpelier. The new joint reportedly will be named Sweet Melissa's. Calls to Moog were unreturned as of press time, but when reached for comment, the entire music community in Montpelier said, "Holy shit!" adding, "Do they have to pay royalties to the Allman Brothers?" We'll have more as details become available.
Listening In
A peek at what was on my iPod, turntable, eight-track player, etc., this week.
Aly Tadros, The Fits
Veronica Falls, Waiting for Something to Happen
Anaïs Mitchell and Jefferson Hamer, Child Ballads
Pony Time, Go Find Your Own
John Prine, In Spite of Ourselves