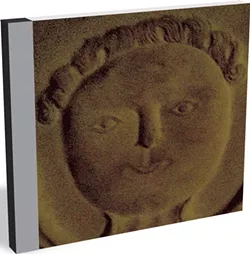 Thai BlueJeans Salesman, Isla Hormiga
(Self-released, digital download)
Themes in music can be tricky. Sometimes the more insistent an artist is about stating a desired theme to their work, the more forced it comes across. For every brilliant concept album, there are countless failed narratives that musicians have tried to force upon their music. The safer bet for the composer is to let the music become a Rorschach test — write it, record it, then watch as a theme emerges.
Isla Hormiga, the latest release from Thai BlueJeans Salesmans skews more toward the latter tack. Over seven tracks, TBJS — the bedroom project of White River Junction-based songwriter Tim Halteman — lets his music spill lazily across a pale canvas, the auditory equivalent of staring at a rainstorm from behind a screen door.
The album's watery motif starts with the opener "Floating Stick (Feat. Sophie)." It's a meandering, chiming song that finds Halteman singing a harlequin melody just on the edge of his range. "The sky is gray like a dirty sheep that's been up to something," he declares before the chorus and Sophie Bodnar's harmonies wash over the jangle.
Halteman has a tendency to let Isla Hormiga breathe a little too much. Some momentum is lost with the album's instrumental numbers, particularly "El Cangrejo en Mi Piso." The song makes ace use of loose change as percussion but in general carries on a bit.
One school of producers lets space itself do the work, and Halteman adheres to that mindset. A double-edged sword, the approach fails him at first but comes through clearly with a lo-fi psychedelic touch on "Skinny Doggy Legs." The less-is-more path is even more potent on "Garbage Fire," the strongest of the instrumentals.
Lyrically, Halteman oscillates between clever and obtuse. His approach bears some resemblance to early Michael Stipe, but he has yet to develop the instinct the R.E.M. front man had with solidifying the ethereal into a hook. He comes damn close on the album's standout track, "Shares." Here he sings, "In the eyes of tax evaders, monuments and parks, they all look better." It's a lyric and song that Modest Mouse's Isaac Brock might feel comfortable singing. The album closes on "The Birdcage," an ode to washing away the old without fear. "It may rain again, but hey that's all right," Halteman sings over a faded, tribal beat.
Isla Hormiga was recorded on GarageBand in a bedroom, and sometimes it can't help but sound like that. Still, Halteman does pull off some true sonic highs amid the low fidelity, a reminder that artists can thrive with limitations. Moreover, the album serves as a signpost of potential that Thai BlueJeans Salesman seems poised to fulfill.
Isla Hormiga by Thai BlueJeans Salesman is available at thaibluejeanssalesman.bandcamp.com.