File: Christine Glade
Main Street in Manchester
In early July, southern Vermont was rocked by reports of a dramatic outbreak of COVID-19. One in five residents who walked into a Manchester urgent care clinic between July 10 and 14 tested positive for the virus — 40 times the statewide rate.
Such a spike could quickly overwhelm a small town. But this one flattened as suddenly as it appeared. More than a thousand people rushed to emergency test sites in the area; only one more individual tested positive.
Nearly two months later, the initial cluster of positive tests still has no clear explanation.
How could that be? The Vermont Department of Health suspected an error with the rapid antigen test used by the Manchester Medical Center, which differed from the "gold standard" PCR test used by the state. Only four of 64 patients with positive antigen tests were confirmed through the latter test, which involves sending samples to a lab that can detect the virus' genetic material.
The health department's hypothesis was the only one that made sense, but the implications of so many "false positives" were potentially enormous. Billed as new, nimbler weapons in the fight against COVID-19, antigen tests were just being rolled out nationwide, and the Manchester case raised doubts about whether they were as reliable as claimed. The U.S. Department of Health and Human Services was spending millions to put these new tests in nursing homes across the country. It was important to diagnose the problem.
Instead, investigations involving state, federal and corporate entities have only further clouded the picture. Quidel, the publicly traded medical diagnostics company that developed and sells the rapid antigen test equipment, insists its tests were correct. It has huge profits at stake.
The State of Vermont also contends that its own tests were correct — and offered new evidence last week to that end.
Quidel has meanwhile sought to ease anxious investors who sent its stock price soaring early in the summer. The company issued a press release on August 20 defending the positive antigen results in Vermont and instead pointed a finger at the state lab's PCR tests. After inspecting the Manchester Medical Center, analyzing its testing data and reviewing unspecified "data points" across 33 other states, Quidel president and CEO Douglas Bryant said the company found no problems with its Sofia-branded products or how the Manchester Medical Center was using them.
"We conducted a very thorough investigation for this unique complaint in Vermont and believe that it was highly likely that our Sofia results were true positives and that the subsequent PCR method used to re-test was at risk of providing inaccurate results," he said in the release.
The company refused to elaborate on the statement, which questioned the integrity of the testing system in a state that has prided itself on having the lowest coronavirus case rate in the country. If the state lab turned out to be the problem, as the press release alleged, Vermont's numbers would require far more scrutiny.
Vermont officials have countered that narrative. The usually nonconfrontational Health Commissioner Mark Levine responded the following day, calling Quidel's assertion about the state lab "inappropriate" because Quidel had not actually reviewed the PCR tests. But Levine did reveal that the U.S. Food & Drug Administration had sided with Quidel in concluding there was no problem with the company's testing equipment.
In the weeks since, state health officials believe they've been able to refute Quidel's insinuation about potential problems with Vermont's COVID-19 tests.
Quidel's oblique swipe at the PCR tests alludes to concerns about equipment used by Vermont's public health laboratory. On August 17, just days before Quidel's press release, the FDA issued a warning letter about widely used testing instruments produced by a company called Thermo Fisher Scientific. The warning stemmed from a problem uncovered over the summer in Connecticut, where more than 90 eldercare residents had false positives.
Levine countered: The chief problem the FDA described was about a procedure that is not used at the state's lab.
The FDA letter also urged labs to install a software update to reduce the risk of false negative results — the erroneous outcome Quidel was suggesting may have occurred in Manchester.
The state lab installed that update on August 1 — weeks after the Manchester tests were initially processed, according to a health department spokesperson. On September 1, lab officials were able to reprocess data from the Manchester samples using the updated software, at the request of the federal Centers for Disease Control and Prevention. The results did not change, the health department said.
In other words, the theory Quidel's CEO put forth was wrong.
Further, Levine said in a statement to Seven Days, the state's separate epidemiological investigation found that "there was no outbreak situation in Manchester in July."
The disputed results highlight scientific and regulatory processes that, due to the pandemic, are being negotiated in the public eye.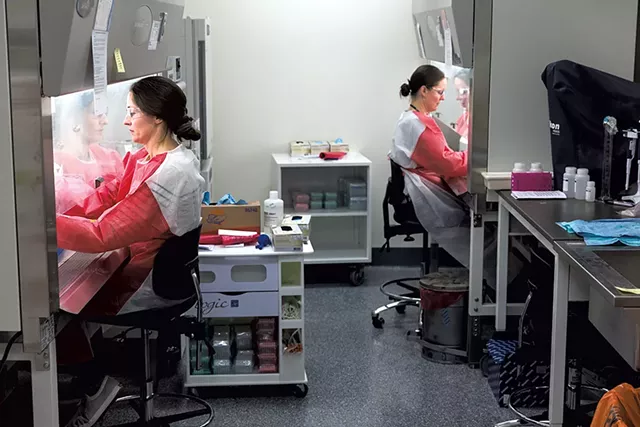 File: Oliver Parini
Microbiologists processing tests for COVID-19 at the Vermont Department of Health Laboratory in Colchester
The conflict has not gone unnoticed by Quidel's investors. CEO Bryant was asked about the Vermont results during an August 27 "fireside chat" with an industry analyst.
In defending the company, Bryant emphasized that the feds had its back. He noted that the CDC convened a meeting between Quidel, the health department, the FDA, the CDC and Manchester Medical Center, which emails obtained by Seven Days confirm took place on August 18 via Skype.
At the end of the meeting, Bryant said, the feds determined that the health department should not have described the Manchester antigen results as false positives.
"In fact, the Vermont medical center now is in the process of reaching back out to those patients and apologizing and saying, 'We are sorry, [and] that you were indeed positive,'" he said.
The FDA initially declined to comment, but a spokesperson later said that the agency had concluded, based in part on Quidel's internal investigation, that no recall was necessary and that it was continuing to evaluate. The spokesperson also said that Vermont findings were "independent" of the issues that prompted the Thermo Fisher warning. (The state no longer considers them "false positives," Levine said at an August press conference, but it does not include them in the state's official tally of COVID-19 cases, which is limited to cases confirmed through PCR.)
The fireside chat highlighted the intense financial pressure Quidel faces as a key player in COVID-19 testing. The company began exploring COVID-19 tests as early as January, at the urging of FDA officials, the New York Times recently reported. It became the first antigen test maker to win FDA authorization, in May. By August, its stock had more than tripled in value.
But the day Bryant was speaking at the investor-geared event, Quidel's stock tumbled more than 20 percent upon the news that the FDA had cleared for production an even cheaper, easier antigen test by Abbott Laboratories.
Bryant spun the news as a potential boon, arguing that the increased competition would help dispel misconceptions that antigen tests aren't as reliable as PCR tests.
"We've got this perspective in public health that PCR is always right," he said, summin g up his answer to the question about Vermont. "And that's not always true."
Unmentioned in company statements is a similar case in Maine, where 19 campers tested positive in mid-July using Quidel's antigen test but tested negative on subsequent PCR tests. A Maine Center for Disease Control & Prevention spokesperson told Seven Days that Maine's state lab does not use Thermo Fisher's testing equipment, ruling that out as a potential cause.
"The company has stated to Maine CDC that its representatives are investigating," Robert Long said in an email. "Apparently, one of the challenges they have encountered is that the summer camp is now closed, so communicating with the parties involved in the July 18-19 testing has been difficult."
Quidel's most high-profile false positive, however, involved Ohio Gov. Mike DeWine, whose positive antigen result came just before he was scheduled to meet with President Donald Trump.
While experts say one-off problems such as DeWine's are an inevitable consequence of mass testing with any method, a large cluster of disputed cases at a single testing site, as happened in Vermont and Maine, suggests that a laboratory error of some kind is a likelier explanation. Provided with a written summary of Vermont case facts, Dr. Timothy Brewer, a professor of medicine and epidemiology at the University of California, Los Angeles, who specializes in infectious diseases, said Vermont's public health laboratory "seems more likely to be correct."
In July, antigen tests for COVID-19 were scarcely used in Vermont, and there were no state-issued guidelines for how and when they should be used.
That is beginning to change. Quidel is one of two companies awarded federal Health and Human Services contracts worth tens of millions of dollars to send rapid antigen tests to nursing homes throughout the country, including in Vermont. On September 2, the Vermont Department of Health issued an informational update to all health care providers that listed the features and risks of antigen tests, including the risk of "false positive results when disease prevalence is low." More specific guidelines are forthcoming, a spokesperson said.
Despite the lingering confusion, Levine has sought to reassure residents about the reliability of both tests, when used correctly.
"While we wish we had more conclusive answers," he said, "we are looking ahead to see how we can best utilize available tools."