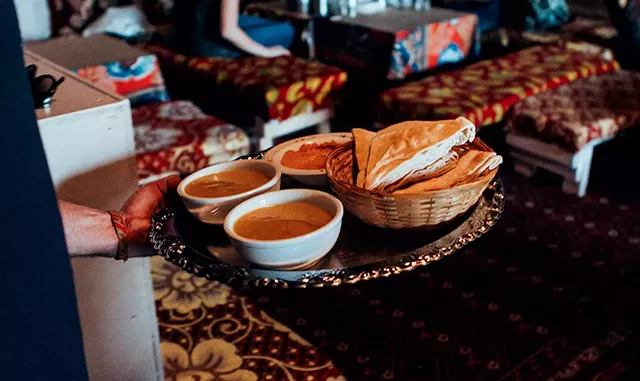 Courtesy Of Joseph Polifroni/la Khaïma
La Khaïma
When asked to describe the food of his native Mauritania, Atigh Ould, owner and chef of La Khaïma restaurant in Montréal, excused himself briefly, then returned to the table with a 15-pound block of salt. It was light tan and opaque.
Ould explained that he had recently dug the salt from desert sand in northern Mauritania and brought it back to season the restaurant's food. He chipped off a small piece for this reporter to try. It tasted of minerals and earth, with a flavor that deepened as it dissolved: the terroir of the Sahara.
Ould, 44, grew up in a Berber tribe in the northwest African country; his relatives there are still nomads. "When you're in the nomadic bedouin lifestyle, the key to food is simplicity," he said. "Sometimes, you can only find certain things to eat." In the desert, where travelers can carry only so much with them, an eating bowl and flavor-giving salt are essential.
Ould brings this spirit of delicious simplicity and Mauritanian hospitality to La Khaïma, which he established in the Mile End of Montréal in 2004. He calls it the only Mauritanian restaurant in the world. Bedouin nomads have a strong tradition of welcoming guests to their tent homes and sharing meals with them, he explained, but don't serve their food in restaurants.
While Ould's claim may be impossible to verify, he seems to have convinced Charles Bibilos, author of the popular blog United Nations of Food. Devoted to "eat[ing] food from every country," the blogger made a trip from New York just to visit La Khaïma, which he touted as "the world's only Mauritanian restaurant outside of Mauritania" and called one of his "favorite finds ever."
Singular or not, La Khaïma offers food and atmosphere that are unquestionably unique. There is no paper menu; all meals are prix fixe. On the chilly November Friday when my friend and I visited, La Khaïma was buzzing with customers, many seated in large groups. Instead of taking our order, our server told us how the night would unfold.
First would come the soup, then a platter of couscous with three stews — one vegetarian and one each of chicken and beef. After that, we would have tea. We could have asked for gluten-free couscous or the vegetarian tagine only, but, otherwise, there were no choices to make. Relaxing and waiting to eat what the chef had decided for us was oddly liberating.
We had barely settled in when our server brought us hummus, pita and steaming bowls of lentil m'berberli soup. Having spent my broke twenties eating lentils at least twice a week, I had steadfastly avoided the legume ever since. But personal preferences don't matter when eating prix fixe, and I was cold, so I dug into the dal-like soup.
Richly seasoned with ginger, cumin and pepper, and topped with a swirl of olive oil, the m'berberli satisfied me despite my prejudice. The simple hummus was thick but not pasty, light on the garlic and tahini.
Our server did ask us one question: Would we like him to open our wine bottle? La Khaïma is licensed as a bring-your-own-alcohol restaurant, and we'd brought a Bourgueil: Avis de Vin Fort Clairet from Catherine & Pierre Breton. Made from cabernet franc grapes, it's a light and funky biodynamic red wine from the Loire Valley that cost about $23 Canadian at the government-run Société des Alcools du Québec. Other juicy, light-to-medium-bodied reds that are lower in tannins, such as Beaujolais and Morgon, are a safe bet when you don't know in advance what you'll eat.
La Khaïma always offers one vegetarian dish and often one dish each of chicken and beef, sometimes replaced by lamb or fish. The restaurant's meat is halal, which excludes pork. Ould said he sources some of his vegetables and meats from local and organic producers and uses spices from Mauritania, Mali and other northwest African countries.
We sipped our wine and took in the ambience as we waited for the main course. La khaïma is the term for the tall cloth tents in which nomadic Mauritanians make their traveling homes, and the restaurant's décor is designed to emulate such an environment. Quilted tapestries in vibrantly eclectic patterns hang from the ceiling; most of the tables are low to the ground with cushioned benches for cozy, communal and shoeless seating. We observed many guests lounging for two or more hours over their meals.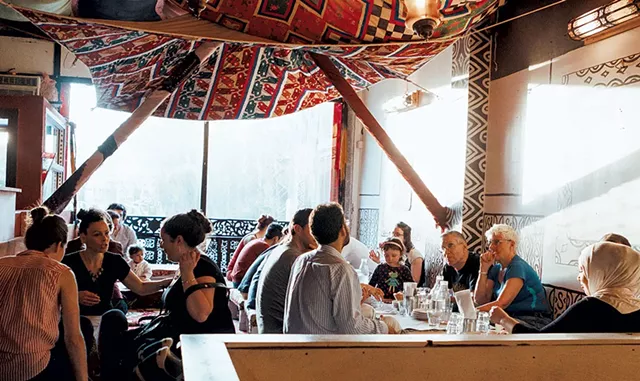 Courtesy Of Joseph Polifroni/la Khaïma
La Khaïma
After the initial soup and hummus, the rest of the food came at a leisurely pace. It took a bit of maneuvering for the server to fit the 18-inch floral-designed platter on the table. Three stews lay on a bed of fluffy couscous in a pleasing visual presentation that we destroyed the second we dug in. The vegetarian magoji, with a base of puréed pumpkin and sweet potato, was loaded with thick, buttery, fresh-tasting carrots. The marjen featured beef and dates, the latter ingredient typical of food from the north of Mauritania. Sprinkled with a few kidney beans, the thick beef stew offered some sweetness and flavors of cinnamon and star anise. Tiny seeds from cooked figs added a surprising crunch.
As solid and interesting as both the magoji and marjen were, the poulet tenadi stole the show. The tender chicken pieces tasted hauntingly smoky, as if they had been first grilled, a note that contrasted brilliantly with the tang of the lemon confit and green olives. Perfectly juicy orange bell peppers came stewed along with onions, garlic and lots of black pepper in this complex and memorable tagine.
We finished our meal with a pot of slightly sweetened fresh mint tea and two petite pieces of gingerbread. Chewy and crunchy, the dessert was an unremarkable but sweet end to a hearty dinner.
The entire meal cost $25 Canadian per person, and we walked away with at least a pound of leftovers. It's not uncommon for prix fixe meals to consist of small portions, or larger ones bulked up with inexpensive starches and proteins. The main courses at La Khaïma were neither and came with an ample but proportional helping of couscous, so the meal felt like an excellent deal.
Toward the end of the evening, I noticed that our neighbors were enjoying a magoji containing a heap of black-eyed peas, unlike our version of the stew. Later, I discovered that the difference was due to a chef's choice rather than an ingredient substitution. Ould said he sometimes adapts his dishes to the tastes of his customers, reflecting their origins or their travel experiences. If a dish on the menu resembles a dish from Senegal, for example, diners acquainted with Senegalese food might get it with spices, herbs or other touches designed to evoke that style.
The goal, Ould says, is to serve his guests food that recalls fond memories of other places and meals. For those not yet familiar with the tastes of the Sahara, La Khaïma offers the possibility of making new memories — perhaps the only ones of their kind in this part of the world.