File: Matthew Thorsen
Jake Agna
Few sounds say "summer" more than the thwack! of a tennis ball and the shuffle of sneaker-clad feet on a clay court. Unless you count a seagull's cry overhead — which was the soundtrack for a recent interview with Jake Agna at the Edge Sports & Fitness in South Burlington.
If you don't know Agna, you probably don't know jack about how tennis has taken over the Queen City — and now, Cuba — thanks to the man's single-minded determination to bring the game to new demographics.
Agna has been teaching tennis for 43 years. He founded the Kids on the Ball program, which brings tennis to Burlington youth through the King Street Center, 16 years ago. Now he's making history by rebuilding the National Tennis Center in Havana through Kids on the Ball Cuba. Working with the Burlington-based Cuban American Friendship Society, Agna has earned the very first bricks-and-mortar approval for Cuba from the U.S. Department of Commerce since the Eisenhower administration, and he's rallying Vermonters to join him on his trips south.*
The net result is a new spin on the sport that was once reserved for a more elite set. "I believe in good living," said Agna, 62. "Good living is about simplifying your life. Tennis is a simple game, and so is learning it. Try to play the next ball," he continued. "If you mess up, get back in line. Breathe. Do the things that make you feel human."
Agna believes that the tennis court also models guidelines for good behavior. "It's the best place to learn about yourself and about others," he asserted.
The best place to learn about Agna himself might be the sidelines of this tennis court. Here he juggles myriad balls: coaching the South Burlington High School girls' team, working with Kids on the Ball and maintaining a nearly round-the-clock commitment to community players. That left Agna just 45 minutes to lob answers to this reporter's questions about his life story. Still, he answered them with the effortless grace of Roger Federer and the charisma of Andre Agassi.
The son of two doctors, Agna was raised in Yellow Springs, Ohio, a town that mixed the forward-thinking culture of Antioch College with the forecourt culture of tennis. Everybody played the sport, said Agna. He grew up in a 28-room house that had once belonged to a senator and had a housekeeper overseeing him and his four brothers and sisters. But he hit balls with kids from every socioeconomic background.
"Tennis was like the religion in town," Agna said. "It was a hip community where you felt like you could learn all the things you needed to learn on a tennis court — about fairness, about hanging in there when things don't go your way. I had every opportunity, but always felt that I was the same as everyone else. It was a great way to grow up."
Agna began teaching tennis at age 19, studied psychology at Eckerd College in Florida, and moved to Vermont in 1983 to become the tennis pro at the Quarry Hill Club. The longest-standing employee at the Edge (formerly Lakeside and Twin Oaks), he taught gym-goers and juniors — along with his own kids, now 32 and 28. But he missed the melting pot of the Yellow Springs courts.
"I was thinking, How can I socially engineer a program so that all kids have a little different look outside their bubble?" he recalled. That question inspired the 2000 creation of Kids on the Ball, which brings hundreds of children from the King Street Center to Agna's clinics each year. Agna said he's seen tennis lend calm and a sense of order to everyone from refugees to individuals suffering from anxiety.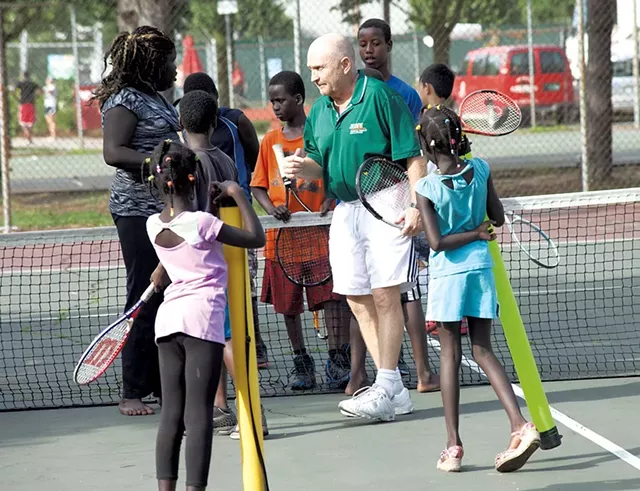 File: Matthew Thorsen
Jake Agna teaching tennis in Burlington
Watching television one Sunday morning last winter, Agna saw Wynton Marsalis playing music in Havana. An idea hit him, he recalled: Why not check out the tennis scene in Cuba? So Agna hooked up with Burlington's Cuban American Friendship Society and traveled to that country's National Tennis Center.
"It was the most beat-up place I'd ever seen; the cores coming out of the ball, the nets all jerry-rigged on chairs," remembered Agna. "But the play was tremendous. I'd never seen anything like that."
He began to play with the kids, sweating so badly that his ears were dripping. Still, he was grinning from ear to ear, Agna said. "Everyone was so enthusiastic!"
The experience showed Agna that "Cubans love sports and really value what sports do for a person," he said. One of the country's greatest living athletes reinforced that lesson: "Alberto Juantorena, who won double gold [in track] at the 1976 Olympics, says that we are going to make tennis work for Cuba," Agna said. "He says things like, 'Out of 100 kids, one will become a champion; the rest will become better citizens.' We have to buy into this, because the kids lack a safety net — but they do have a good attitude."
With those sentiments in mind, Agna founded the cross-cultural youth tennis exchange program Kids on the Ball Cuba shortly after his first Cuban experience. It has since brought nearly 80 Vermonters to work alongside Agna.
Tennis isn't as big as it used to be in the Green Mountain State — its boom happened in the '70s. But Agna said he's been profoundly impressed as he's watched adult players interacting with Cuban kids and Vermont companies stepping up to the court. "This happens in Burlington because people want to do the right thing," he said. "They want opportunities for people. They want fairness. They want all the things I try to help these kids with."
Agna has raised some $700,000 to resurface the existing courts and tennis grounds at the National Tennis Center over the past six months; he's now fundraising for equipment. And he aims to work with large American companies to support his vision.
Agna cited his marriage, his love of reading and music, and his dedication to the "simple sport" as factors that give his life balance. And even after two hip replacements, in 2002 and 2005, he still plays daily at 7 a.m. before his coaching day begins.
"Tennis gives me a sense of control, but also a sense of peace," said Agna. "It helps me see rhyme and reason in a world where, sometimes, things are crazy."
Stowe's Grand Slam Raises a Racket
Queen Elizabeth. Manicured grass courts. Strawberries and cream. There's nothing like Centre Court at Wimbledon. And there's nothing like the price tag — some $10,000 for a ticket to the men's finals at the fabled tennis tournament.
Now Stowe-based Grand Slam Tennis Tours is offering fans a chance to win two tickets for the 2017 event — along with a six-night stay at a boutique hotel. "Wimbledon is a special, sacred place for tennis," says Andrew Chmura, the president of Grand Slam, which has packaged tours to the Australian, French and U.S. opens and other major tennis events.
The company's #WINbledon contest comes on the heels of a new partnership with boutique player agency Topnotch Management, which represents elite players such as American John Isner and Caroline Garcia of France.
For Vermonters hoping to hop the pond to hob-nob with the white-clad highfalutin set next summer, the contest is the big news. "If you're a professional player, it's where you want to be," says Chmura of the timeless allure of Wimbledom. "And if you're a fan, well, it's also where you want to be. And it's only slightly less complicated to get there if you're a fan."
The contest runs from June 1 to the drawing at the U.S. Open in late August. All you need to do is enter your name at grandslamtennistours.com/win-wimbledon.
*Correction, June 6, 2016: This article has been updated to reflect the role the Cuban American Friendship Society played in getting a license to reconstruct the National Tennis Federation courts in Havana.