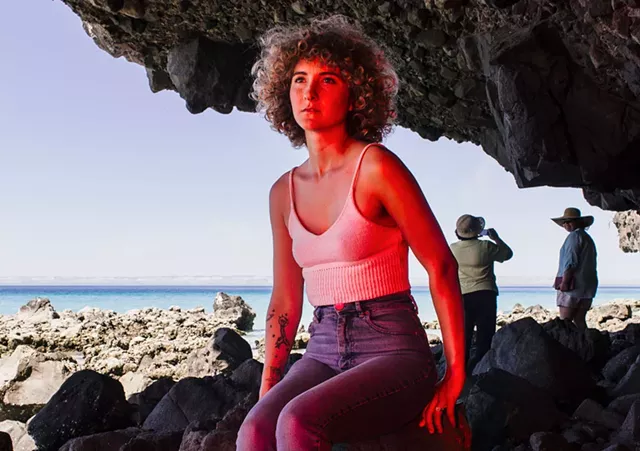 Luca Venter
Alaina Moore
Retro-pop duo Tennis, composed of husband and wife Patrick Riley and Alaina Moore, burst onto the blogosphere in the early 2010s with their charming, ultra-lo-fi album Cape Dory. The accompanying narrative — that, prior to recording, they had sold all of their possessions, left their lives in Denver behind and literally set sail on the Atlantic Ocean — could have destined the pair to fade into obscurity as a kitschy, one-album wonder. Fortunately, that didn't happen.
Comparisons can be made to all manner of '60s and '70s female-led pop. But sardonic, quizzical lyrics add modern flair — and, sometimes, existential dread — to their otherwise yesteryear-evoking tunes.
Prior to recording their fourth album, Yours Conditionally, the pair returned to the high seas for clarity and inspiration, only this time they headed to the Pacific Ocean — specifically the tucked-away Sea of Cortez. They left the world of record labels to self-release it on their imprint Mutually Detrimental.
Tennis open for the Shins on Sunday, July 30, at Waterfront Park in Burlington. Seven Days recently caught up with Moore by phone.
SEVEN DAYS: In an interview with Nylon magazine, you offered some thoughts on gender equality in the music industry. Care to elaborate?
ALAINA MOORE: The biggest [problem] would be the challenges, stereotypes and assumptions [facing] women and gender-nonconforming people. Music is a great way for people to identify or have empathy for someone whose experience is totally different from theirs.
For example, it's very rewarding for me when I look out into a crowd and I see people from all different walks of life — but men, in particular — singing along with lyrics that maybe express a deeply personal and feminine perspective. They maybe don't know exactly what it means, but there's a connection.
As far as my goals with being a feminist and a woman in the world and using my art, that's the only thing I can think to do with it: To try and break down the barriers between human experience. Because music is so shared — especially pop music. It kind of erases divides between different people.
SD: I've always been fascinated by the lyrics to your song "My Better Self" from your second album, Young & Old. What's it all about?
AM: I'm just talking about the ambiguity of language and the way that it's totally necessary, but [also] how the same word can mean a very different thing to two different people — even two people who are really like-minded.
We kind of cycle through words for things — especially euphemisms for difficult, controversial words, or words that try to [define] a loaded concept ... because it's never quite the right word.
SD: It seems like your experience with your label during the Ritual in Repeat cycle wasn't the greatest. Is there a way for an indie band and its label to ever truly be on the same page?
AM: The larger issue is not the label versus the band. I never felt that way. I've loved all of the labels that we've worked with. The real issue is art and commerce.
We are admittedly trying to make money off of our work. I feel like, in this day and age, that might even be the definition of a band's success — whether or not they can make a living off of it.
You don't make money off of selling records anymore, so licensing is where the money is. I truly believe it will at least subconsciously change the way people write music. I kind of like that there's not really this concept of selling out anymore. In the '90s, that would be the death of a band, the destruction of their credibility. And now I feel like no one ever says that. You'd have to do something very disingenuous for somebody to say that about a musician.
The way that Patrick and I have bounced back from a frustrating album cycle, as far as the business side of it goes, is by starting our own label and self-releasing. It gives us a lot more freedom than before. It has been extremely rewarding, and we will continue to self-release as far into the future as I can foresee.
Luca Venter
Partick Riley and Alaina Moore of the retro-pop duo Tennis
SD: I understand that you recorded demos right on the boat during your most recent expedition.
AM: Yes. We gave ourselves a lot of time, with no expectations and no real deadline. It was a lot easier to write, and it took the pressure off of every little thing we tried. We could start a song and get halfway in and be like, "Yeah, this is nothing to me," and just throw it away, move on and not feel devastated.
When I write, I feel so invested in every little thing that I do. It can be very emotionally devastating to me, and writing this way, in an environment where it wasn't the most important part of my life — [because] our No. 1 concern at all times was our safety and the safety of our boat — honestly, it really contextualized music-making for me. Whatever we did do was just a simple joy instead of the most important thing I'll ever do in my life. It made songwriting joyful and natural.
SD: Did any of the individual instrumental and/or vocal tracks actually end up on the record?
AM: We rerecorded everything, except there's a really weird, crazy delayed guitar part in the background of the song "Fields of Blue." That's the only thing that survived. Demoing on a boat is not very conducive to proper music.
SD: Right — unless you want all of those creaks, gulls and splashing sounds.
AM: Exactly — which might be interesting one day. It might lend itself a lot better to a folk singer. Maybe if we switch genres that would work.
SD: Do you have any songs that you think don't translate to live performance?
AM: Oh, yeah. All the time — like, half of our songs. There are some that we just can't figure out. Or there are some that we thought would be so good live, and then they're not.
There's a song on our new record called "Baby Don't Believe" that's our favorite. We were so looking forward to playing it live, and then we added it to our set and we played it at, like, 10 shows and tinkered around with it and we thought, No, it's too down-tempo and linear. It just didn't fit.
SD: Tell me about your visual partner, Luca Venter.
AM: He's more or less our art director for this whole album cycle. He's like a member of our family. We have a lot of projects we're working on, including a very long visual documentation of our sailing trip.
SD: How does the process work when creating a visual representation of your music?
AM: It goes back and forth. Sometimes I will have a vision in mind, and other times we'll be brainstorming together, usually over a gin and tonic. Other times — he knows our taste really well — he'll stumble upon an image and show me, and we'll be like, "This would be an amazing aesthetic for a music video" — like a color palette and lighting, for example. We think more in terms of abstract visuals over narrative [videos]. I'm not really interested in literal interpretations of my songs. I want more abstract, associative images.