Chefs rarely follow recipes, but many of them find plenty to savor in cookbooks, nonetheless. They read for inspiration, education, context and community. They earmark pages that reveal fresh approaches to technique. They scribble down notes of promising flavor combinations.
We asked three chefs, one cookbook author and one plant nursery owner to share the cookbooks or other food books they pore over.
Cara Chigazola Tobin
chef/co-owner, Honey Road, Burlington
File: Oliver Parini
Cara Chigazola Tobin
The Georgian Feast: The Vibrant Culture and Savory Food of the Republic of Georgia by Darra Goldstein (HarperCollins 1993/updated edition, University of California Press, 2013)
Istanbul and Beyond: Exploring the Diverse Cuisines of Turkey by Robyn Eckhardt (Rux Martin/Houghton Mifflin Harcourt, 2017)
These are books that, although they have recipes, really are more about the culture and cuisine. My philosophy with cooking has always been to learn the traditional way to cook something first, then I can adapt it to our region and the American palate.
Istanbul and Beyond was kind of a groundbreaking book in that Robyn Eckhardt really went deep into the different regions of Turkey. A lot of Turkish cookbooks have the same recipes over and over. Eckhardt goes into regions that are not written about much and explains why certain dishes came from certain regions based on landscape and culture.
When The Georgian Feast came out in 1993, no one was talking about Georgian food. It's still a fairly unknown cuisine to Americans; when I say Georgian food, most people think I'm talking about the state of Georgia, not the country. For me, I like studying it because you can see the clear connection between Turkish food and Georgian food. You can see how certain dishes migrated into Turkey and were adapted.
There are a few dishes that are quite similar, Turkish pide and Georgian khachapuri, for example. [Both are canoe-shaped, filled flatbreads.] I also have a profound infatuation with the Georgian tradition of the supra, a large feast that has set rules and traditions built into the flow of the meal. Although it sounds completely overwhelming, it also sounds like an amazingly good time — especially right now in the time of COVID-19 and social distancing.
Chris Hechanova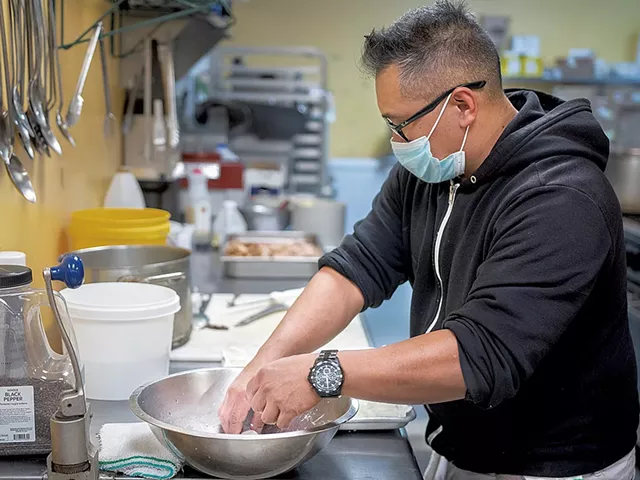 Courtesy Of Erica Houskeeper
Chris Hechanova
The Perfect Egg and Other Secrets by Aldo Buzzi (Bloomsbury Publishing, 2005)
The Whole Beast: Nose to Tail Eating by Fergus Henderson (Ecco, 2004)
The Perfect Egg is tiny. You can easily put it in your pocket or purse. It has a jacket, which is strange for such a small book. If you take the jacket off, it looks like a diary. It's a short read but really interesting. Buzzi was born in the early 1900s, and he was an interesting guy: an architect and involved in film. It was written in Italian and translated.
Reading it is kind of like watching a movie that's a series of vignettes. Buzzi is all over the place; it's a very anecdotal book. He'll reference the pope and then Paul Bocuse, one of the old-school chefs. Then he'll go to James Fenimore Cooper, who wrote The Last of the Mohicans, and what he was eating when he read the book. He also talks about fish sauce and a Mafia chef he knew who made the best BLT.
Fergus Henderson's Whole Beast influenced me a lot. The book is really easy to follow. It's a rudimentary book for young cooks. Everybody should have it, not just aspiring cooks.
He and his restaurant [St. John Restaurant in London] kind of built a cult following. He was the guy who put marrow, all offal, really, back on the menu — and it blew up. Henderson was instrumental in the whole format of the gastropub. He wanted to express his English roots. And at the height of his success, he was dealing with Parkinson's.
The best thing about him, I think, is that he unintentionally flipped a middle finger to haute cuisine. He has no pretensions.
Christian Kruse
Courtesy Of Christian Kruse
Christian Kruse
All About Braising: The Art of Uncomplicated Cooking by Molly Stevens (W.W. Norton, 2004)
Coi: Stories and Recipes by Daniel Patterson (Phaidon Press, 2013)
All About Braising is a cookbook I feel that every chef or cook should have in their collection. I've used this book as a foundation for my braising techniques — simple yet powerful. The flavors, ingredients and techniques are made very approachable for the home cook, but Molly also brings a unique perspective. I really like how she uses brisket instead of chuck in a pot roast. Chuck has always been the preferred classic cut to use. The fat content, tenderness and bold flavor of brisket make pot roast so much more.
I have always been fascinated by Californian cuisine because it's similar to what we do here in Vermont when it comes to farm-to-table. The simplicity and powerful flavors are what inspire me in Coi, chef Daniel Patterson's cookbook. I had the luxury of eating at his amazing restaurant in 2016. He uses seasonal ingredients thoughtfully and concentrates on the true flavor of each ingredient without overshadowing them with unnecessary ingredients or sauces.
Patterson's spot prawn recipe with cipollini onions and sorrel is a prime example. He brines the prawns and simply grills them to perfection and keeps the purity of flavor. To complement, he serves them with clarified butter and juiced sorrel, again clear and simple flavors.
Julie Rubaud
File: Hannah Palmer Egan ©️ Seven Days
Julie Rubaud
Bitter: A Taste of the World's Most Dangerous Flavor, With Recipes by Jennifer McLagan (Ten Speed Press, 2014)
Mastering Spice: Recipes and Techniques to Transform Your Everyday Cooking by Lior Lev Sercarz with Genevieve Ko (Clarkson Potter, 2019)
The extended warm autumn created perfect conditions for the radicchio, chicory and escarole in my garden, and I found myself looking for new things to do with them. A friend recommended the book Bitter, and I have been diving into this flavor as a concept.
As we all turn to comfort foods this year, I realize that one of my most satisfying childhood food memories is the dandelion salad my French mom used to make — wild harvested dandelion greens, a garlicky Dijon vinaigrette, croutons and lardons. I am so curious about why bitter flavors speak to me so loudly, and McLagan's book helps explain it.
The book is full of insight about the role of bitter taste, and her recipes literally make my mouth water. Her caramelized oranges are going to make an appearance on top of the pavlova I usually make at Christmas, and my wife, Uli, is making grapefruit jelly for filling windowpane cookies we are making later this week.
The other book I have been reading is all about blending spices. While I already use lots of spice and herbs in my cooking, I do generally stick to the same things over and over. To get out of that rut, I decided to experiment with various spice blends and dried herbs from our herb farm. Lior Lev Sercarz owns a spice company called La Boîte, and his book provides good guidance for anyone who wants to approach spice from a somewhat disciplined perspective.
While it might be intimidating to the beginner cook — amounts are given in grams, toasting instructions are very precise — he provides a basic framework that allows for creativity within bounds. It is a perfect project book that can lead to more interesting weeknight meals.
Molly Stevens
File: Daria Bishop
Molly Stevens
In Bibi's Kitchen: The Recipes and Stories of Grandmothers From the Eight African Countries That Touch the Indian Ocean by Hawa Hassan and Julia Turshen (Ten Speed Press, 2020)
Tender: A Cook and His Vegetable Patch by Nigel Slater (Ten Speed Press, 2011)
What moved me most about the powerful new cookbook In Bibi's Kitchen is the personal connection the authors establish with the 16 admirable African grandmothers (or bibis, the Swahili word for grandmother) who welcome them into their kitchens.
In Somalia, we meet Ma Sahra, who teaches us to make her crispy spiced chicken and onion samosas. Then there's Ma Kauthar, from a port city in Kenya, with her sweet cardamom-scented basboosa (semolina cake). Later, we meet Ma Vicky, a real-life Tanzanian princess who now lives in suburban New York and shares her recipe for matoke (stewed plantain with beef and beans).
Much more than a cookbook, this book depicts a rich tapestry of the complicated history, diverse legacies, cultures, communities and, of course, the food of a too often conflated part of the world. In Bibi's Kitchen is about sustenance and connection — multigenerational, cross-cultural and global.
I pretty much devour any book by British food writer Nigel Slater, but the one that brings the most joy and inspiration is this paean to his vegetable garden. I read Tender as much for Slater's sumptuous prose as for his extensive garden and kitchen knowledge. The recipes are charmingly conceived and titled: "A Rich Dish of Sprouts and Cheese for a Very Cold Night," "A Lentil Stuffing for a Cheap Supper," or "Prawns, Leaves and Limes." And he includes as many ideas for improvisation as prescribed formulas. Slater's exuberance makes this a book that rarely sits on my shelf for long. The lavish photographs alone can brighten any kitchen doldrums.