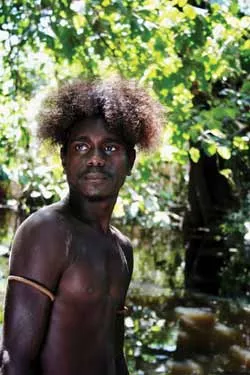 OUTBACK DREAD: A tribe cleaves to the old ways and worries about uppity sorcerors in Rolf de Heer's anthropological drama.
It's tough being a young dude among the Yolngu of Australia's Northern Territory. Your battle-scarred older brother gets all the wives, and when you make eyes at the youngest and cutest member of his harem, he takes you aside and tells you a long, preachy story about your ancestors. The moral of which seems to be: Stay in your place, and be careful what you wish for. Oh, and don't worry too much about what strangers might be doing with your turds.
Like so many movies, Ten Canoes is based on archetype and fable. Unlike films with European sources, though, it's resonant in some ways and resolutely strange in others. English-speaking narrator and well-known Australian actor David Gulpilil guides us through the swampy world of the Yolngu in an unspecified past long before the British colonists arrived. The indigenous actors speak their own languages — a "first" that may have helped the film win a 2006 special jury prize at Cannes and various other honors. As crafted by writer-director Rolf de Heer, it's also a beautiful piece of filmmaking with a mood and a rhythm all its own.
Australian films such as Rabbit-Proof Fence and The Chant of Jimmie Blacksmith have shown how severely the colonists brutalized and dehumanized the "Aborigines." Ten Canoes is different. The narrator starts off by mimicking Euro story-telling conventions — "Once upon a time . . ." Then he breaks off, chuckling, and tells his Anglophone listener, "It's not your story; it's my story."
And a complex story-within-a-story it is. In a sequence shot in black and white, the narrator introduces us to the aforementioned disgruntled young dude (Jamie Gulpilil), son of David and his older brother, who are building canoes in preparation for a hunt. He tells us their world is separated from us by many generations. But soon the brother launches into his own tale, and the images melt into color, even as the story recedes into the more distant past of fable. There we meet young Yeeralparil (also played by Jamie Gulpilil), who covets the wife of his brother Ridjimiraril (Crusoe Kurddal). Though he's too meek to do much about it, other forces soon threaten the stability of the small group of hunter-gatherers, who live in eerie — and, it turns out, illusory — isolation on their patch of fertile wetland.
Shot on location, scored to indigenous music and the incessant thrumming of insects, Ten Canoes looks and sounds like nothing else. By the standards of Hollywood movies, it's slow indeed. (Even Gulpilil's character, as the listener in the black-and-white segments, begs for more action — sex, violence, anything!) But de Heer uses long tracking shots through the landscape to give the narrative a hypnotic pull — and, though he finds extraordinary colors and textures in the swamp, the movie is never just a travelogue. The fluid, floating camera suggests that an invisible presence accompanies the characters. But is it the benign spirits of their ancestors, or something more ominous?
Though it would be silly to call Ten Canoes a horror movie, it distills the essential ingredient of all horror movies: fear of the unknown. When a stranger strolls into camp, speaking a language that's almost like yours, do you greet him as a brother or shun him as a sorceror? In fantasy sequences where the color is just a little off, de Heer shows us what the men fear: that the stranger will gore them with a spear, or take their souls and leave them walking zombies. No wonder they respond in ways that lead eventually to violence.
So much for the happy-go-lucky life of hunter-gatherers that some pop anthropologists have touted. The world of Ten Canoes contains strife, sexual jealousy and untimely death — but also dick and fart jokes (the actors are virtually naked, though never in a sexual context), appealing characters and a surprising gentleness. It may be their story, but it has its ways of speaking to us.