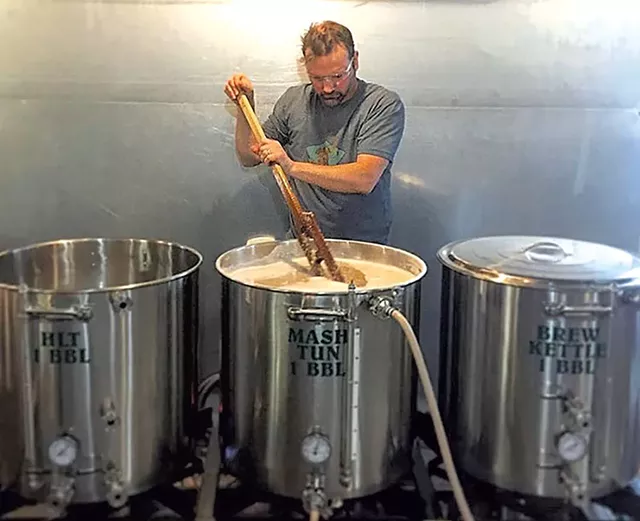 Ten Bends Beer, a one-barrel microbrewery from Mike Scarlata and Jason Powell, debuted with 2,500 poured samples this weekend at the Stowe Brewers Festival. For those who missed a sip of the duo's small-batch ales, Ten Bends will open a brick-and-mortar brewery and tasting room on Saturday, August 6, at 590 East Main Street in Hyde Park.
"We had great reception at [the festival]," says Powell. "We had a big line at our booth — everybody was really supportive." The brewers note that the forthcoming brewery will be in good company, located just a few towns over from beer hubs such as the Alchemist and Lost Nation Brewing.
"We're happy to be in proximity to all these guys," Scarlata says. "We're excited to be a part of that mecca."
Scarlata and Powell were avid solo homebrewers before meeting through their wives almost five years ago. "The desire to own our own business, plus the passion for craft brewing, peaked when we came together," Powell says. "[The brewery] was a natural occurrence — a no-brainer."
The duo has gutted and reconstructed a former slaughterhouse in a building shared with ReSOURCE VT, turning the space — equipped with handy floor drains, notes Powell — into a microbrewery and tasting room. The brewery's décor will merge industrial metal with wooden accents, such as the pièce de résistance: a slab of old maple transformed into a glossy, split-level bar.
Except on special food-truck weekends, in-house snacks will be of the pretzel and potato-chip variety — beer is the focus. Tap rotations include a double IPA with a strong malt backbone and a smooth black ale flecked with hop notes and licorice. The Ava Miel, named for Powell's late copper-hued French mastiff, is amber ale conditioned with honey from Kalp Family Farm in Elmore. Those and more beers will be available for taproom tastes and growler fills Friday through Sunday.