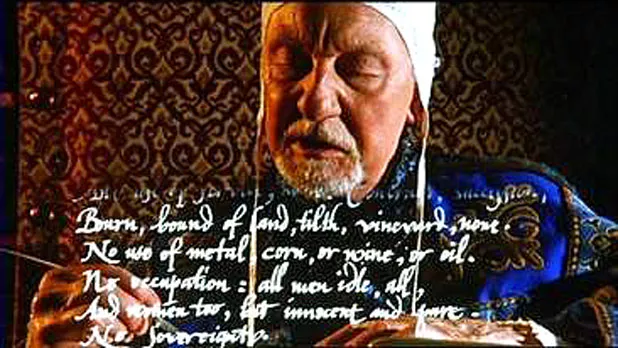 London's legendary Globe Theatre must have been a great place to see a Shakespeare play back in the day. But in its own quirky way, Unadilla Theatre — in the woods and up a dirt road in Marshfield, Vt. — is the perfect venue for a staging of Shakespeare's The Tempest today. While the landlocked playhouse doesn't readily conjure the play's imagery of shipwreck and sea foam, its remote locale and rustic architecture do invite the theatergoer into a simple sanctuary evocative of the Mediterranean isle where the characters are marooned.
In eloquent program notes, director Tom Blachly calls this sense of exile in paradise a pleasant but temporary condition. He's speaking of Prospero (Vince Rossano), The Tempest's protagonist; of his own adolescent sojourns in the subtropics; and of the "island" that is the theater. On a sultry summer evening during a break between thunderstorms, in a theater where shoes are apparently optional, the sense of remove is felt deeply. The effect is realized fully as the players take the stage in this enthusiastic, if unrefined, production.
The opening scene, in which Alonso, the king of Naples (Joe Lee), his entourage and a young Boatswain (Adam Isaacs-Falbel) stumble back and forth across the stage to simulate the deck of a storm-tossed ship, sets the mood for this production. While the scene will end badly for all aboard, the play's comic undercurrents make an early ripple, especially as the Boatswain catches a raft of abuse for his insolence. As the sea voyage yields to landfall, the sets remain simple — a fake log, a backdrop mural depicting a tranquil cove. This pared-down approach makes Shakespeare's text the star of the spectacle.
The plot is also pretty straightforward: Prospero, deposed as the duke of Milan for his scholarly interest in magic, has been raising his daughter, Miranda (Roxanne Bellamy), on a secluded island since she was 3 years old. Attending Prospero in his "rough magic" practice is the dutiful sprite Ariel (Ian Young), whom Prospero freed from bondage in a tree — the work of the island's previous tenant, the witch Sycorax. Doing Prospero's more mundane bidding, such as gathering firewood, is the surly monster Caliban (Brendan Popp), whom Prospero has enslaved for having tried to rape Miranda. With these events in the backstory, Prospero whips up the storm that brings his treacherous brother, Antonio (Peter Young), a member of the king of Naples' party, to his shores.
In the chaos of the shipwreck, the King's son, Ferdinand (Vince Broderick), is separated from the others, who believe he has drowned — the same fate he believes to have befallen them. Through magic, Prospero brings Ferdinand and Miranda together and then steps aside as they cast their own romantic spells over each other.
While The Tempest lists occasionally with uneven performances, Blachly's cast is strong where it most needs to be. As Prospero, Rossano steers the play confidently with a keen ear for Shakespearean verse, a commanding stage presence and a notable range. He is equally convincing as protective father, exacting slave master and vengeful royal. Perhaps even more important, he is an engaging and reliable soliloquist — a critical role in The Tempest, as in many of Shakespeare's plays, where it falls to the hero to put the play's events into the broader context of life's rich pageant.
Playing Miranda, Bellamy effects credible naïveté — about anything beyond her island home, even how she and Prospero came to reside there. Her bare feet and golden tresses suggest an innocent sun child, but Bellamy also brings necessary poise to her role, anchoring this production with solid, scene-by-scene acting. Broderick's Ferdinand, in a more subdued turn, holds his own in the emotionally charged scenes with Miranda and her pop. His task is to play smitten, and he pulls it off.
Bright spots among the supporting characters include some witty and well-timed repartee between Young's Antonio and Alonso's brother, Sebastian, played by Chris Pratt. The king's sage councilor Gonzalo is the butt of their jokes, and in that role David Kahn is comically alarmed, clueless and only too happy to yammer away about it all. As Alonso, Lee displays credible grief at the feared loss of his heir — and humorous exasperation with chatty Gonzalo. As Ariel and Caliban, respectively, Young and Popp turn in energetic performances. Though their acting may lack the nuance of some of their elders' work, their youthful vitality helps feed the play's voracious appetite for whimsy.
The pairing of wreck survivors Stephano (Clarke Jordan) and Trinculo (David Klein) hits and misses. As they meet up with Caliban and drink their way through the ship's salvaged booze stores, they hit the play's broadest comedic notes — sometimes squarely, sometimes not so. Surely, playing drunk on stage doesn't call for subtlety — and Klein's character is a jester, after all. Still, the intensity of hamming it up in these scenes seems out of sync with the rest of the play.
That this production doesn't sail smoothly through every scene may owe something to the wide-ranging ages and experience levels of its cast members. That every player is so fully on board, however, must owe something to Blachly's directorial skill. In his program notes, he recounts the "welcome refuge from the drudgery of civilization" that he experienced as a boy in the Bahamas. If the theater — "this darkened island" — is to provide that kind of solace, then it must also be freed from the tedious concerns of the outside world. In this way, the looseness of this local Tempest adds to its charm.