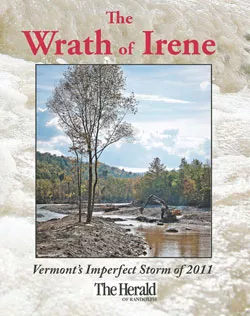 How do we remember disasters like Tropical Storm Irene? We pass along striking images; we tell stories. So it's no surprise that the floods' aftermath brought a bumper crop of commemorative books. All are small-scale local productions, and most are labors of love with profits going to flood-related charities.
Three books zero in on the travails of a particular community or communities sharing a watershed. Northfield photographer Jeanne Weston Cook chronicled the experiences of Northfield and Roxbury residents in her self-published book of photo essays, Voices From the Flood.
David Goodman brought his journalistic expertise to editing When the River Rose, which tells the story of Waterbury during and after Irene in first-person accounts and photos. The voices are lively and diverse, ranging from the town fire chief and municipal manager to a third grader recalling his family's evacuation.
Farther south, the definitive record of Irene's devastation of the White River watershed is The Wrath of Irene, a 200-plus-page compilation of coverage from the Herald of Randolph. It's published by the Public Press, owned by Stephen Morris of Bethel, who happened to be serving as the Herald's substitute editor during the storm. Morris co-edited the book with his wife, Sandy Levesque, who was Bethel's initial emergency volunteer coordinator.
Besides Herald material, the couple collected dramatic photographs from locals, notably Barb Wood of Pittsfield. Since releasing the book in January, Morris says, they've sold about 4000 copies — some at bookstores, others at "nontraditional retailers like hardware stores, general stores, restaurants and garden centers."
Part-time Rutland resident and Green Mountain Writers Conference director Yvonne Daley takes a broad approach to the disaster in her A Mighty Storm: Stories of Resilience After Irene.
But wait! Flooding from Irene didn't devastate just Vermont. Published in June, Good Night Irene contains stories and photos from all three affected states. Vermont Standard publisher Phillip Camp contributed an introduction.
Some of these books' gripping Irene stories play out on screen in Flood Bound, a powerful hourlong documentary from Marion Abrams that screens on Vermont Public Television this week. When the storm hit, the Pittsfield filmmaker was trapped along with the rest of her village, and her camera offers revealing glimpses of a community severed from the outside world. In interviews, Pittsfielders recall letting go of grudges and getting hugs from strangers as they pulled together to repair the damage and endure. Call it a reverse Lord of the Flies.
Among those who weathered Irene were survivors of the Great Flood of 1927. Also on VPT this week is a short film that evokes an old-timer's memories of that disaster through animation. The moving vignette, "Mad River Rising," was directed by Daniel Houghton and animated by his students at Middlebury College; the story comes from playwright Dana Yeaton.