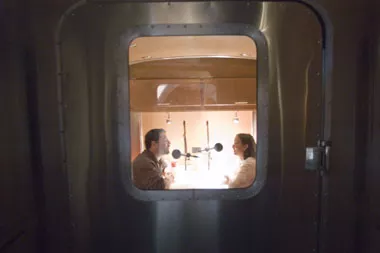 Jules Fishelman and Cathy Resmer
Lisa Janicki's job makes her cry. She's an interview facilitator for Story-Corps, a national oral history project sponsored by the Library of Congress and the Corporation for Public Broadcasting. For the past three years, StoryCorps has been gathering interviews from people all over the country; documentarians like Janicki have recorded more than 7000 to date.
Their efforts were inspired by the Works Progress Administration, which conducted a similar series of interviews in the 1930s, and produced a series of richly detailed portraits of Depression-era American lives. StoryCorps hopes to surpass the scope of the WPA — founder David Isay plans to record 250,000 interviews in 10 years, making this the largest oral history project ever attempted.
But that description makes the work sound dry, and it's anything but. Janicki works in one of StoryCorps' two mobile recording booths, housed in a sleek Airstream trailer. For three weeks this August, her office is parked on Church Street in Burlington, in front of City Hall, as StoryCorps collects conversations with Vermonters.
Every day, Janicki ushers people into the darkened soundproof chamber in the back of the Airstream and listens as they talk about their lives. The hushed interior of an Airstream seems an unlikely venue for emotional, heart-to-heart talks, but they happen often, and Janicki says it's difficult to remain detached.
"I think I tried to be tough at the beginning," she admits, "but it didn't work." Now, says the otherwise sunny Middlebury College grad, "I cry often."
Public radio listeners can relate. All the interviews Janicki and her colleagues record are archived in the Library of Congress, but excerpts of the best of them are broadcast on National Public Radio. These 3- or 4-minute sound clips are often intensely personal and yet breathtakingly universal. The best ones contain details that give listeners a sense of time and place while also revealing some essential truth about the human experience.
Twice in the past two months I heard StoryCorps segments while driving and was so moved I practically had to pull over to weep. That's what I call good radio.
So how does StoryCorps generate this remarkable material? I got a chance to find out firsthand when I sat down in the Airstream for my own 40-minute interview last week. Though I confess I didn't take any notes while it was going on — I was too busy talking. And crying.
I should point out that tears are not mandatory; they're sometimes just hard to avoid. That's because Story-Corps participants don't answer questions from facilitators such as Janicki; they interview each other, usually in pairs.
When you choose your interview partner, you're supposed to pick someone to whom you're intimately connected, such as a family member, close friend or community elder. And you're encouraged to ask the kinds of questions that elicit an emotional response. The feeling behind the answers — and the person to whom those answers are directed — gives the interview its magic.
Janicki says she's just there to make the participants comfortable and to deal with the technical aspects of the recording process. But she'll jump into the conversation if interviewees get stuck. That doesn't happen often, she says, but when it does, it's often because people don't think they have anything to say.
"A lot of people just don't think that they're that interesting," she marvels. "We're sort of there to tell them, 'Yes, you are interesting, your story should be told, say more about that.'"
Most participants come to the booth with questions in mind, but those who are wondering what to ask can use the question generator on the StoryCorps website. It suggests lists of queries, such as "What is your earliest memory?" and "How would you like to be remembered?"
These seem basic, but they're exactly the sorts of prompts that spark some of the most interesting responses. My favorite StoryCorps clip is an 84-year-old man's response to his daughter's question, "Can you tell me the scariest moment when you were a little boy?"
In this excerpt, which you can hear in the audio gallery on the StoryCorps website, Dan E. Andrews Jr. tells his daughter, Mary McCormick, about walking along some train tracks in California with a friend, Joe, and Joe's younger brother one winter during the Great Depression. They were collecting the bits of coal that had fallen beside the tracks.
The boys decided to cross a railroad trestle to pick up coal on the other side. "We started walking across the trestle," Andrews recalls. "And suddenly we could feel the tracks shaking, and we heard the train whistle, and way behind us was an express train coming through."
Andrews saw Joe grip his brother's hand, but the smaller boy's foot slipped and stuck between the timbers. "Joe kinda panicked and ran off the end of the thing," Andrews remembers, his voice trembling. "And I got down and I tried to pull the little boy's foot out, and I lifted him up until he cried because his leg hurt, and I realized, my goodness, this is desperate."
He then tells how he bent down, unlaced the boy's hard-soled shoe, and pried his foot loose. As the two of them fell into the snow bank beside the tracks, the hot steam from the train washed over them.
McCormick's interjection punctuates the clip beautifully — "You saved his life," she says.
The power of this story lies in its specificity — the shaking of the tracks, the hard sole of the boy's shoe, the heat of the train's steam — and in the spontaneous, unrehearsed way in which it's related. Listening to Andrews, you can't help empathizing with his fear and his relief. I get chills just thinking about it.
Of course, not everyone has such a heart-stopping story to record — I certainly don't — so at first I wasn't sure whom I'd interview. But ever since I'd heard StoryCorps was coming to town, I knew I'd sign up to do it. I mean, who doesn't want to have stories from their life recorded in the Library of Congress, and possibly aired on NPR?
Since the slots for the mobile booths fill up fast, I planned to call as soon as registration opened, like a crazed fan trying to get tickets to a sure-to-be-sold-out show.
Sure enough, the Burlington slots filled up in a matter of hours, but it turns out that I didn't have to call to get one. They called me.
Vermont Public Radio is partnering with several community groups, including the Vermont Folklife Center, R.U.1.2? Queer Community Center, and the Vermont Council on Aging, to extend StoryCorps' reach beyond the usual public radio crowd. Approximately half of the 130 interviews the mobile team conducts in Vermont will be with people who have been handpicked.
VPR producer Leah Hollenberger told me she offered me an interview because she'd liked a Mother's Day essay I wrote for Seven Days. I wrote about being "the other mother" to my son, Graham; my partner, Ann-Elise, is his biological mom. It probably didn't hurt that she knew I'd also write a story about doing the StoryCorps interview, but I choose to believe that she picked me because of what my perspective would add to the project.
Hollenberger suggested that I interview my partner. But I had a better idea. Why not interview my friend Jules Fishelman, my son's sperm donor?
The more I thought about it, the more I realized Jules was perfect. It's not something I think about every day, but we do have an interesting history. Our intertwined web of connections is precisely the kind of anthropological artifact that StoryCorps is meant to record.
Jules and I met years ago when we lived together at the Green Mountain Student Co-op on Pearl Street. We stayed in touch after we moved out; I was a reference for him when he applied to the company where he's worked for the past eight years; he came to our civil-union party in 2000. And then there was that night almost two years ago when we asked him to be our sperm donor.
Our relationship deepened further last year, when my partner and I introduced Jules to our friend Rachel. Rachel already had a daughter — conceived via artificial insemination using sperm from an anonymous donor — but she was single. And she was looking to date a really nice guy.
The two of them hit it off, and before long, Rachel was pregnant with Jules' baby. She gave birth to Ira Sebastian on July 29, barely a week before my StoryCorps interview with Jules.
As countless friends and family members have pointed out, this is the sort of thing that could only happen in Burlington, so it was a perfect fit for StoryCorps.
But I was still a little nervous, especially when I showed up the day the booth opened in Burlington and ran into former Governor Madeleine Kunin and her brother, Pulitzer Prize- winner Edgar May. They were headed into the booth to talk about their experiences fleeing Nazi Germany as children.
They were actually scheduled for the second interview of the day. The first slot went to a mother and daughter pair — Sherry and Tara Mahady — who were talking beneath the Airstream's awning when I arrived.
I approached them and asked what they had talked about in the booth. "My impending death," Sherry glibly replied.
She calmly explained that she has two types of cancer, and has been told she has just six months to live. She's refusing treatment, planning to live out the rest of her life still drinking Scotch and smoking the cigarettes that caused her cancer. She took a drag off one as we talked.
Her daughter told me that the two had had many "honest conversations," and that she had grown to see the dialogue between them as a gift.
"When I listen to Story-Corps," Tara said, "I feel like it's a gift. Just to be able to take what I feel like is a gift from my mother and share it with other people is an amazing opportunity."
Compared to them, it didn't seem like I had much to say. But they encouraged me. "It's important that you tell your story," Tara said. "We're taking this snapshot of what Burlington, Vermont was like in August 2006."
And I'm part of that.
I felt that Friday morning, when I closed the door on the airlock that separates the Airstream office from the recording booth. I sat down in the booth across from Jules, and Lisa Janicki arranged the large microphones suspended before us on wall-mounted holders. A box of tissues sat between us on the table.
I actually choked up before we even got started. Janicki told us that we'd have to look into each other's eyes during the interview, so the sound would flow properly into our mics. I felt tears in my eyes when I stared straight at Jules — he looks so much like my son.
But it's not as if our conversation was sad; there was a lot of laughter, too. And when Jules and I did tear up, it was when we talked about how delighted we are that we've become connected in these strange and wonderful ways.
I'm pretty sure I heard Janicki sniffle.
*******
Cathy Resmer and Jules Fishelman talk about the night in October 2004 when Cathy popped the question, after one of Fischelman's potluck dinners.
JULES FISHELMAN: It was a really fun night. I remember it was one of the funnest potlucks that we'd had, it was just a wonderful group of people, there was tons of conversation, there was just really good energy in the house. And you and Ann-Elise and a couple other people were sticking around to help clean up . . .
So I remember — you're facing the sink. My sink. And you're washing dishes. And I'm standing to your left, I'm pretty sure. Um, we're talking. And there's a pause. And then you ask, I don't have it word for word, but you ask, 'Would you like to be our sperm donor?'
Aaaaand I just pause. I have no idea what's going on. I think that I said, 'Wait, what, really? What?'
And my instant reaction, the instant reaction I had — beyond just trying to process the words — was, 'Yeah, totally! I'd love to! That'd be great.' I felt completely warmed by even the question. Like, here's a person who wants something from me that's significant, you know? That was an amazing moment . . .
I never asked you how you got to that point. I have no clue. All I know is you appeared in my kitchen one day during a potluck and asked me if I would be your sperm donor. So how did that happen?
CATHY RESMER: Well, my recollection . . . of that conversation is actually that you had asked us if we were thinking about having kids, and that's why I asked —
JF: Really?
CR: Yeah . . . because we had actually decided before we came over there that we were not going to pop the question right then. Because we wanted it to be the right time . . . But, you were talking about children, and I just thought, you know, this is the right time.
Like, we had a nice dinner, we had a great time with all these people here, and, you're right, the energy in the house was right. It was just a good time to ask.