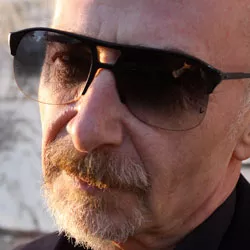 Bruce Springsteen once declared that the only band he'd pay money to see was the seminal 1970s UK outfit Graham Parker and the Rumour. If you're moved by celebrity testimonials, that's a pretty good one. Over the course of a career spanning nearly 30 years, there's not much Parker hasn't done in the music biz — he's released more than 20 albums of original material and toured the world several times over. His acerbic wit and uncompromising attitude have often put him at odds with the industry, but to his fans, that's usually a good thing.
Last month, Parker released his 23rd album. Though it's been hailed as a critical success, it was inspired by failure. Prior to its recording, Parker had been working on writing theme songs for television shows, with little to show for his efforts. Discouraged by a fickle industry but motivated by the process of writing to specific parameters, he stumbled on a brilliant solution, one that ultimately resulted in a curious and often captivating collection of 10 new songs, Imaginary Television.
Seven Days recently spoke with Parker by phone about the new album , in advance of his upcoming show at the Higher Ground Showcase Lounge.
SEVEN DAYS: Where did the concept for Imaginary Television come from?
GRAHAM PARKER: It's this new publishing company making trouble for me, basically, Primary Wave. It's record -company people who figured out that the record industry is gasping, pretty dead. So they got into publishing, realizing that songs don't go away. Even the worst songs, apparently, still pop up in adverts. They just don't go away.
SD: OK. I guess that's true…
GP: So they got me a few placements and, within a year or so, we had a few TV things. It's just about utilizing the material, which I think is totally underexploited, you know?
SD: I would say the opposite is true, especially for some of those "worst songs."
GP: I'm sure many artists may think that. And many may not even care; they don't need the money. But most of us do like to make a living.
SD: Good point.
GP: Well, that's just one aspect, anyway. After that, they sent me a form from a "music supervisor" … there's apparently this whole industry of "music supervisors," the people who [put] music in shows. Who would've known? But that's what they do. They find music for shows.
SD: I guess someone has to do it.
GP: Right. So, they were looking for a "main theme" for a show. I hadn't ever thought of writing to spec, as it were. But the idea intrigued me. So I wrote a song in about half an hour, went to a local studio and recorded it, and made this beautiful little single called "See Things My Way" and sent it in.
SD: And did they like it?
GP: They did like it.
SD: Nice.
GP: But they chose something else, ultimately.
SD: Oh.
GP: But they sent me another form. And I thought, Well, that was such a productive thing, I'll do it again.
SD: Get right back on the horse.
GP: Exactly. So I wrote another song and I put it down. But what I realized is that I was suddenly writing songs. My last album had come out in 2007. And it was about time I got off my ass. So it served a lot of purposes. Even though I thought they were probably going to reject this, as well.
SD: And did they?
GP: Well, what I've noticed is that they tend to go for what I call "trend and commerce." In other words, almost willfully bad music by people you've never heard of. Or The Who.
SD: Yikes.
GP: There's no Graham Parker in there. Or hundreds of other acts, come to think of it. They just don't want real music, something good. They want something quirky. Or something extremely popular that everybody's heard. It's a very strange game.
SD: So I take it they didn't use the songs.
GP: They didn't get used. But they were so damn catchy. Because I was writing them for TV, I was deliberately taking the catchiest part of my songwriting — and I have a lot of catchy melodies. Some people don't associate that with me, but that's what I do. I write pop songs. Whatever you dress them up as, whatever you call them, these songs are full of hooks, because that's the tradition I come from, '60s pop songs. Those are the first songs that blew my mind and made me want to be a musician. The Beatles. There it is, right there. Hello. It doesn't get much catchier than that.
SD: No argument here.
GP: But that's what I aspire to do when I write songs. To write hit songs.
SD: Well that should be perfect for TV, right? Tailor-made hooks.
GP: You'd think so. Exactly! So I found myself with an idea: Why don't I write my own TV shows? Fake TV shows, fake reviews and write songs to go with them. And I would come up with basically a one-sentence idea for a show, then I would write a song. And it would be good and catchy and have depth to it, as well.
SD: Is that much different than how you'd normally write, the TV angle notwithstanding?
GP: It's the same mysterious process songwriting always is. It's just that, with this method, it was much quicker for me. I didn't have any problem finding the direction. Then, after I wrote the songs, I wrote the plots out a bit more fully and used that as the liner notes, instead of the lyrics. And that's the whole story.
SD: That's the plot.
GP: That's the plot.