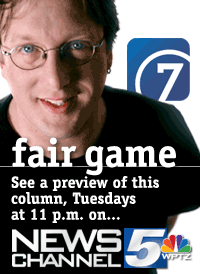 Burlington Telecom's problems may be more numerous, and its violations of various city and state rules more widespread, than was initially believed.
That's the assessment of several lawmakers and former city councilors. Plus, the state's chief telecom regulator finds it "troubling" that the city admits to funding BT operations out of the municipal checkbook.
BT's fiscal woes in a nutshell: City officials loaned at least $17 million to BT as the fledgling telecom's financing ran dry and it failed to repay the cash within 60 days — in violation of BT's Certificate of Public Good from the state. You could argue the loan also violated the city charter and promises made to voters.
In short, BT was sold to citizens, legislators and regulators as an entity that would not rely on city finances to cover its costs.
"It is a big deal that they have borrowed from the city. We were told emphatically that the financing for BT would only be secured by its assets," said David O'Brien, commissioner of the department of public service, whose job is to represent ratepayers in cases before the Public Service Board. "Taxpayers are not risk investors."
Montpelier lawmakers heard similar promises more than five years ago when they approved a charter change for Burlington that allowed it to create BT. The resulting city charter language, in fact, specifically forbids Burlington to use money from taxpayers, or Burlington Electric Department ratepayers, to fund BT.
City Attorney Ken Schatz and Chief Administrative Officer Jonathan Leopold claim the money loaned to BT is not in violation of the city charter because the money will be repaid — with interest — from either a new round of financing, BT profits or, in the event the telecom collapses, the sale of BT.
OK, but the city checkbook does include money from BED ratepayers and taxpayers, doesn't it? Both Leopold and Schatz admit that, absent the loans, BT would not be alive today.
Of the borrowed $17 million, roughly $3 million was used to extend the network inside the city, while the rest has covered operating losses and the cost of hooking up new customers to the network, Leopold told "Fair Game."
That $3 million could be problematic for Mayor Bob Kiss and his administration. In August 2008 the Burlington City Council said explicitly that BT could only finance the remaining buildout in Burlington as "revenues from BT allow."
So, when did the council first know BT was in trouble? Earlier than you may think.
In December 2007, Leopold told city councilors that BT's private financing would likely run out in April 2008, and more would be needed. The new financing never materialized, and BT's private financing ran out soon after that December meeting. That means the city likely has been in violation of its Certificate of Public Good since early 2008.
And still there is no record of when Leopold was given the OK to loan BT money from the city checkbook.
At their last meeting, Burlington city councilors asked Leopold to report on exactly how much BT owes the city by November 16.
The council may be the least of Leopold's worries; they agreed to let BT seek reprieve from various official regulations.
But the state's top rule maker is not happy, and that's real cause for concern. "I have to say this is perhaps the most irresponsible utility behavior I've seen in my seven years on the job," said O'Brien. "The failure to deliver on the promised buildout alone is enough to be seriously concerned, but the wanton use of public funds and apparent effort to deceive the voters is an outrage."
That's a tough assessment from the guy who also oversees the likes of FairPoint and Vermont Yankee.
Reversal of Fortune
The continuing FairPoint debacle suggests Vermont will not become the "E-State" that Gov. Jim Douglas envisioned two years ago. At least, not on his watch.
You remember that, right? The fairy tale in which we all live happily ever after and are able open up our laptop or cellphone and — presto! — get a signal?
As FairPoint slouches toward bankruptcy, House and Senate leaders from Maine, New Hampshire and Vermont have scheduled a meeting next month in Concord to weigh their legal and legislative options.
Additionally, regulators in 14 states are questioning similar Verizon landline sales, and Congress is raising questions about how the deals are financed.
Verizon used a little-known tax loophole called the Reverse Morris Trust to avoid paying some $700 million on its $3 billion sale to FairPoint. They do this by forcing the buyer to give Verizon shareholders more than 50 percent control of the new company.
U.S. Rep. Peter Welch (D) and other House members from the three New England states affected by Verizon's sale said the company should not be allowed to use the RMT in its upcoming sales.
"The resulting operations can end up starved for capital as a result of the transaction, and the federal treasury ends up losing hundreds of millions of dollars," wrote the House members.
Wonder if Verizon can hear them now.
Political Notes
No news is good news on the political front. Not a single announcement about the next round of candidates is expected until November. Let's hope it stays that way. We could all use a break.
Republican Sens. Randy Brock, Phil Scott and Kevin Mullin, all lite-guv contenders, say they are weeks away from making a final decision. Ditto Democrats Peter Shumlin and Matt Dunne, who are likely to enter the race for governor.
Among these wannabes, Shumlin is sounding more and more like a candidate. In fact, he was in Washington, D.C., for an event that was also attended by Pres. Barack Obama and the entire cast of "Glee." Despite the star power at the annual Human Rights Campaign dinner, Vermont got a special shout-out for passing same-sex marriage earlier this year.
Shumlin told "Fair Game," "It was a proud moment to have Vermont a leader again despite eight years of plodding along Douglas-Dubie style on everything else."
Sounds like a campaign launch to me.
No Waitin' on Debatin'
It's not a "debate" by any stretch of the imagination, but nearly all the announced gubernatorial candidates will answer questions about the state of Vermont's environment at a forum next month.
Sponsored by the Vermont League of Conservation Voters, the November 19 debate will be held at Burlington's Main Street Landing Performing Arts Center. Secretary of State Deb Markowitz, Sen. Doug Racine (D-Chittenden) and Sen. Susan Bartlett (D-Lamoille) have agreed to attend. Two other potential candidates — Shumlin and Dunne — are invited if they announce before November 19.
"The next governor of Vermont is likely to hold the highest office in our state until 2020 … it is never too early to begin discussing the positions of the gubernatorial candidates," the group claimed in an email to supporters.
Each candidate will be asked four questions, and each will have about two-and-a-half to three minutes to respond. No audience questions will be taken.
"This is not a Democratic candidate event," said Todd Bailey, the group's executive director. An invitation was extended to the sole Republican candidate for governor, Lt. Gov. Brian Dubie, but he's unavailable due to a "scheduling conflict."
Let's hope this isn't the same flight plan he followed in 2008.
Last year the incumbent lite guv ducked several real debates against his Democratic challenger, former Rep. Tom Costello. But, rather than just skip out, he sent someone in his stead.
Sen. Diane Snelling (R-Chittenden) play-acted Dubie at a St. Mike's debate while Sen. Mullin (R-Rutland) was his body double at a Castleton forum.
My two cents: The autopilot approach isn't going to fly this time around.
Political Dynamics
U.S. Sen. Bernie Sanders (I) has been getting plenty of attention for demanding the Department of Defense (DoD) take a closer look at companies that rip off taxpayers, get fined for it, and continue to get lucrative government contracts.
Sanders successfully tacked an amendment onto the recent defense spending bill to force the DoD to calculate how much money is going to companies that have engaged in fraud, and to come up with ways to penalize repeat offenders. The top three worst offenders have engaged in 109 combined instances of misconduct since 1995 and have paid fees and settlements totaling $2.9 billion.
After its passage, Sanders was on "The Rachel Maddow Show" and "Democracy Now!" to talk about the amendment. In both instances, Sanders lambasted the top three government contractors: Lockheed Martin, Boeing and Northrop Grumman.
Guess who's number four? General Dynamics, the weapons maker, with a Burlington office that employs roughly 450 people.
General Dynamics has racked up nine instances of misconduct since 1995 and paid $63 million in fines. None of the charges appear to have originated at the Vermont shop, according to the Project on Government Oversight.
So, did Sanders fail to mention General Dynamics in an effort to keep the spotlight off a local employer?
Nope, says Sanders spokesman Michael Briggs. "The study that Bernie has cited looked at the top three contractors," said Briggs. "His amendment, however, would cover all defense contractors."
Noble Endeavors
Who wasn't puzzled by Pres. Barack Obama's Nobel Peace Prize? Less surprising, perhaps, was the recent announcement that former Vermont Gov. Madeleine Kunin has received a prestigious award.
Kunin, who was Vermont's first woman governor and served three terms in the 1980s, will be honored by the Eleanor Roosevelt Center at Val-Kill for her years of service to women, children and community. That's according to Marc vanderHeyden, the previous president of St. Michael's College, who is cochair of the center's medal committee.
Sure, it's not the Nobel, but the award — named for First Lady Eleanor Roosevelt — has a pretty distinguished list of winners, including Hillary Rodham Clinton, Christopher Reeve, Barbara Jordan, Pete Seeger and Queen Noor of Jordan.
"I am honored, especially to step one toe into the footsteps of Eleanor Roosevelt. My mother read her column 'My Day' every day, and I read it over her shoulder," Kunin said. "When asked once who my role models were, Eleanor Roosevelt is at the top of the list because she led such an active life fighting for social justice."
The public is invited to the medal ceremony at the Eleanor Roosevelt Historic Site in Hyde Park, N.Y., where the center is located. Tickets are $175 and all proceeds fund the center's activities.
Media Notes
This week Marselis Parsons will bid adieu to Vermont audiences as he retires from the anchor desk of the WCAX-TV evening news. Parsons has been a fixture on the tube in Vermont since taking over from his predecessor, Richard "Mickey" Gallagher, 25 years ago this week.
I can remember that newscast, although my memory is probably about as fuzzy as our TV reception at the time. I grew up with Gallagher's gruff, no-nonsense, monotone. Who was this new guy? I wondered.
On Thursday, Parsons signs off for the final time and turns over his chair to Darren Perron. Anson Tebbetts was hired earlier this year to take over as WCAX's news director. Yup, it took two people to replace Parsons, affectionately known as "Div."
Love him or hate him, Parsons has been a dominant figure in Vermont media. When other newscasts shrunk to a half hour, WCAX bucked the trend and kept a hefty one-hour broadcast. They also expanded online.
I'm all about new media, but, for old time's sake, I know where I'll be at 6 p.m. Thursday night.
Got a news tip? Email Shay at shay@sevendaysvt.com
Click here to follow Shay on Twitter.