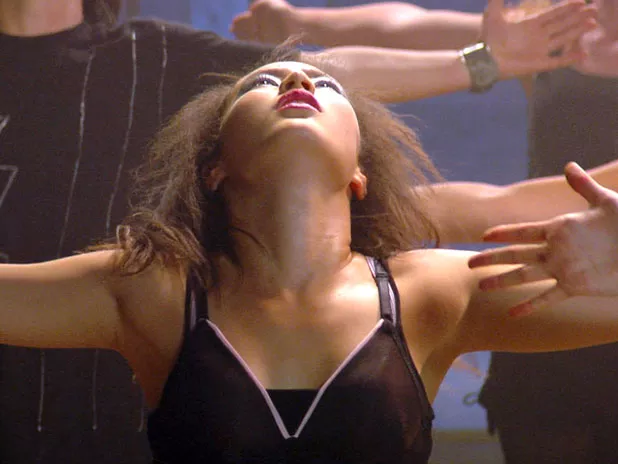 Shout It Out: The Voices Project Movie has some things in common with tween hit Disney's High School Musical - locker-room angst, candy-colored dance numbers and even a few teenage heartthrobs. It also has abusive parents, cyber-bullying, teen pregnancy and realistic levels of cussing and drinking. Hence Bess O'Brien's tagline for the film, which premieres this Friday in Burlington: "The real high school musical."
Directed by O'Brien of West Barnet, who co-wrote it with Abby Paige, Shout It Out is based on interviews with nearly 1000 young people who sounded off on their lives. It's the third incarnation of a project that began with statewide conversations and workshops and led to a multimedia packet called Listen. Next, Paige and O'Brien used the teen testimonies to create a set of fictional characters, worked with some talented kids on music and lyrics, and toured the state with The Voices Project musical in 2005. The New York Times took notice of the unusual production and covered a Bellows Falls performance that October.
"It was a terrific success, and really started opening up dialogue between adults and kids," says O'Brien. People kept asking her whether she planned to take the show beyond Vermont, but she "didn't want to tour forever and a day with 25 teenagers and sets and costumes." The cast was aging, too. Since she and husband Jay Craven are prolific filmmakers who run Kingdom Country Productions, putting the show on-screen "seemed like the natural thing to do," O'Brien says. At the same time, she noticed that movie musicals were making bank at the box office, not to mention being cool again with the younger set. "So I thought, why not make a movie musical?"
O'Brien and Paige turned their show into a screenplay and spent a year fundraising to scare up a budget of about $250,000. (A special grant from the state legislature came in handy.) With a cast of about 100 kids - many reprising their roles from the stage version - they shot Shout It Out last summer at Mount Mansfield Union High School and other locations around Jericho.
The sun-washed Vermont landscape is a big presence in the film, which O'Brien and her crew - including some Burlington College and Marlboro College film students - shot with three high-definition digital cameras. In one ambitious outdoor dance number, a crane shot captures from above the kids forming a circle, Busby Berkeley-style. "It was a big challenge," says O'Brien, who "had to keep kids from fainting" during one shoot on a scorcher of a day. "We shot all the music numbers first. Once we got over that hump, we had really tackled the hardest stuff."
Like the stage version, Shout It Out is going on tour - to 50 Vermont towns. O'Brien will be there, and she's also "encouraged the kids in the cast to show up at screenings and be part of a discussion afterwards." Next up: film festivals and broader distribution. O'Brien is in the "beginning stages" of contacting media outlets ranging from MTV and HBO - "total long shots" - to PBS. As for the kids in the cast, she says, a number of them have graduated from high school and headed to professional film or theater schools.
Though it's as packed with teen trauma as 10 "ABC After-School Specials," Shout It Out is refreshingly free of preachiness. And its fast pace, bright colors and catchy tunes - including music from several local acts - could endear it to its target audience. "What I hope it does is take the movie musical genre and then create a realism around it," says O'Brien, who likes to call the film "an experimental mockumentary musical. It shows how tough high school and being a teen can be."