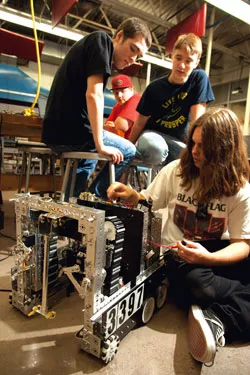 Matthew Thorsen
Eli Danyow, Chad Holcom, Riley Wilbur and Ian Ballou
Most high schoolers are ready to bolt after the last class of the day. What would make them stay voluntarily until janitors kicked them out around midnight, night after night?
Ask Riley Wilbur and Ian Ballou, both 15 and members of the Essex High School robotics club. Last year, Riley, Ian and their eight Essex teammates put in long hours after school every day building a 'bot, which had to be able to stack crates, pick up raquetballs and roll bowling balls, all while other robots jockeyed around it.
The group competes in tournaments organized by a New Hampshire-based nonprofit called For Inspiration and Recognition of Science and Technology, which aims to inspire kids to become innovative, well-rounded leaders through mentor-based robotics programs. Each year, FIRST issues a challenge, and thousands of teams around the world design and build robots to complete it.
The Essex kids' efforts paid off. The team earned a spot at the FIRST world championship event, held each year in St. Louis, Missouri. This increasingly popular youth robotics competition doesn't take place in some high school gym; the Essex team put their robot to the test in Edward Jones Dome, home stadium of the St. Louis Rams, packed with more than 100,000 cheering fans.
"It was amazing," recalls Ian.
If it sounds like an athletic event, well, it kind of is. "That's the way FIRST is going," says Doug Dickey, assistant dean of the University of Vermont's College of Engineering and Mathematical Sciences. "It's going to evolve into a varsity sport." Like other varsity sports, robotics teaches kids invaluable lessons about teamwork, collaboration, and winning and losing with grace. But it also gives them practical technical and problem-solving skills that might someday score them a job.
FIRST is an international phenomenon, with a projected 306,000 students participating in competitions this academic year. Robotics fever hasn't quite hit Vermont — but it's about to. This February, the first-ever FIRST Tech Challenge will be held at the University of Vermont, and at least six 10-member teams from around the state plan to participate.
If you think engineering is for introverted brainiacs, search for videos from some of these FIRST competitions on YouTube. They're not hard to find. The timed matches are surprisingly dramatic. So are the fans; some teams bring cheerleaders, rally flags and costumed mascots to cheer them on. The action unfolds on Jumbotrons. The big tournaments are like something you'd see on ESPN.
Riley's mom, Beth Wilbur, attended the Essex team's qualifying competition in New Hampshire last year. After listening to her son explain what they'd been working on, she thought she had an idea of what she would see. "But when you see it in real life, it's so different," she says. There are obstacles, for one thing, including strategically placed crates — and other robots. "You don't get how much the other robots on the field interact and interfere," she says. "It's chaos, complete chaos, on that field."
Click here to continue reading this story on KidsVT.
Members of the Essex High School robotics club will be at the Vermont Tech Jam on October 26 and 27 at the Champlain Mill in Winooski. They'll talk about how to start a robotics club, and discuss their journey to the FIRST world championships on Friday, October 26, at 10:30 a.m. School groups are welcome that day from 10 a.m. until 2 p.m. On Saturday, club members will be selling refreshments from 10 a.m. to 3 p.m. to raise funds for their upcoming tournaments. RSVP at bit.ly/tech-jam-2012-field-trip-RSVP. Admission is free.