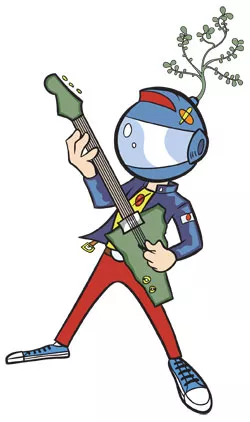 Vermont entrepreneurs looking for money to start a business have a new source of cash thanks to a state investment fund, but competition is going to be fierce.
The Vermont Entrepreneur's Seed Capital Fund — a revolving investment fund created by the legislature to help new, high-tech companies get off the ground — is the state's latest economic development gambit.
Using $3 million in state and federal funds, and eventually up to $5 million more in private money, the fund will begin making investments of $25,000 to $600,000 as soon as January in a dozen or so start-up firms seen as the future of Vermont's economy.
"The prime charge here is to identify next-generation job opportunities for this generation of Vermonters," says David Bradbury, president of the Vermont Center for Emerging Technologies (VCET), a business incubator in Burlington, which recently won the contract to administer the seed fund.
Until now, Vermont was one of just a few states without a seed-money type of program. The new investment fund will bankroll firms specializing in such ventures as environmental technologies, advanced agriculture products, or medical and life sciences. The only businesses not eligible for seed money will be restaurants, real estate firms and retail establishments. Recipients will be expected to create new jobs and eventually repay the money so it can be reinvested in another company.
The seed fund won approval at the statehouse this year and gets its initial infusion of money from taxpayers: $2 million in federal stimulus money dedicated by the state, and a $1 million grant secured by U.S. Sen. Patrick Leahy.
Private investment dollars could grow the fund to $5 million more, though there's no set schedule for soliciting that money, Bradbury says. By statute, the program gives investors a 20 percent tax credit for every dollar they sink into a Vermont start-up business through the fund. In other words, someone who invests $100,000 into the seed fund would write $20,000 off his or her Vermont tax liability over a period of five years.
That's on top of any capital gains the investor realizes from an investment. But, as Bradbury emphasizes, these are high-risk investments with no guarantee of a return.
"What we're trying to do is find investors who have their money in the mattress, or in a safer investment class, and to provide incentive to invest in Vermont companies," he says.
Jo Bradley is the CEO of the Vermont Economic Development Authority, the quasi-public agency that selected VCET to manage the seed fund and will oversee the center as it doles out the investment dollars.
Bradley supports the seed fund but isn't shy about noting what she sees as its shortcomings. With just $3 million to disperse in its first year, Bradley says the fund is too small. And the tax breaks it offers to private investors who put money in the fund are "not terribly attractive," she adds. They're less than half what similar private investors could get in Maine or Massachusetts.
Nevertheless, Bradley remains optimistic about the potential for a small amount of seed money to make a big difference in Vermont's push to grow innovative new companies. "By itself it's not a lot of money, but it does show the state is stepping up and making an investment," she says. "That may help some investors. They may feel the state is doing something. We are hoping that happens."
The seed fund was part of a bipartisan bill proposed by state Sens. Hinda Miller, Vince Illuzzi and Susan Bartlett in 2009 that backers dubbed "The Entrepreneur's Manifesto." It was essentially a wish list of tax breaks and incentives its supporters wanted lawmakers to enact.
Facing the deepest fiscal crisis in years, the legislature shot down two of the wishes — a business tax credit for research and development, and tax exemptions for income on certain kinds of patents — because it would have forfeited badly needed state tax revenues.
The seed fund was approved, albeit with a smaller incentive than proponents had hoped for: a 20 percent tax credit instead of the preferred 50 percent, which Maine offers. Still, the fact that any money was approved, and any tax revenue forfeited, is a huge accomplishment, proponents say.
David Bradbury expects interest in the fund, and competition for its dollars, to be robust. Data from other states show that for every three companies awarded investment money, 97 are turned away. That suggests many Vermont applicants — including highly qualified ones — also will be turned away.
The goal of the fund, Bradbury says, is to create a high-tech rock star, a "breakout" company that can employ up to 500 people over time. That may or may not happen, he admits, but even modest growth of such businesses in the state is better than none at all. "A 50-person technology company in Windham County is a great thing," he says. "Or a 12-person medical start-up in Lyndonville. That's a great thing."
Bradbury says the fund has large potential for business development, but he cautions against thinking it will be a slam dunk for the state.
"Early-stage investing is very high stakes," he says. "There will be losses. There will be businesses that just bump along and do OK. Then there will be ones that truly accelerate and become the next pillar employers in Vermont."