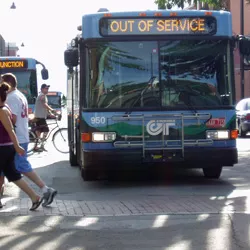 The Burlington-area bus system and its unionized employees are calling in an outside mediator to help resolve their protracted and contentious contract negotiations.
Joe McNeil, an attorney representing the Chittenden County Transportation Authority, says the two sides will split the roughly $1000-a-day cost for the services of former federal mediator Ira Lobel. Talks under his guidance are expected to begin later this month. Recent relations between CCTA and the Teamsters local representing its 82 drivers and mechanics suggest, however, that a settlement may not come quickly.
Lobel's intercession will mark the third time the antagonists have turned to mediation since negotiations began eight months ago. The union contract expired in July, but the buses have kept rolling as a result of two extensions accepted by management and workers.
A tentative deal on a new contract was actually reached last month. The drivers voted resoundingly to reject it, however, in a move that McNeil and CCTA general manager Chris Cole both describe as unexpected and unusual. "When you get a tentative agreement, it's understood that the union reps will act as advocates for it with the rank and file," Cole says. But given the 36-1 vote to scrap the proposed pact, "that obviously didn't happen," Cole observes.
That outcome reflects driver discontent with the role played by their representatives in Barre-based Teamsters Local 597. A dissident group known as the Sunday Breakfast Club criticizes the Teamsters' bargaining agents as passive and ineffective.
Sunday Breakfast Club members say they have had to take the lead in researching contract issues and in rallying public support for the workers. They've formed an alliance with a University of Vermont group called Students Stand Up, which is circulating petitions on campus. "We're concerned about the safety and well-being of the drivers and riders," says Emily Rodriguez, a UVM senior active in the cause.
The Teamsters' two Vermont agents must respond to the concerns of 900 of the union's members around the state, so "they're quite busy," acknowledges CCTA driver Jim Fouts, one of about 10 Breakfast Club members. "I get that, but what bothered me is, they didn't say, 'OK, great, thanks for your help,'" Fouts says about Teamster response to the Breakfast Club's initiatives. "Instead, it was 'Uh-oh, they're out for our jobs.'"
That may indeed be the case. The CCTA agitators are considering formally affiliating with a national insurgent faction, Teamsters for a Democratic Union, that plans to oppose the union's leadership in elections next year. The International Brotherhood of Teamsters is currently headed by James Hoffa, the 69-year-old son of convicted felon and former Teamster boss Jimmy Hoffa. The elder Hoffa disappeared in 1975.
Pressure being applied by Fouts and other campaigners for "union democracy" is complicating the CCTA negotiation process, Cole complains. "We feel like we're caught between two warring factions," he says.
Duane Messier, president of Teamsters Local 597, declined to comment on the Sunday Breakfast Club's allegations or activities.
Remarkably, money is not an issue in this particular labor battle. Drivers making an average hourly wage of about $19 are scheduled to receive annual cost-of-living increases of between 2 and 3.5 percent.
Messier and Fouts confirm there are two main barriers to a new contract: Workers want to smooth out the split shifts they typically work, and they seek greater protections against dismissal for violating company rules.
Cole says the public bus company's overseers "don't disagree that split shifts are a hard thing for employees." He argues that hiring 13 part-time drivers will enable CCTA to accommodate more frequent bus runs during morning and evening rush hours while improving scheduling patterns for full-time drivers.
But the union is opposed to greater reliance on part-time workers, who do not receive benefits. The split-shift issue can be resolved in other ways, the workers maintain.
Fouts says both main points of disagreement amount to only about 15 sentences in a lengthy contract. Fellow Breakfast Club member Chuck Norris-Brown, a part-time driver with a PhD in anthropology, suggests, "It shouldn't be hard to get this done."
McNeil is less optimistic. He calls the remaining points of disagreement "complex and sensitive."
Underlying the negotiating process, Cole adds, is the expansion of CCTA's operations in the past decade. Ridership has risen 63 percent during that period due mainly to the addition of commuter runs to Middlebury, Milton, Montpelier and St. Albans, and an increase in rush-hour trips on the Essex and Williston routes.
"You have a lot of senior drivers who remember 'the good old days' when CCTA was essentially just a lot of local services," Cole says. "They don't necessarily agree that these have all been positive changes. And we do need to change the look of our workforce to reflect the new situation."
Further changes will occur next July when CCTA, with 115 employees, formally merges with the Green Mountain Transit Agency, which operates buses throughout central Vermont. Some members of GMTA's roughly 80-member workforce used to be represented by the Teamsters, but the rank and file voted to decertify the union in 2004. Now another battle looms: Messier says his local is ready to have another go at organizing GMTA.