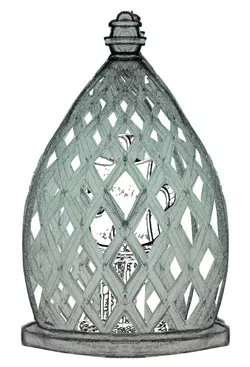 a sketch of the snow sculpture
At first glance, the 2-foot clay model doesn't look like much. Its diamond-shaped, gridlike exterior gives it an odd, Epcot-esque quality; inside the structure's hollowed-out core, a puzzle piece rests on a pedestal.
"It's called 'Inner Piece,'" explains Burlington sculptor Michael Nedell with a self-effacing grin.
Ah, that explains everything. By the end of next week, if all goes well, this visual pun will be recreated as a 12-foot-high snow sculpture in the national snow-sculpting championships at Lake Geneva, Wis. There Nedell and his two teammates, Alex Dostie and Brooke Monte, will represent Vermont and compete for the title of best snow sculptors in the country.
This will be the team's seventh trip to the national championships. The Vermonters took home second prize in 2005 and 2007, and have consistently ranked among the top six teams. They've also paid two visits to the (invitation-only) international championships in Breckinridge, Colo., in 2008 and 2011.
This isn't the first time Team Vermont has relied on a tongue-in-cheek design. There was "Marco Polo," featuring two kids' heads in a swimming pool playing the verbal hide-and-seek game of the same name. There was "Roller Coaster," complete with two terrified-looking children at a skewed-perspective theme park. And then there was the time the trio sculpted three snow creatures… sculpting each other. Clearly, creativity isn't a problem for Team Vermont.
Nor should it be. All three are artists of some repute. Dostie is a painter, sculptor and set designer, and co-owns Dostie Bros. Frame Shop in Burlington with his brother, Jeremy. Monte is a painter and a woodworker. Nedell dabbles in metal sculpting and pottery. More importantly, he's been "seeing 12-foot-tall things in my head for more than a decade now, ever since I saw a call to artists in Seven Days about snow sculpting," Nedell says.
On that occasion, he rounded up a few friends and sketched a potential design for the 1999 Burlington Winter Festival.
His team decided on a woman drinking champagne while riding a tortoise.
Next week in Wisconsin, each team will receive an 8-by-9-foot cylinder of snow and have approximately 40 hours to create its masterpiece. The sculpting culminates in a final, all-night frenzy before the February 5 judging. There are no limitations on the sculptures' content.
There are a few rules: no power tools, no armatures, no colorants and no materials allowed besides snow, water and ice. But there are no regulations against taking a rival team out for friendly drinks the night before, Nedell says, grinning.
For Team Vermont, the camaraderie is part of the fun. And that's a good thing because, as Dostie puts it, "Michael told me I was gonna get really rich and famous… and that's not at all how it's panned out."
True, but the three sculptors don't seem to mind. Dostie says he loves the chance to create art on a grand scale. "What other medium is there where you can carve out a 12-foot-tall sculpture in three days?" he asks. "Since I do a lot of theater, I'm comfortable with creating art collaboratively, and it's challenging to execute a sculpture from the model."
Oh, yeah — Team Vermont doesn't often get a chance to practice using real snow. Nedell points to the clear plastic box that helps the team evaluate scale and dimension.
As it turns out, there are tricks of the trade, many of which Nedell and his team have picked up at competitions. He and Dostie are the official "debulkers," meaning they take a first pass at shaping the cylinder with cross-cut saws and other large tools, analyzing the dimensions and making rough mathematical calculations. Monte is usually called on for the detailed finish work.
For this project, the trio created a 7.5-foot jig with an attached scraper blade, which will create the curved sides of the outer grid. The diamond-shaped openings are 18 inches wide. Monte's shoulders are 16 inches across, "so I think we can hollow it out and squeeze him in there," Nedell speculates. "Of course, I don't know if it'll fall down or not — and if it collapses, you're done. Then it's time to hit the hot tub and the bar for the rest of the week."
Another crucial requirement for a snow sculptor is the willingness to create art that may last a day at best.
"That's all part of the fun," says Nedell. "The material's free, it's ecological, and you don't have to sell it or store it. I've made a lot of big metal sculptures that just sit around in my garage … But with this," he concludes, "you just snap a picture and you're done. It's all about the process."
Lake Geneva Winterfest and U.S. National Snow Sculpting Competition in Lake Geneva, Wis., February 1-5. Judging takes place February 4. lakegenevawi.com, usnationals.org