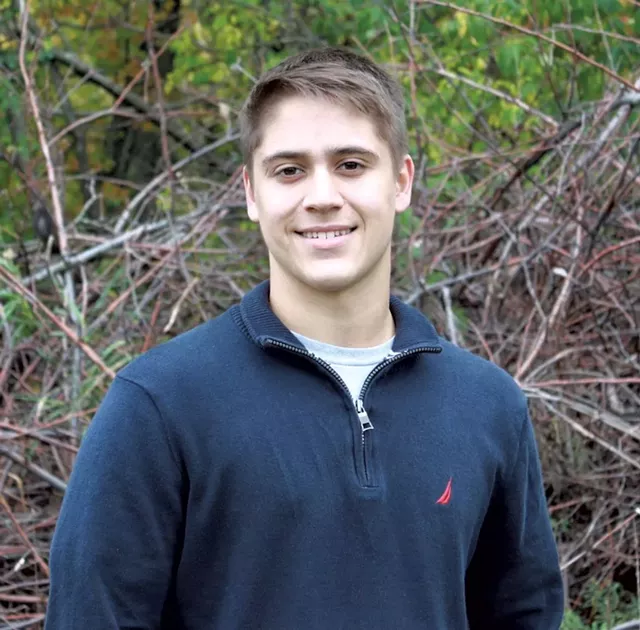 Xavier (right) with brother Vinny
NAME: Xavier Pigeon
AGE: 17
TOWN: St. Albans
Xavier Pigeon is a born advocate. The Bellows Free Academy St. Albans senior is copresident of Special Olympics Vermont's Youth Activation Committee, he coaches in its Young Athletes Program, and he plays unified sports, where kids with and without intellectual disabilities compete on the same teams.
"He's just a natural," said Kasia Bilodeau, assistant coordinator for BFA's unified sports program. She explains that Xavier exudes inclusion, "and I don't just mean on the afternoon when we meet; it's a life."
Like having brown hair, chocolate-colored eyes and speaking French at home, sticking up for others is part of who Xavier is. The second of two children of Canadian-born parents, Xavier has always been protective of his 19-year-old brother, Vinny, who has autism, said their mother, Josy-Ann Sarrazin. "He's just caring," she said.
Just 15 months apart, Xavier helped Vinny learn letters and colors when they were young. He also wanted others to understand him; once when Vinny said something that offended another child, Xavier, then around 6, explained that his brother meant no harm.
When Vinny got to high school and started playing unified sports, Xavier watched. It marked a role reversal for the brothers.
"Vinny was always on the side, watching Xavier doing all kinds of sports," Sarrazin said. "And it's always been difficult for Vinny, because of his disability, to keep up with the regular group." But unified sports leveled the playing field. In 2014, Vinny's basketball team competed in the Special Olympics USA Games, and Xavier followed him to New Jersey to cheer him on.
Xavier (right) with brother Vinny
Xavier also joined Vinny playing unified sports, participating in floor hockey, snowshoeing, basketball and bocce. For the first time, Sarrazin got to see her sons play on the same team, Vinny as an "athlete" and Xavier as a "partner" — Special Olympics' names for team members with and without intellectual disabilities.
Last winter, the brothers won gold in the state snowshoe two-person relay race. The program has given Vinny, a quiet guitar and car aficionado, and Xavier, the self-described "loud, sporty, super-social one," more than medals. "It gave me the doorway to have a connection with my brother," Xavier said. "We have deeper conversations than we used to."
The brothers told their story at a Vermont State Athletic Directors Association meeting in 2015, which helped pave the way for the Vermont Principals' Association to sanction unified basketball. Now it's more like a traditional high school sport, with regularly scheduled games and a state championship.
This month, after Xavier dips into icy Lake Champlain during SOVT's Penguin Plunge fundraiser, he and Vinny will go to Washington, D.C., for Special Olympics Capitol Hill Day, where they will promote Special Olympics to Vermont's congressional delegation.
SOVT named Vinny its 2015 Athlete of the Year and named Xavier its 2016 Unified Partner of the Year. "Xavier has always stood out as someone with a deep, personal commitment to helping others," said SOVT president and CEO Lisa DeNatale.
BFA's Bilodeau agrees. In addition to seeing him play unified sports, she has watched Xavier in her classroom, where he mentors kids with intellectual disabilities, and in the school hallways, where he's just their friend. "It's completely authentic," she said. "It's not because it makes him look good or it's a résumé builder."
In the fall, Xavier, a dual U.S.-Canadian citizen, plans to go to college in Canada and to build a relationship between Special Olympics and whatever school he attends. After studying social work, human relations or education, he wants to become a police officer. He envisions waving to people from his cruiser, he said.
"I want them to know that I'm someone they can run towards if there's a problem, rather than run away from."
The 2017 Penguin Plunge takes place at Waterfront Park in Burlington on Saturday, February 4, starting at 11 a.m.; Stratton Mountain hosts a sister event on Saturday, March 25. Proceeds benefit Special Olympics Vermont. Find more information at penguinplunge.org.