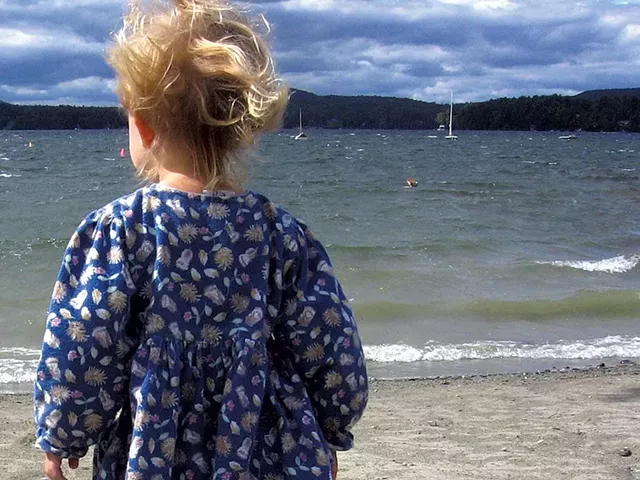 Brett Ann Stanciu
A young Gabriela at Lake Caspian
This fall, my 15-year-old daughter Gabriela was at the wheel of my Subaru when I panicked. For the first time, my baby was driving through the dark at 50 miles per hour. What if a deer dashed in front of her?
"Why don't you pull over and let me drive?" I offered.
"I got this, Mom," Gabriela said calmly.
She clicked on the turn signal and pulled into her former elementary school parking lot. We were there for a jack-o'-lantern walk. I got out and walked behind the school, while she hurried off with a friend. Fists clenched in my coat pockets, I breathed deeply, trying not to cry.
---
Gabriela celebrated her 15th birthday in May 2020, with three friends, around a campfire in our backyard. Much of the state was shut down to prevent the spread of Covid-19, and sleepovers were not advised. Like so many Vermont teens, my younger daughter had dreamed of getting her learner's permit. In rural Vermont, where public transportation is essentially nonexistent, a permit is a major rite of passage to adulthood, the ticket to a job and a social life that doesn't depend on parents.
Although the Department of Motor Vehicles was still closed due to the pandemic, Gabriela received one of the first learner's permits through an online portal.
I had her begin on backroads, winding around ponds and through farmyards. As she drove, I talked, instructing her that dirt roads slick up after a rain. Be vigilant at every intersection, I told her. Never trust another driver. Black ice is treacherous.
We talked through my fears, as if sharing the scary things I had experienced would somehow protect her. She listened, far more patiently than not, keeping her eyes on the road and her mirrors.
All summer, she was home alone while I was at work. When I returned in the late afternoons, we went driving, the sugar at the end of the long and lonely days. We drove with no particular destination. She talked about plans for a summer job when she was 16 and shared her dreams about going skiing with her friends in the winter.
During all those hours and miles, I remembered my own young adulthood, and what a driver's license had meant to me. In my early 20s, on a whim, I had driven one April from Vermont to Florida with friends in an old Volkswagen bus. When it broke down, we camped in a church meadow in Georgia and borrowed tools from a local mechanic. The church members brought us aluminum foil-wrapped plates of pork chops and sweet potatoes for dinner. Those years seemed a universe away from the summer of 2020. I'm sure my parents worried about me, but my travels seemed tame, nearly run-of-the-mill, compared to what loomed before my daughter.
As Gabriela widened her circle from dirt roads to I-91, my mind churned with pandemic worries. Would school reopen in the fall? How secure was my employment? When would I see my parents, who live in New Mexico, again? As it has with so many others, the pandemic had revealed fissures in my life and how deeply I rely on a network of school and community connections to keep my solo-parent, paycheck-to-paycheck family life duct-taped together.
From the passenger seat, I knew my tough and kind-hearted teen would remember this time as the spring when her high school was abandoned. The months when our two cats were her main companions. The August she froze green beans and tomatoes from the garden, and I stockpiled bags of rice and beans and crammed our freezer with beef from a local farm. The summer we admired the freshly painted Black Lives Matter words on the pavement in front of the Statehouse.
The summer when we asked — in our family and, collectively, as a nation — what really matters.
---
I had always known my baby would set sail on her own adventures, but what I hadn't expected is that the world she would launch into would be so troubled and frightening. When I imagine the future she and her generation face, I know they will live through our ailing planet's devastating changes. They will endure social tumult as our nation struggles with centuries of unresolved racial and class divisions. The oyster we have offered our children is not particularly sweet.
But despite all this, the intersection of the pandemic with my youngest growing up made me realize, over and over, how dear and fleeting our lives are. Those hours in the passenger seat opened up space for me to pause from the rush of working days, take a long breath, and reflect. I reminded myself I had become a mother because I wanted my children to experience the pleasure of summer grass beneath bare feet, the delight of fireflies around a campfire with friends at dusk, and the exuberance of falling in love.
Gabriela drove us through the lushness of summer, into the painted beauty of autumn and through the first pristine snowflakes. In those hours, I realized I had become a mother so my daughter could relish her own unique journey. Just as my life had turned through mundane and terrible and marvelous bends, hers will, too.
Shortly after Halloween, we drove to nearby Greensboro and circled Lake Caspian as the early winter twilight drifted down. Gabriela pulled into the empty beach parking lot. We got out of the car and walked along the sand. We had celebrated her first birthday on this beach. Not yet walking, she had crawled over our picnic blanket to dip her tiny fingers into a bowl of watermelon wedges.
Delivered by Caesarean, her birth marked my own body with a scar I wouldn't trade for the world. As I walked beside my girl, the car keys zipped in her coat pocket, not mine, I realized that coming of age in a pandemic will mark her — and her generation — with their own unique scars as they grow up in a world that was broken apart, seemingly overnight.
As the sky blackened, the stars brightened one by one. Under their silvery light, my fears yielded to curiosity about the woman my daughter is becoming and the world — filled with watermelon and disease — she and her generation will greet.
In the parking lot, we both headed for the driver's door.
Gabriela unzipped her jacket pocket and held up the car keys. They glittered in the starlight. "I've got this," she said.
I paused for a moment, thinking of leaping deer and the innumerable dangerous things lurking in the shadows. Then I walked around the car and buckled into the passenger seat.
My daughter started the car and pulled onto the road.