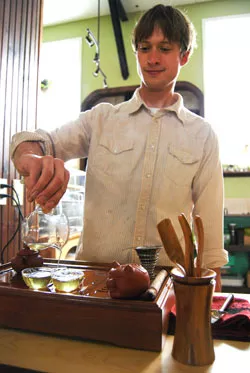 You may have traveled halfway around the world, but if you pick the wrong day to show up at a Taiwanese tea garden longing for a sip of oolong, you could be out of luck. John Wetzel, owner of Middlebury's brand-new Stone Leaf Teahouse, learned this lesson the hard way. "You'd go there and it would be, like, 'They're roasting; come back in two days,'" he recalls.
But Wetzel stuck around until the leaves were ready, and the brews he sampled inspired him to share the wealth. "Those are the teas I brought back, the ones I watched them roast," he says.
The 29-year-old's 2008 travels through Taiwan and Vietnam were not Wetzel's first encounter with fine tea. In college, a coworker who'd lived in China introduced him to infusions far more fragrant and nuanced than Lipton's. After moving to Burlington, Wetzel became one of the founding staffers of Dobrá Tea, where he worked for two years.
Eventually, although he loves rich, double-fermented Pu'ers and astringent Japanese greens, Wetzel felt the pull of the outdoors. He left Dobrá to do seasonal stints at Rockville Market Farm and Lincoln Peak Vineyard, supplemented by hours at Daily Chocolate in Vergennes. But Wetzel couldn't stop pondering the evidence that "there are a lot of people in Addison County who are really into tea." "Working on farms, you have a lot of time to think. I spent a lot of time with my hands in the dirt thinking about this," he says. The fruit of his musings was a decision to become self-employed.
In addition to offering loose-leaf tea by the pot or smaller gaiwan, Stone Leaf has a selection of authentic teaware and a variety of chocolates from Daily Chocolate and pastries from TootSweet in Shoreham. A wider supply of edibles and an outdoor tea garden are in the works.
Another planned innovation? In a nod to the far-flung origins of his product and to the local college, Wetzel hopes eventually to print his tea menu in all the tongues taught at Middlebury's summer language program.