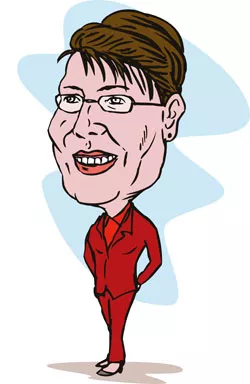 The phrase "conservative feminism" is like "National Socialism." The two words in concert pervert the meaning of the latter, kidnapping a radically progressive idea and conscripting it into the enemy army.
"Conservative feminism" is Sarah Palin's latest brand — a "pro-family, pro-woman, pro-life women's movement" whose role models are "our frontier foremothers, who could shoot a gun, push a plow, and raise a child at the same time," and whose totem is the "mama grizzly."
"Together, our pro-women sisterhood is telling ... young women that they're strong enough and smart enough ... to handle an unintended pregnancy and still be able in less than ideal circumstances, no doubt ... [to] give their child life in addition to pursuing career and pursuing education, pursuing avocations, though society wants to tell these young women otherwise," Palin told a gathering of the anti-choice Susan B. Anthony List this month at its Celebration of Life Breakfast.
And who is "society"? Unnamed "feminist groups" that "tell women, 'You're not capable.'" Palin would let every woman fulfill her God-given gift of motherhood and wrench the movement "back to its original roots," which were — in case you were unaware — "pro-life."
This surprising bit of history is the discovery of the SBA List's founders, who claim the great suffragist was antiabortion. The evidence: a passing comment in an unsigned editorial in Anthony's newspaper the Revolution. Historians call this hogwash. "We have read every single word that this very voluble — and endlessly political — woman left behind," blogged Anthony scholars Ann Gordon and Lynn Sherr in the Washington Post. "Our conclusion: Anthony spent no time on the politics of abortion" and even argued vigorously against its legal suppression.
But then, Gordon and Sherr are just the sort of graying East Coast professors whose image Palin invoked at the confab to raise a chuckle. No fan of book learnin' she. So she sallied on, pulling a revised Susan B. close to her pretty bosom. Anthony was not just pro-life, Palin crowed; she was Republican! This she got right. In 1872 Anthony voted (illegally, and was arrested) for the Radical Republican presidential incum-bant, Ulysses S. Grant.
Now, the Radicals' Republicanism was as similar to Palin's Tea Party version as Dewar's is to Darjeeling. The RRs pressed for abolition and African American male suffrage. And that, famously, was what made Anthony a less-than-gung-ho party member. The "universal" suffrage it promoted excluded women — until, maybe, later. The rift between these former close allies, abolitionists and women's rights advocates, constituted one of American history's most painful and complicated chapters.
Of course, Palin doesn't countenance complication, unless you count the syntax of her sentences — or her logic. To wit: "Pro-life feminism is empowering women with choice" by denying them the choice of abortion.
Palin and the SBA List are not the only political women out there using the gains of feminism to God knows what ends. In fact, Sarah has been building her own sisterhood, slobbering mama-bear kisses on at least half of them.
She's endorsed early Teabagger and South Carolina gubernatorial candidate Nikki Haley (who has also won the allegiance of former state First Lady Jenny Sanford, herself a rising Republican star); stumped for Minnesota Republican Representative Michele Bachmann, who's called for a McCarthyist investigation to root out the "anti-Americans" in Congress; stood by Arizona governor Jan Brewer when she signed the state's EWM (Existing While Mexican) anti-immigration law. Palin has thrown her weight behind deposed Hewlett-Packard CEO Carly Fiorina in her bid to unseat California Senator Barbara Boxer — to the dismay of the Tea Party, which favors state Assemblyman Chuck DeVore.
That choice prompted the Christian Science Monitor's Linda Feldmann to call Palin "a feminist first and a Tea Partier second." But she doesn't need to divide her loyalties. Most of her female comrades would feel fine sipping tea with the regulars. And if they didn't before, some — like New Mexico's Republican gubernatorial candidate Susana Martinez, a former moderate, and Fiorina — may be sidling right to win a splash of that Alaskan holy water.
The new breed of women-identified women seems as interested in putting down the old breed as it is in inventing a new, improved iteration. Last fall, the conservative Newsmax magazine ran a cover story penned by several conservative women on the "Newer Feminists," with Palin at the head of a pack including Michelle Obama, racecar driver Danica Patrick, televangelist Joyce Meyer and Oprah Winfrey. The common denominator? "They're smart, independent, successful — and are all defining womanhood their own way (even if it means being a mom)." What mostly defines them, though, is what they are not: "bra-burners," "militants," "annoying" and "abortion obsessed."
And then there are those who look a lot like the old feminists but eschew the title — and the left-wing associations — because they're looking for a bigger fan base. Pushing her way to the center ring of the gals' big tent is Amy Siskind, a former Wall Streeter and PUMA (remember those Party-Unity-My-Ass Hillary diehards?) who has built her postelection grudge into an organization called New Agenda. NA's one-size-fits-all mission — "support women" — combined with Siskind's wild-haired, slender good looks make her an ideal pundit, and one who will take whatever position the TV producer needs on a given evening. You can catch her on PBS, CNN or Fox, saying ... all kinds of things.
One day, she's dissing Nancy Pelosi for selling out "the sisterhood" by supporting the antiabortion Stupak Amendment to health care reform. The next she's congratulating Palin for endorsing every fetus lover on the map. New Agenda? More like No Agenda.
Most of the time, Siskind sounds suspiciously like a Second Waver, denouncing sexism, unequal pay and genital mutilation. Yet in a piece on Palin, Siskind cited NOW's waning membership and young women's rejection of the F-word. Her comment on Palin's new tag and her focus on abortion: "Blech and more blech!"
In a country where Revolution is a flea-and-tick medicine, "feminism" has become a brand, either marketed or discontinued, depending on which you think will yield the greatest profit. Still, the funny thing about this whole post-feminist, "conservative feminist," call-them-what-you-want crowd is whom they resemble more than anything else: the very people they most despise — those shrill, hirsute sisters of '70s cultural feminism.
Like the wimmin who came before them, Palin, Siskind and their comrades appear to think that a double-X chromosome renders a human being automatically superior. And that every woman is the same. To Palin, every womb wants to be filled and every woman "can handle" a baby — or five. To Siskind, every vagina deserves a term in office. These women commit the same error as their renounced foremothers: reducing Woman to a universal category, comprising the gun-totin' pioneer and (I guess) the Native American woman she shot; the unnamed New Agenda think tanker whom Siskind described only by race and residence ("an African American grandmother who lives in the 'hood") and the people she imagines will join NA, who can be found "at your gym or in your book group."
As for Palin's Tea Party feminism — a blend of nationalism and xenophobia, militarism and rural nostalgia, all embedded in a Cult of Motherhood — well, it has a more ominous historical resonance. Never mind the modern twist, adding Arbeit to Kinder, Küche, Kirche. Recent histories show that women during the Third Reich were not just popping out future Aryan soldiers, cooking schnitzel and kneeling in the church pews. They also were working as concentration camp guards, government administrators and teachers. National Socialism, anyone? This time the comparison is not just semantic.