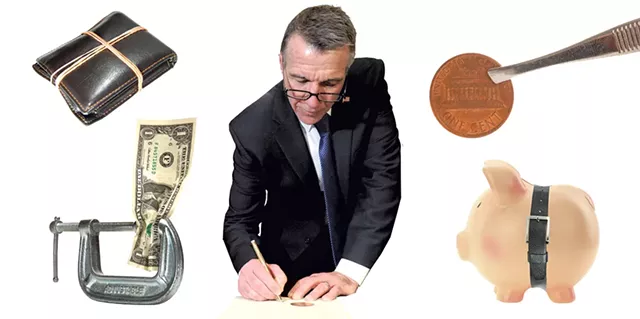 File: Jeb Wallace-brodeur
Gov. Phil Scott
Late one evening last month, the Senate Finance Committee voted for a $2-per-night hotel room occupancy fee. The fee, expected to generate $7.2 million a year, would help build affordable housing and fight water pollution.
Statehouse scuttlebutt spread the next day: Finally, the Democratic legislature had fired a shot across the bow. Lawmakers were going to challenge Republican Gov. Phil Scott's vow to veto any new taxes or fees.
Nope. In less than a week, Senate leaders had sidelined the occupancy fee.
"We're taking a step back," said Senate President Pro Tempore Tim Ashe (D/P-Chittenden).
The occupancy fee joins a sizable list of taxes and fees that legislators have proposed — and backed away from — since January.
Among them were a tax on coffee; a nearly 1 percent tax on Vermont workers' earnings to fund paid family leave; $80,000 in taxes and fees on online fantasy sports contests; and a slew of measures to raise $30 million to improve water quality. Those would have raised the price of car registrations, restaurant meals and boat slips.
Each tax or fee came with a rationale, but virtually all of them have gone the way of the occupancy fee — from proposal to disposal, often within days.
A large contingent of legislators firmly believe the new revenues and the programs they would pay for are crucial to Vermont. But so far, those members have been forced to yield to legislative leaders' decision that this is not the year for new programs and new taxes.
With six weeks to go before the legislature adjourns for the year, that position could still change. But when it comes to money, this is proving to be very different than recent years. Last year's fee bill featured $27.4 million in new revenue. In 2015, legislators embraced $29.6 million in new taxes.
The reason for this year's tax-free zone: the new Republican in the governor's office and the new Republican in the White House.
Scott made clear early on that he'd veto any new taxes or fees.
Even Scott is surprised to see that lawmakers are toeing the line. "I want to give credit where credit is due," he said last week. "I've said before, my line in the sand has been no new taxes and fees, and they've adhered to that and I've appreciated that. I know it doesn't come easily."
The governor's biggest complaint about the state budget proposal the House passed: It didn't have enough spending — for childcare and higher education.
Last week, the House passed a state budget that arguably requires no new revenue. The House's tax bill would raise $5 million in new money, but only by increasing enforcement to collect money taxpayers already owe. Every year, the legislature writes a bill to set — and usually raise — fees paid by residents for such services as driver's licenses and environmental permits. This year's bill cuts fee revenue, by $506,000.
A fee bill that's going down? House Ways and Means Committee chair Janet Ancel (D-Calais) said she's never seen that before. "Not in my years here," said the former tax commissioner and 13-year lawmaker.
Legislative leaders credit Scott, a popular politician who won the election handily, with setting the tone on taxes, though they argue they came into the year equally committed to fiscal prudence and cooperation.
"We have to respect that the executive branch and the legislative branch ultimately have to reach agreement," Ashe said. "Pushing the boundaries of a potential veto showdown — you don't do that lightly."
Nor can legislators count on successfully challenging a gubernatorial veto. In the 150-member House, Democrats hold 84 seats, a robust majority, but not a veto-proof one. In 2009, Democrats joined with Progressives to muster the 100 votes needed to override Republican governor Jim Douglas' budget veto.
"Eight years ago, with 95 Democrats ... overriding a gubernatorial veto was possible," noted Rep. Adam Greshin, a Warren independent who does not vote consistently with any political party. "Today, particularly when you're dealing with higher taxes, I think the math is very difficult."
Legislative leaders argue, however, that the threat of budget cuts from Washington, D.C., has been the far more sobering factor. President Donald Trump took office in January pledging to slash funding for scores of programs that Vermont leaders consider essential, from water quality to home heating aid to education. Roughly half of the state's budget is funded by federal money.
"I feel where we have the [taxing] capacity, we should be holding onto it until we see whatever happens with the Congress," Ancel said. "Some of the things we're hearing are pretty severe."
Ashe echoed Ancel, saying, "We get the gravity of what might be ahead of us."
Until Congress completes the federal budget that takes effect October 1, Vermont lawmakers won't know which programs are most affected. Ashe has suggested that the legislature could return for a special session in late October to decide which cuts in federal funds need to be offset with state money.
"In six months, we could get information that completely upends our priorities," said House Speaker Mitzi Johnson (D-South Hero).
Even some legislators angling to increase taxes now rather than cut programs concede that Trump's threat to slash virtually every federal agency changes the picture.
"I'm pretty worried about the federal budget," said Sen. Chris Pearson (P/D-Chittenden), a liberal who would prefer to see lawmakers raise taxes on the wealthy. "I buy the notion that we need to have an eye on the fall."
But tension between those who believe the legislature should raise taxes now and those who believe this is not the time pervades every corner of the Statehouse.
Last week, water-quality advocates held a press conference touting the need for new revenue to meet federally mandated goals to reduce phosphorus in Lake Champlain and other Vermont waterways. Ashe and Johnson stood by their side.
"The Senate is filled with people who care about these issues," Ashe told advocates, who held signs reading "Water = Life."
"This is a critical issue," Johnson added.
Yet both leaders have indicated they plan to pay for water-quality progress with state bonds for now, rather than raise taxes.
Standing alongside them at the press conference was Rep. David Deen (D-Westminster), chair of the House Natural Resources, Fish and Wildlife Committee, who strongly prefers raising the money now. His committee earlier this year recommended an array of $30 million in new taxes for water-quality programs.
When Deen stepped to the mic, he didn't rip into his colleagues, but he did urge the roomful of 100 advocates, "Get out and get a water advocate elected."
Deen was unapologetic about proposing funding he knew had no chance of passing. "I wanted to send a message," he said in an interview. "Look at all the pollution we have in our rivers and our lakes."
Ashe said he understood the urgency, but he pointed to the uncertainty about federal budget cuts. "It's likely we'd be coming back next year to revise the dollars," he said.
As it happens, Scott agrees that the state should defer decisions about long-term lake funding. But legislative leaders insist that Scott's blessing is not the barometer by which they measure each tax decision. Still, it's hard to ignore the fact that the only new revenue sources they have embraced are those that might win his support.
Most notably, senators last week backed off a tax proposal Scott had denounced. When the Senate Finance Committee proposed the $2-per-night occupancy fee on hotel rooms, campgrounds and other overnight accommodations, committee chair Ann Cummings (D-Washington) defended it as "an exported cost" that falls mostly on out-of-staters.
Statehouse observers quickly concluded that senators were deliberately challenging Scott's no-new-taxes-or-fees stance. Cummings' comments played into that assumption. "The committee voted with its eyes wide open," she said. "We did what we thought was best."
But the Senate Appropriations Committee balked.
"It lived almost three legislative days," said Sen. Dustin Degree (R-Franklin), a member of the finance committee who opposed the fee. "I don't know what the strategy behind that was."
"There's no scheme here," Ashe insisted; the appropriations committee simply disagreed.
Sometimes, there's less coordination between legislative committees than outsiders might expect, he said. Indeed, if the occupancy fee had passed in the Senate, the House might have been unwilling to go along. Ancel questioned the timing of enacting the new fee, citing fear of potential Trump budget cuts. "I would rather wait," she said.
The same goes for the proposed 0.93 percent payroll tax to fund family leave: One legislative panel's plan doesn't necessarily rule the day. Last month, the House General, Housing and Military Affairs Committee made a splash by passing the tax with a 7-4 party-line vote. The $80 million would be used to offer Vermonters up to 12 weeks of paid leave for the birth of a child, a personal illness or to tend to an ill family member.
The plan has committed allies. Rep. Tom Stevens (D-Waterbury), the committee's vice chair, argued that paid leave would draw young families to Vermont. "It would make them feel like they could stay here and have kids," he said.
That $80 million tax is pending in Ancel's Ways and Means Committee but is not expected to reach the Senate this year. Even if it did, the Senate would likely choose other priorities, Ashe said.
If Vermont workers were asked what the state could do to help them, he argued, most would likely say they want more cash in their pockets. "Raising the minimum wage is the single best way to do that," he said, indicating that he doesn't foresee taking on both issues at once.
He's ready to have that debate next year, but now is no time to talk about new programs, Ashe said.
"Like it or not, when you have this sort of Congress hanging over you, you have to be careful about your actions," he said.
Disclosure: Tim Ashe is the domestic partner of Seven Days publisher and coeditor Paula Routly. Find our conflict-of-interest policy here: sevendaysvt.com/disclosure.