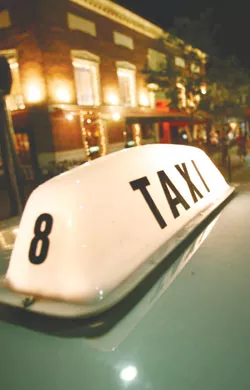 Does Burlington's taxi system need an overhaul? In his cover story last week, Mike Ives found plenty of dysfunctional elements. We asked readers if they'd had similar experiences with Burlington cabbies, and, lo and behold, plenty have been down the same road of rogue drivers and random rates. A few of our "fares" didn't want to be identified; their stories speak for themselves.
******
Last Friday my fiancé and I took a cab from in front of Nectar's to the corner of Loomis and North Union. Both are in Zone 1. We were charged $10.75, as quoted by the Benway's dispatcher to the driver. This is almost double what it normally has been. When I said something about it, the driver basically told us, "Tough. That's the cost of gas."
Rachel Leff
BURLINGTON
******
My story isn't about being overcharged, but about reporting a creepy cab driver to the South Burlington police department — only to have the serious complaint ignored.
A few years ago, I took a cab from the airport to IDX, where I had parked my car. I'm a single woman, in my thirties. It was evening. As soon as we pulled away from the airport, I realized I was in a cab with a very, very strange driver. He asked personal questions (which I refused to answer), then offered to bring me "around the back of the building," if I liked, when he dropped me off. He also wanted to know if anyone was waiting for me at the building. And then, whether anyone was waiting for me when I got home.
His suggestive tone creeped me out enough that I insisted he drop me off at the Price Chopper on Shelburne Road, where there were plenty of people and plenty of lights. He countered that he could drop me off at the Hannaford's instead.
Yeah, right! Fortunately, I'm from this area, and I knew the Hannaford's is off the road, away from traffic and secluded, especially at night.
After I whipped out my cell phone and threatened to call the police, he did let me out at Price Chopper. I called another cab company to finish my trip up Shelburne Road. The next cab driver who picked me up at the Price Chopper was incredibly nice. He said he knew exactly who the cab driver was, as he'd heard complaints about him before from other patrons. He suggested I report my concerns to the police.
So, I did call in my complaints to the South Burlington Police Department. The SBPD never called me back, so I followed up a week later. I was eventually told they'd asked the cab driver about his behavior, and that he claimed he was asking all those questions just to "look out for me."
I'll never take a cab alone in Burlington again, especially at night!
"Maple Sugar"
WILLISTON
******
We were coming home from a night of drinking and had my princess of an older sister with us. The driver took the longest way possible home.
When we pulled in my driveway in Colchester, the guy said, "That'll be eight dollars per person." It only cost us 12 bucks for the five of us to go into Burlington!!!
My sister started screaming some nonsense about "New York City motherfucker!!!!" I threw the guy 20 bucks and hoped he wouldn't show up at my house sometime and kill my family!
Jessica Lee
COLCHESTER
******
I am a taxi-cab taker when I am out at night and all the buses have left Cherry Street.
Last Saturday, I was charged $12 from Jackson Terrace Apartments to Fairmont Place at North Avenue, which I found a little extreme. It used to be $7.25 most of the time when I would take a cab downtown.
I believe there might be some kind of discrepancies on these fares that are being charged. The cab I take is usually Yellow Cab.
One other incident was when I took one of their cabs and they picked up a real drunk passenger who was very annoying and I felt intimidated. I try not to take too many cabs because of the high fares, etc.
Joanne Molina
BURLINGTON
******
The only time I ever take cabs is when I need to get from my home in South Burlington to the Fletcher Allen Health Center emergency room, and I am too sick to drive myself, yet not sick enough to justify calling an ambulance. Same starting address every time, same emergency room, same number of passengers (1) — yet the fare is different each trip. Why?
But I'm never in any state to argue, of course. So I end up just handing them a $20 and lurching out the door to get away from the air freshener + mystery-odor stench.
Molly Hodgdon
SOUTH BURLINGTON
******
Last year, I used to drive downtown to Church Street for my job on Saturday evenings. Afterwards I would have a few drinks and not feel comfortable driving. I would consistently take taxis from around the Church Street area up to Colchester Avenue at the India House area and be charged, on average, $12.
Now what the hell is up with that?! That is ridiculous! Last year, two cars down the street from my apartment were hit on separate occasions by different drunk drivers. If the city council did a better job of enforcing the zoning prices, they could play a role in reducing the amount of drunk driving that occurs within our city!
"Matt"
BURLINGTON
******
Yellow Cab has its own singularly unattractive way of dealing with customers. On my initial call to Yellow Cab, the conversation went something like this:
"I need a ride from my place to downtown, to Church Street."
"Well, where you located?"
"I'm less than half a mile from I89 Exit 12, technically it's Williston, but the total distance is 7 miles. How much will that cost me?"
"What? It's a hell of a lot farther than 7 miles to Williston!"
CLICK.
Not wanting to dismiss Yellow Cab entirely, I called back a few weeks later. By then, I knew to expect to pay, on average, about $18 for this same 7-mile trip. So, I call Yellow, and the same dispatcher answers the phone. This time, he quotes me $26 for the fare. "Wow, that's high."
"Well, our cabs are in town, so we have to send one down there."
"You charge extra to send the cab to go pick up a customer?"
"Yeah, that's part of the charge."
"Not for me it isn't."
CLICK.
This is outrageous and almost certainly a violation of the city's taxi regulations. That a cab service bearing the name of Yellow Cab, which is a well-regarded nationwide brand, can engage in these practices with apparent impunity is disturbing.
Paul Robar of Benway's insists that metered cabs would be against riders' interest because they would increase the cost of longer trips. This is only true if you assume there is no base "per ride" charge. The taxi zones in Burlington are roughly two miles from one border to the other, and the maximum fare to go from one zone to an adjacent one is, as documented in your article, in the vicinity of $7. The maximum fare for going from zone 1 to zone 4, which is about 8 miles, is almost $13 — 6 more miles for 6 more dollars.
This system could be rationalized as a base $5 charge plus an additional $1 per mile. So Robar's claim doesn't hold water. Short or long, Burlington's current regulated (and I use the term loosely) per-mile charge works out to a consistent $1, added to a $5 base. By the way, I have used Benway's only once. The driver "ran the meter" on me to the tune of about $7. Adios, Benway's.
John Bartholomew
WILLISTON
******
My chief complaint is when you ask how long it will take for them to get to you and they say "10 minutes." And a half hour later you're still standing there. You call them back, and it's, "They're on their way." And then you wait 20 minutes more. If it's going to take a half hour (or whatever), tell me. Have missed a few flights (and last calls!!!) because of this.
Bob Bolyard
BURLINGTON
******
I recently spent four days in Boston getting around by cabs, due to the ease of use, curbside drop-off and no parking fees. (My car stayed in the hotel parking garage.) It was fabulous and amazingly cheap.
I was thinking about approaching city officials due to the fact that many cab companies originate in Burlington, and the fares they charge seem outrageous to me: $20 to the airport, from the South End; $15 to go from the South End to the waterfront for 4th of July last year.
The whole cab experience has been awful in Burlington, and needs some serious intervention.
Barbara George
BURLINGTON