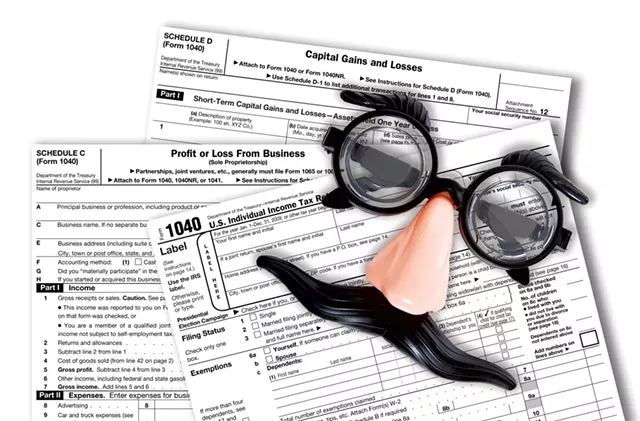 With the April 15 tax-filing deadline around the corner, it's a nice fantasy to imagine that — poof! — someone else has magically filled out those forms you're due to send to the Internal Revenue Service.
In reality, if those forms find their way to the IRS without the taxpayer's knowledge, it's not magic; it's most likely identity fraud. And it happens every year. Nationally, the IRS stopped an estimated 19 million suspicious returns between 2011 and 2014.
IRS enforcement led to 748 convictions for tax identity fraud in 2014, up from 433 in 2013. Over the past two years, the Vermont Department of Taxes has detected identity fraud in 1,300 returns that collectively sought more than $2.5 million in refunds.
Yet many fraudsters are still getting money. Some bogus returns do fool the tax department, and refunds go to criminals posing as the real taxpayers. "I'd say what we're seeing is more and more sophisticated fraud," said Vermont Commissioner of Taxes Mary Peterson.
Currently the department is processing e-filed returns and sending out refunds within 10 days, about average for this time of year, Peterson said. Earlier in the winter, that turnaround was a bit longer as the department responded to national alerts about criminals fraudulently submitting returns, sometimes via online tax-preparation software programs.
Another tech tool favored by fraudsters is prepaid debit cards, which can be purchased at convenience stores with less proof of identification than is typically required to open a bank account. Once a refund has been electronically loaded onto such a card, it can be difficult to trace.
The IRS' list of the most common refund scams on a national level includes use of prepaid cards, and the Vermont Department of Taxes is also seeing this type of fraud, Peterson said. To help prevent it, the department scrutinizes each suspect return and notifies the taxpayer that the refund will be mailed instead of conveyed electronically.
When something about a return triggers fraud concerns, Peterson said, the department may need six weeks or more to send out a refund to the correct recipient. Common red flags include an individual return that is very different from previous filings — with, for example, four new dependents when in the previous year there were none.
Some taxpayers find out the bad news when they file. The tax department informs them that someone else has already sent in their forms — and has received their refund.
In those cases, the authentic taxpayer can take advantage of a process to rectify the situation and receive the refund, but it takes several months. Victims of tax fraud are usually also subject to a more thorough filing for several years going forward, with identity-protection pin numbers, once their information has been compromised.
The sheer volume of filings makes detecting fraud a challenge. The Vermont Department of Taxes processed 373,528 returns for 2014 and sent refunds totaling $133.3 million.
To help reduce the possibility of fraud, taxpayers should contact the department before they file returns if they have any reason to suspect that their Social Security numbers or other secure information have been hacked. And individual identity theft is not the only risk. Every year around the country, businesses are subjected to phishing schemes in which employee information such as Social Security numbers or tax-withholding data are stolen. Some criminals then use the information to commit tax fraud.
Taxpayers "really need to let us know, so we can flag problems," Peterson said. "If [criminals] can mimic what was actually withheld for an employee, that's going to create a return that will be difficult to ferret out."
One thing that doesn't help prevent fraud is filing your return on paper. Doing so offers no particular safeguards, and, in any event, the tax department scans all information and turns it into a digital record, Peterson noted. So filing old-school only slows down the refunding process.
About 50 percent of Vermont filers, or their tax preparation companies, do their taxes electronically. Such returns are easier to process and help the whole operation move more smoothly, Peterson said. Several organizations offer volunteer assistance to qualifying Vermonters who need help submitting taxes online. Among them are the Champlain Valley Office of Economic Opportunity and, for low- and middle-income seniors, AARP Foundation Tax-Aide.
Peterson acknowledged that it's difficult to know just how much fraud goes undetected. But the tax department is investing in additional filtering software to reduce its likelihood in the future.
And, while you may worry about an enterprising neighbor pinching mail off your porch, tax crime tends to be a bigger business — that's why state officials often team up with the Federal Bureau of Investigation to investigate a case. "A lot of this fraud is these rings of criminals," Peterson said. "Once someone's information is stolen, there's a whole black market. Often it's off-shore, or just difficult to trace."